27 February 2023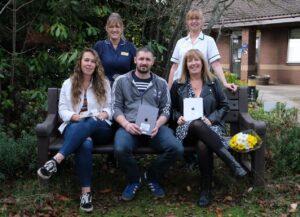 A local family has generously donated money to the Macmillan team at the Royal Shrewsbury Hospital (RSH), benefitting cancer patients and their families, in memory of their husband and father.
In December 2015, Kev Price was diagnosed with a rare brain tumour and underwent an operation to remove the tumour, followed by radiotherapy and chemotherapy. Throughout his treatment, Kev insisted on returning to work and living life to the full with his family.
Unfortunately, a routine scan in January 2019 showed that the tumour had returned, and Kev, from Shrewsbury, underwent a second operation. In October 2019, the family sadly received news that the tumour had regrown. Kev continued to receive support from the Macmillan team at RSH and Severn Hospice. Kev passed away in May 2020 at home.
Throughout their journey, Kev and his family wished to try and help others in the same situation as them. Since 2015, they have raised over £20,000 to date by holding fundraisers, coffee mornings, fun days, tournaments and much more.
The money raised has been used to help other families affected by cancer, through various charities including Macmillan, Severn Hospice, The Brain Tumour Charity and Brain Tumour Research, to name a few.
A portion of the money raised has been donated to the Macmillan Integrated Therapy team at RSH, which has been used for iPads to aid in the care and communication with cancer patients and their families, as well as a memorial bench in the peaceful garden at the Hamar Centre.
Jayne Price, Kev's wife, said: "We will continue to raise funds in memory of Kev as we feel giving back and helping those who may be going through something similar is so important.
"Kev's memory will remain in those who love him and in the help that others will receive with the funds raised. The hope for the future is not just to help, but to prevent and cure."
Hayley Flavell, Director of Nursing at SaTH, said: "We would like to say a huge thank you to the Price family for their generosity and the difference it will make to patients and their families who are being cared for by our cancer services."
Ursula Owen, Macmillan Clinical Specialist Occupational Therapist, said: "Kevin was a true inspiration, always positive even when everything must have felt so challenging and overwhelming.
"However, with the help of his family and their determination to give Kevin the best quality of life possible, providing support as a Macmillan Occupational Therapist for Kevin and Jayne was a privilege. Their fundraising is invaluable to Macmillan and the many other organisations, and we would like to thank them for making a real difference to the care we provide other individuals and their families."
Caption: Kev Price's family with the ipads and sitting on the memorial bench. They are pictured with Di Evanson, Macmillan Rarer Tumour Clinical Nurse Specialist, and Emma Hicks, Macmillan Clinical Specialist Occupational Therapist.