11 June 2018
The Trust that runs Shropshire's two acute hospitals has teamed up with one of the biggest names in traditional teddy bear manufacturing to create a special souvenir to mark the 70th anniversary of the NHS.
Bevan the Bear is being created to help raise money for The Shrewsbury and Telford Hospital NHS Trust (SaTH) which runs the Royal Shrewsbury Hospital and the Princess Royal Hospital, in Telford. He has been named after Aneurin Bevan, the founder of the NHS. He is being created in a limited run of 1,948 bears to reflect the year the National Health Service was formed.
A percentage of all sales of Bevan will be donated to the SaTH Charity to fund equipment and provisions that will benefit patients across Shropshire, Telford & Wrekin and Mid Wales.
Merrythought, based in Ironbridge, has also created a larger version of Bevan, which will be raffled off for the charity. Tickets will initially go on sale at SaTH's NHS70 Charity Fun Day on 7 July.
Julia Clarke, Director of Corporate Governance at SaTH, said: "Bevan is completely adorable and we are incredibly grateful to Merrythought for creating this gorgeous bear as part of our celebrations to mark 70 years of the NHS.
"We wanted to come up with a lot of different ways to mark this wonderful anniversary, but also to benefit our patients and visitors, and Bevan will do both. He will make a great gift for anyone and will also help to raise money for our own charity. I know I will certainly be buying one."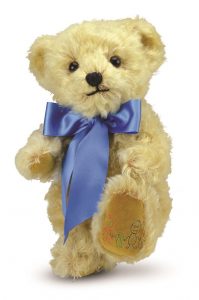 Sarah Holmes, Director at Merrythought, said: "Myself and the team at Merrythought feel very proud to be working with SaTH to celebrate the NHS's 70th anniversary, and helping to raise funds for our local hospitals. Bevan is a very characterful bear that we designed with the whole family in mind. He has been carefully hand-made in Shropshire from the finest pure mohair and cotton velvet, and is a bear that we hope people will enjoy for generations."
Merrythought has handmade traditional teddy bears in the World Heritage Site of Ironbridge since 1930. Merrythought is a family business famous for crafting the finest, jointed, mohair teddy bears adored by children and adults across the world. Every one of their bears is lovingly made by hand in their Ironbridge factory, giving them a unique character and superior quality that can last a lifetime.
Bevan will go on sale for £89, with a percentage from every sale being donated to the SaTH charity. He will be available from Merrythought's Ironbridge shop and online at www.merrythought.co.uk or via www.sath.nhs.uk/about-us/Bevan from 20 June. Bevan can also be pre-ordered by calling the Merrythought shop on 01952 433044.