25 July 2023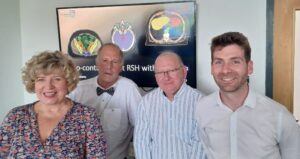 Three charities have linked up to fund special software for the radiotherapy department at the Royal Shrewsbury Hospital, which will bring huge benefits for patients.
The League of Friends (LoF) of the Royal Shrewsbury Hospital, Lingen Davies Cancer Fund and The Shrewsbury and Telford Hospital NHS Trust Charity (SaTH Charity) have joined together to pay for a three-year subscription of more than £48,000 for the software.
Representatives from all three charities were given a demonstration of how the software benefits the service by Adam Williams, Radiotherapy Physicist, at a presentation yesterday.
They were shown how the software, Limbus, fits into the radiotherapy workflow. Auto-contouring software can significantly reduce the time required to outline organs and some treatment areas by using artificial intelligence (AI), with radiotherapy clinicians, dosimetrists and medical physicists reviewing and adjusting outlines only where required.
It means that radiotherapy staff can reinvest their time and carry out other work, such as creating or evaluating treatment plans for cancer patients.
Hayley Flavell, Director of Nursing at SaTH, said: "This is such a positive step for all three charities to join together to fund this state-of-the art software, which will free up the time of radiotherapy staff to carry out other work. Hopefully, it will lead to many other such collaborations."
Julia Clarke, Director of Public Participation at SaTH, said: "We are so grateful for the continued support from the LoF, Lingen Davies and SaTH Charity as radiotherapy auto-contouring will reduce planning treatment time, reduce adverse side effects and improve the overall quality of the patient's pathway."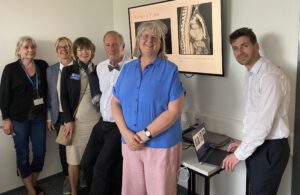 Richard Steventon, the Executive Chairman of LoF RSH, said: "Our Board is delighted to have an agreement to fund this AI software for radiotherapy after a presentation by one of their team. It was a unanimous decision.
"To link up with both Lingen Davies and SaTH Charity in this way to fund such a bid is innovative and worthy of recognising as such. It helps our funds support more future projects by cost sharing on this development of an improved service for patients."
Emma Backhouse, Acting CEO for Lingen Davies Cancer Fund, said: "Lingen Davies has delivered many largescale projects to benefit local cancer patients over the years and we are delighted to collaborate with the League of Friends and SaTH Charity to fund this new software.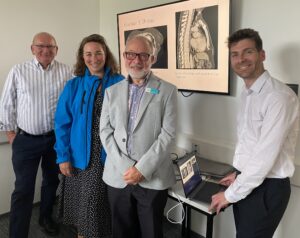 "We have worked alongside other cancer charities before but this is a brilliant example of how these well-supported, local organisations can work together to benefit those impacted by cancer in our community. Being able to fund this new piece of technology, which will positively impact on our patients and staff for many years to come, is exactly the reason why Lingen Davies was initially launched."
All three charities raise funds through generous donations, legacies, plus numerous fundraising events held throughout the year around the county.
Pictured
Top: left to right: Julia Clarke, Richard Steventon, Tim Cooper, Vice Chairman of the Lingen Davies Cancer Fund Trustees, and Adam Williams 
Middle: Adam Williams with members of the League of Friends
Bottom: Adam with members of Lingen Davies Cancer Fund