19 May 2017
The Chief Operating Officer at the Trust which runs Shropshire's two acute hospitals is to retire at the end of the year.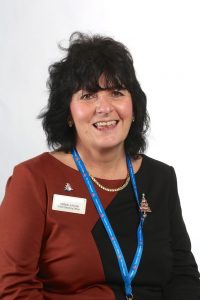 Debbie Kadum (left) will step down from her post on 17 December 2017 after five years at The Shrewsbury and Telford Hospital NHS Trust (SaTH) and more than 36 years in the NHS.
One of Debbie's most exciting projects upon retirement will be to start and develop her own vineyard in Croatia, where she has family.
Debbie joined SaTH, which runs the Royal Shrewsbury Hospital and the Princess Royal Hospital in Telford in 2012 from the Countess of Chester Hospital. Before that, Debbie spent 20 years working at the Robert Jones and Agnes Hunt Orthopaedic Hospital near Oswestry.
Debbie, who has lived in Shropshire for more than 30 years and who is married with two children and a granddaughter, said: "Although I am excitedly looking forward to the next chapter of my life, I will be very sad to leave SaTH and the NHS.
"The work has been challenging at times, but I have thoroughly enjoyed my time at the Trust and wish everybody all the best for what promises to be a very exciting future.
"I know that SaTH has the right team to lead the Trust forward to ensure our services are sustainable for future generations. The staff at the Trust are incredible and work tirelessly to ensure the best care for our patients. We owe it to them to provide the best way of delivering that care through the redevelopment of our hospital services.
"I also know that my colleagues will be every bit as supportive to whoever fills my role as they have been to me in my five years at the Trust. I will miss everybody terribly."
Simon Wright, Chief Executive at SaTH, said: "Debbie has worked incredibly hard throughout her time at SaTH, earning the respect of all of her colleagues both inside and outside of the organisation.
"It is a hugely demanding role and one she has made her own.  More recently, her enthusiasm for our Transforming Care work with the Virginia Mason Institute in Seattle has seen Debbie supporting a lasting legacy – and leading the way with the first of our 'Value Streams'.
"Debbie always puts the patients at the very heart of everything she does, and has been instrumental in the development of a strong operational team who can navigate the Trust through the many challenges that we still face.
"I would like to thank Debbie for everything she has done for SaTH and to take this opportunity to wish her all the very best as she starts her new journey into retirement."
After training as a nurse Debbie completed her orthopaedic nursing certificate and joined RJAH in 1986.
She held a series of nursing roles including seven years as a Ward Sister before moving into clinical and senior management roles. This included two years as clinical co-ordinator for the Midlands Centre for Spinal Injuries, a stint as Acting Executive Nurse and most recently over two years as Deputy Director of Operations.
In 2005 Debbie moved to Chester as Divisional Manager for Diagnostic, Therapy and Pharmacy Services, later becoming Divisional Manager for Medicine before her appointment as Divisional Director for Urgent Care in 2010.