28 May 2020
Comfort Pebbles are to be delivered to patients at Shropshire's two acute hospitals, featuring messages from their family and friends.
The palm-sized painted pebbles featuring personalised messages will be given to patients being cared for at the Royal Shrewsbury Hospital (RSH) and the Princess Royal Hospital (PRH) in Telford.
Visiting restrictions remain in place at both hospitals due to COVID-19 and have meant that some patients and their loved ones are unable to see each other, so the Comfort Pebbles are another means for them to keep in touch.
The Comfort Pebbles 2020 scheme was developed by Love on the Rocks UK, Keech Hospice Care and the Hospice UK Team – and the initiative has now launched in RSH and PRH.
Each pebble has been uniquely designed and painted, with one side left blank for a brief personalised message, by a group of pebble artists known as 'Rockers'. The pebbles are then varnished to ensure that they can be cleaned in line with infection control guidance.
The 'Rockers' group has kindly donated a supply of wonderfully-designed pebbles to SaTH, which runs RSH and PRH, ready to be printed and given to patients.
Ruth Smith, Lead for Patient Experience at SaTH, said: "Visiting restrictions during the COVID-19 pandemic has led to many patients and the people important to them being separated.
"We hope to provide some comfort to patients in hospital by giving them a decorated pebble containing a personalised message from someone important to them. The pebble can be held and used as a way to keep close to loved ones during this time, when we are asked to remain socially-distant.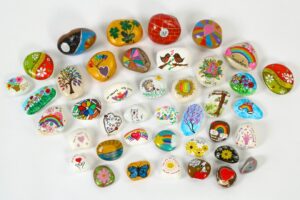 "We are lucky enough to have received enough pebbles to launch the initiative in our hospitals. Along with a small number of them set aside to be given to staff members to say thank you for their continued support and commitment during the pandemic.
"We were one of the first Trust's to get involved with Comfort Pebbles 2020 and it's great to see other Trusts joining in too to spread messages of love to patients missing their families whilst in hospital. We would like to thank the Rockers who have generously painted and donated the pebbles to SaTH."
The Trust is already seeing positive feedback to the scheme.
A patient's relative said: "Within about an hour of filing out the form, my Dad received his pebble. I cannot express just how lovely this is and how something so small has made a big impact. This lifted the spirits of my dad."
If you would like to send a Comfort Pebble to a patient at RSH or PRH, please visit the SaTH website: www.sath.nhs.uk