11 December 2018
A limited edition teddy bear, created to celebrate the 70th anniversary of the NHS, has so far raised more than £2,000 for Shropshire's acute hospitals.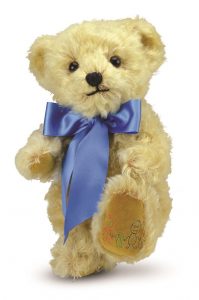 Bevan the Bear was created by Ironbridge-based Merrythought – the only traditional teddy bear manufacturers left in the UK – to raise money for The Shrewsbury and Telford Hospital NHS Trust (SaTH) charity, which provides funds to enhance care for patients and their families.
He has proved so popular, that he will continue to be available over Christmas and in 2019, with a percentage of the sales again going to the SaTH Charity.
Bevan was launched in the summer with a limited edition run of 1,948 to celebrate the year the NHS was formed.
Julia Clarke, Director of Corporate Governance at SaTH, who was one of the first people to buy a bear, said: "Bevan is completely adorable and we are incredibly grateful to Merrythought for creating this gorgeous bear as part of our celebrations to mark 70 years of the NHS and for this wonderful donation.
"Bevan is a great gift for anyone – old or young – and it is great that he will continue to raise money for our own charity in 2019."
Sarah Holmes, Director at Merrythought, said: "We have been delighted to be working with SaTH to celebrate the NHS's 70th anniversary, and helping to raise funds for our local hospitals and are delighted to announce that Bevan will still be available in 2019.
"Bevan is a very characterful bear that we designed with the whole family in mind and has proved to be very popular. He has been carefully hand-made in Shropshire from the finest pure mohair and cotton velvet, and is a bear that we hope people will enjoy for generations."
For more information on Bevan or to get your hands on your own bear, visit
www.sath.nhs.uk/about-us/nhs70/Bevan