6 December 2018
Easy-to-use, free Wi-Fi for patients and staff will be rolled out across Shropshire's acute hospitals next week.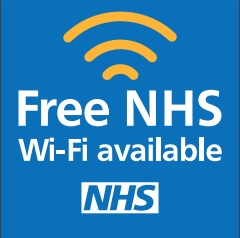 The new system, which launches on Monday (10 December) will replace the current 'token' system used by The Shrewsbury and Telford Hospital NHS Trust to make it easier for users to get online.
Users will also be taken to a new NHS 'landing page' which will contain useful local information.
Julia Clarke, Director of Corporate Governance at SaTH, which runs the Royal Shrewsbury Hospital and the Princess Royal Hospital in Telford, said: "We know from talking to our patients just how important access to Wi-Fi and the internet is for them.
"People can often be in hospital for long stretches at a time, either as inpatients or through receiving treatment such as chemotherapy. To be able to get online easily can help to pass the time."
The project was funded by NHS Digital as part of the NHS Wi-Fi Programme. The objective is to provide a secure, stable and reliable Wi-Fi capability across all NHS settings. SaTH is one of the 115 Trusts that has been awarded funds to improve its service.
The new Wi-Fi system will be managed by BT and will be available across the Trust, including both hospital sites, Shrewsbury Business Park and the new Shropshire and Mid Wales Fertility Centre at Severn Fields Health Village in Shrewsbury.
Instead of applying for a token, which is sent to the user's device, under the new system, users will simply need to select 'NHS Wi-Fi' from the available networks and then click on 'Get online'.
Julia said: "The experience for those using the new system will be much improved. The service is faster, stable and secure. Users can watch short videos, use video chat and be secure online."
Certain content, such as gambling and adult sites, will not be accessible.