17 November 2023
The winner of this year's Shropshire Star Public Recognition Award has been announced as part of a virtual award ceremony for the Trust which runs the county's two acute hospitals.
Ward 22 Short Stay at Royal Shrewsbury Hospital were crowned the winners in the only category that patients, families and members of the public can nominate and vote for in The Shrewsbury and Telford Hospital NHS Trust (SaTH) awards.
Individuals and teams were announced as winners last night (Thursday 16 November) in 19 categories at the Annual Trust Celebratory Awards.
Louise Barnett, Chief Executive at SaTH, said: "The Celebratory Awards highlight the amazing work that my colleagues do, whether they are working in frontline teams or behind the scenes.
"Hundreds took the time to nominate and this year we saw more than double the nominations for the awards compared to last year, which is testament to their achievements and the exceptional dedication they show every day across so many services in our hospitals and the wider community to support our patients and their families.
"Huge congratulations not only to the winners, but to everybody who was nominated. It is such a difficult task to choose the winners, but also a great honour, as it is so fantastic to see all the great work going on at our Trust.
"I would like to thank our communities, who have supported us, and continue to do so. We could not do what we do without you."
The Trust Celebratory Awards celebrate the outstanding dedication and commitment of your colleagues and their teams, and the truly wonderful work that they do every day across so many services in our hospitals and the wider community to support our patients and their families.
Among the award winners were Poppy Horrocks, Volunteer Project Manager, who successfully delivered a very ambitious project to increase the numbers of young people volunteering with the Trust and Adam Farquharson, Consultant Surgeon, who led the working group that successfully developed the case for our surgical robot.
Winner of the Public Recognition Award (in partnership with the Shropshire Star) was the team on Royal Shrewsbury Hospital's 'Short Stay' Ward 22 which was nominated for going "over and above" as they cared for a patient at the end of his life. The citation praised the efforts of the "whole team on Ward 22" as they looked after a 90-year-old man, describing them as 'hospital heroes'.
Please see below a list of the winners of the Trust Celebratory Awards and their nominations.
 Shropshire Star Public Recognition Award – Ward 22 (Short Stay)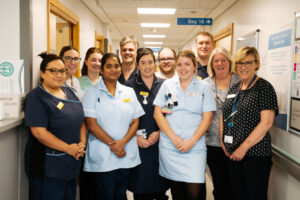 The team on Royal Shrewsbury Hospital's Ward 22 (Short Stay) was nominated for going "over and above" as they cared for a patient at the end of his life.
The citation praised the efforts of the "whole team on Ward 22" as they looked after a 90-year-old man, describing them as 'hospital heroes'.
It stated: "All of the staff, without exception, committed to dad's care, from shuffling patients late in their busy day to finding a quieter side room; to ensuring he was made comfortable. He received constant, meticulous care. Their dedication and compassion extended to us as a family, moving chairs in for overnight, leaving snacks, offering tea and meals and even words of kindness. We were on their radar as well as dad.
"He had, in a very short time found that bond that can only happen if you know someone really cares. This team went over and above. They asked and listened to his wishes and managed to engage with him, right up to the very last moments."
Values Awards
Partnering Award – Lynette Charles, Specialist Nurse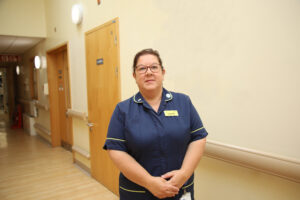 As part of the NHS England children and young people asthma pilot scheme, Lynette has worked closely with GPs, Practice Nurses, Early Years, Housing, Public Health and Education alongside the Shropshire, Telford and Wrekin Integrated Care Board to implement the recommendations in the asthma bundle.
Lynette has championed children's safeguarding following some high-profile national cases. Lynette is the epitome of partnership working with multiple agencies to improve the lives of children with a chronic condition.
Ambitious Award – Poppy Horrocks, Volunteer Project Manager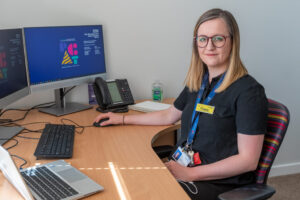 Poppy successfully delivered a very ambitious project to increase the numbers of young people volunteering with the Trust.
The project was funded in a number of Trusts across the country, and the Trust's figures led the way, recruiting and retaining more young volunteers than any other Trust, by far.
These volunteers have gone on to deliver many thousands of hours of volunteer time to the Trust; many will go on to healthcare careers. Poppy was very ambitious with her targets for the project and was able to inspire those around her with her enthusiasm. This project was driven by Poppy's ambition, and she deserves credit for not only delivering, but leading the way.
Caring Award – The Phlebotomy Team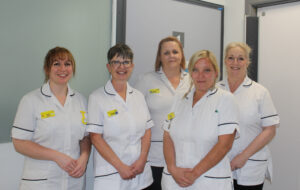 The Phlebotomy team goes under the radar providing the vital day-in day-out service for the hospital on wards and clinics. The team providing this service is highly professional, proficient and personable. Patients and their families are supported with empathy and care.
Testament to their approachable, caring nature is their loyalty and support to their team of volunteers who are fully integrated into the team to help deliver the care needed for patients. This department gives 100% patient and colleague care consistently.
Trusted Award – Sophia Hallewell, Senior Pharmacy Technician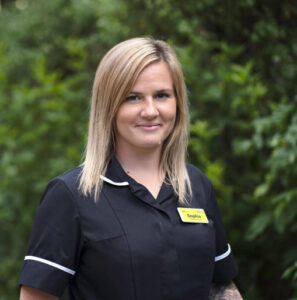 Sophia does a fantastic job and displays dedication and enthusiasm for her role which involves ensuring our organisation is able to recharge all medicines to our commissioners.
She has worked hard to ensure our data quality is of high standard, has been commended for her work by our NHSE colleagues and has worked tirelessly to ensure the staff are supported with their queries regarding anything to do with High Cost Drugs.
Sophia ensured the High Cost Drug Service was well led and ensured the patients within our community were able to access medicines approved by NICE in a timely fashion. She is an advocate for her profession and despite working full time she has continued to develop herself by completing and achieving her biology degree.
Sophia makes a real difference to the department and ensures the medicines provided to the patients within our community is the most cost effective and clinically effective through her work.
Getting to Good Awards
Quality Improvement, Education and Research Award – the Renal Service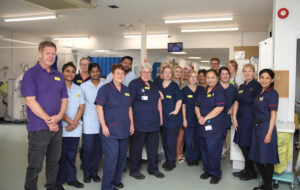 The renal service, across both hospital sites and in the community, consistently go above and beyond to create opportunities for their patients to contribute to research.
They have done this for the patients and for the future of renal care despite the fact that every trial that has been set up with them makes demands on them to do extra – this is the context of an already hugely busy renal service.
The reason they never fail to support new research is driven by their care and commitment to their patients and their foresight to see the bigger picture, knowing that every extra blood taken, sample sent, piece of data collected adds to the evidence needed for robust, ethical clinical trials to create those new treatments/regimes or to improve cost effectiveness in the longer term and ultimately improve outcomes.
Creating positivity, hope and the sense of being able to contribute to future care and developments has a huge impact on the mindset of patients who spend hours each week dialysing and staying well.
Innovation Award – Adam Farquharson, Consultant Surgeon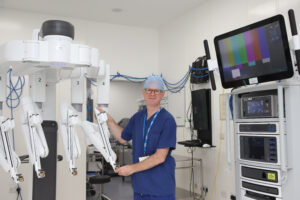 Adam led the working group that successfully developed the case for the Trust's surgical robot. This required the development of a very strong unified multi-specialty and multi-professional team.
There were complex training needs, including arranging support from other organisations and also developing new pathways.
One of the primary aims of the work was to improve recruitment and retention and the Trust is already seeing more interest in specialist staff joining it in response to the installation of the robot.
This required a real eye for the future of surgery for our patients and tenacious approach to getting things done through many ups and downs along the way.
Sustainability/Green Award – Ian Stuart and the Catering Team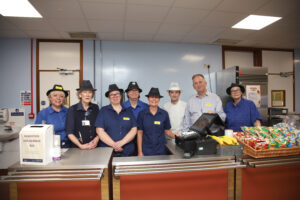 Ian and the team work tirelessly to help deliver sustainable solutions for all catering items. A large amount of work has been carried out to improve the Trust's carbon footprint and reduce the waste that is sent to landfill.
This includes the move from plastic to glass and proper crockery on wards, reducing single use plastic and food waste. The team has lots of exciting further plans for the future and it is amazing to see. It is such a lovely team and Ian works so hard to make things better for our patients, colleagues and planet.
Leadership Awards
Clinical Leadership Award – Saskia Jones-Perrott, Divisional Medical Director for Medicine and Emergency Care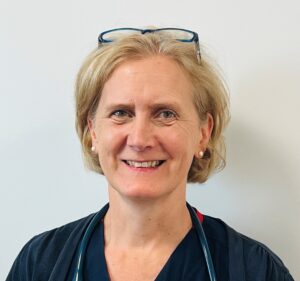 Saskia works relentlessly hard to provide the best possible care for the patients in the Medicine and Emergency division.
She is dedicated to supporting her teams and the doctors to the very best of her ability. Despite having an incredibly pressured role she continues to provide supportive appraisals for colleagues and provides wellbeing support to the junior doctors.
Saskia demonstrates passion and integrity in everything she does and works tirelessly for the organisation to improve the care that it provides and support the teams that work with her.
She demonstrates the Trust values in her daily work making sure she thanks everyone for their contributions, however small.
Non-clinical Leadership Award – Trish Purfit, Head of Catering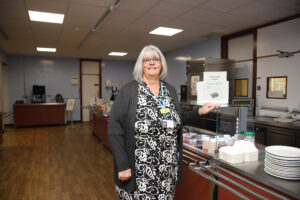 Trish is not only an exceptional leader for the Catering Team, but she goes absolutely above and beyond every single day. She is often seen at both sites, not in the office but out there supporting her team when times are really busy.
Often Trish is called on last minute to source and deliver food and drinks to colleagues and patients at very short notice. This has been evident in recent months throughout various strikes and heat waves, making sure our colleagues and patients are fed and watered. Nothing is ever too much trouble.
Health Equalities Award – Blossom Lake, Specialty Doctor, Surgical breast cancer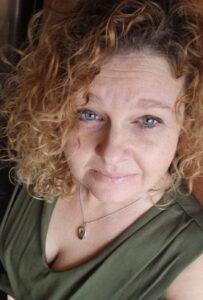 Blossom has been working hard over the last 18 months to build a seldom heard voices community with voluntary partners in order to address issues around stigma and isolation of breast cancer diagnosis, treatment and survival.
She has gone above and beyond, working hard to engage with different communities to provide education and help identify gaps in services to support communities.
Blossom is committed and passionate to ensuring equal access to treatment and identifying barriers that can contribute to less favourable outcomes after breast cancer diagnoses.
This is the start of an exciting career for Blossom with the area of health care inequalities in Breast Cancer and research. She is a truly deserving finalist for the amount of effort and hard work that she devotes to this cause outside of her working hours.
Learning and Development Awards
Learning and Development Award – Sue Rutter, Obstetric Consultant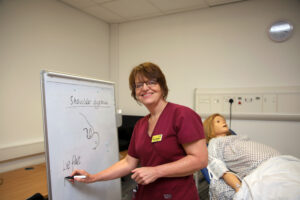 Sue has done a lot of work as labour ward lead and the education lead to get the Trust's Maternity Department to where it is today.
She has set up a labour ward forum which runs monthly bringing together midwifery, anaesthetic, theatre, governance, and obstetric staff to manage issues pertaining to the running of the labour ward.
She has helped develop the handover process for the labour ward, writing guidelines pertaining to care of women on labour ward. She is regularly flagged within incident review meetings as demonstrating excellent practice in patient care, staff debrief sessions and reflection sessions.
Her trainees speak very highly of her for teaching, reflection, educational and clinical supervision.
Rising Star Award – Laura Westcott, Health and Wellbeing Lead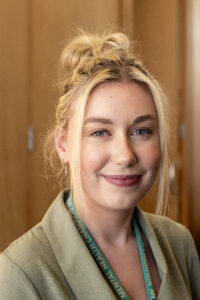 What is evidently important to Laura is her passion to invest in colleague health and wellbeing.
She is a real advocate, championing and strengthening health and wellbeing support across the organisation.
Laura is always researching what else the Trust can do to support its colleagues to be the best version of themselves, which of course, is also great for patients.
Over the last year she has grown the service, enabling over 2,500 colleagues to receive the support they need and promoted the service continually through roadshows and other routes.
Volunteer and Partner Awards
Volunteer of the Year Award – John and Judi Anderson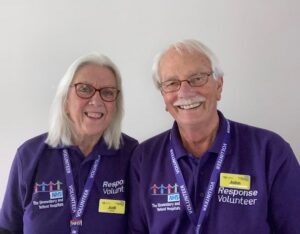 Ant & Dec, Little & Large, Morecombe & Wise, and of course John and Judi Anderson! When it comes to double acts they don't get better than the Andersons – according to their nominator.
John and Judi have contributed a combined total of over 1,000 hours of volunteering to PRH over their time with us. They truly demonstrate our trust values in the roles they play.
They are regular volunteers in Phlebotomy and the Discharge lounge as well as helping out in the Plaster room and the Response desk. As well as their regular roles, they both often step up at times of need to help during critical incidents and at short notice.
John and Judi are often seen around the hospital together and their smiles and positivity radiate wherever they are.
Partner of the Year Award – Lingen Davies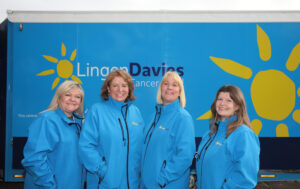 The Lingen Davies charity has been enhancing and supporting the work of the Trust's cancer services for more than 44 years.
It exists to ensure the people of Shropshire, Telford & Wrekin, and Mid Wales can access excellent care and support locally.
Fundraising initiatives, investment in the team, and forward planning mean they have now reached the £1,000,000 income point and are able to deliver a raft of services, technology, and equipment to partners working in the Lingen Davies Cancer Centre.
In the last few years they have delivered projects to support our continued delivery of excellent cancer services including a CT Scanner and creation of three new clinic rooms in the Centre.
They also fund additional support services for people to maintain fitness and wellbeing – enabling them to respond as well as they can to medical treatment.
Special Awards
Unsung hero Award – Mahmoud Elshehawy, Medical Registrar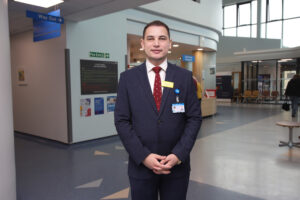 As the junior doctor's representative, Mahmoud has shown exceptional leadership skills. His role in leading the medical registrars' camp in Shrewsbury underscores his commitment to education and training.
Dr Elshehawy's punctuality, dedication, and provision of valuable resources are truly commendable. His style of leadership, which is focused on both patients and colleagues, pushes teams to do their best.
His ideas affect how the Trust does things every day, producing a culture of hard work and kindness. Dr Elshehawy's unwavering dedication to making patients' lives better and motivating his colleagues to go above and beyond makes him a great choice for this award.
Chair's Award – Dr Victoria Walton, Junior Doctor in training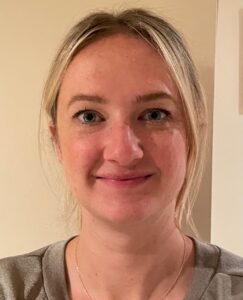 Compassion is shown across our organisation every single day, but Victoria is particularly special. She has seen medical staff being discriminated against because of the colour of their skin, whilst they are trying to deliver care and compassion. Out of this came a desire to empower those individuals and to ensure that they were supported and awareness was raised.
She brought Galvanise to the Trust. Galvanise is an ethnic minority leadership programme. The programme's goal is to ensure that black, Asian and ethnic minority colleagues have a space to come together and share challenges and opportunities.
As a result of this work, it has now grown its own legs and become bigger than she ever imagined it to be. Twenty colleagues at our Trust have taken part on the Galvanise programme and from the Board's perspective we recognise the importance of ensuring that everyone can thrive working at our Trust.
Victoria has been fundamental in reaffirming our commitment to our equality, diversity and inclusion agenda to ensure we live by our people promise and to ensure inclusion and belonging for all.
 Chief Executive Award – Emma Jones and the Advanced Clinical Practitioners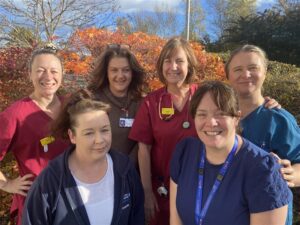 Advanced Clinical Practitioners (ACPs) have become an increasingly important group of professionals at the Trust. They are all regulated health care professionals who have had several years of additional training so that they have the knowledge and skills to carry out work that was previously carried out exclusively by doctors.
They work throughout the organisation in assessment areas and on the wards. They have been very active and supportive during the spells of industrial action and have been a key focus of continuity on many wards.
The future plans of the Trust in terms of caring for patients across two hospitals now have ACPs as a prominent provider of clinical care and this is a reflection of their strong commitment to learning, care of patients and inspirational leadership from Emma.
Lifetime Achievement Award – Anne Borley, Sister on Ward 23, Oncology and Haematology
Anne is an inspiration to so many patients and colleagues whom she has cared for and worked with for 50 years.
She always goes the extra mile for the ward and her patients. One of her nominators says: "Anne has been the backbone of the haematology ward for several decades. She is totally patient-focused and goes above and beyond to ensure their experience through such traumatic events is as smooth, supported and well-informed as possible.
"She has provided a gold standard care to thousands of patients. She has devoted much of her life to this specialism and to the ward and thoroughly deserves to be recognised for her invaluable contribution."