20 February 2017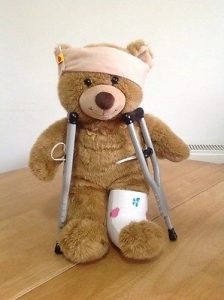 The Trust which runs Shropshire's two acute hospitals is urging former patients to return unwanted crutches and walking frames.

Emergency teams get through hundreds of pairs of crutches every year and many are never brought back to hospital. Unreturned equipment can cost the NHS thousands of pounds a year. Crutches are only used for a short period of time, however, they are designed to be used over and over again. Many patients simply forget to return them to hospital once they are no longer needed.
Even those that can't
be used can be recycled, so now The Shrewsbury and Telford Hospital NHS Trust (SaTH) is launching an appeal asking members of the public who have crutches and other walking aids in their homes that they no longer need to bring them back to either the Royal Shrewsbury Hospital (RSH) or the Princess Royal Hospital (PRH) in Telford.
Debbie Holland, Assistant Operations Manager for Emergency and Urgent Care at RSH, said: "As the warmer weather and lighter nights approach, people may be thinking about having a spring clean and throwing out some of the things that are cluttering up their homes.
"We provide a lot of crutches, walking frames and other walking aids for patients and very often, when they are no longer needed, they are left in a shed or spare room and then thrown away. We are keen for as many of them to be returned as possible. This helps to save valuable resources for the NHS and ensures this equipment is there for those who need it most.
"We do get people bringing back crutches they no longer need, but we know that there are many more sets just lying in people's homes that have been forgotten about.
"It doesn't matter if they are a little worn out as we can either re-condition them so they can be used again or we can recycle them. Also, if you've only got one crutch that is fine as well, as we can pair them up with others when they are returned."
SaTH issues around 100 pairs of crutches every month, at a cost of around £9,000 a year. The number which are returned is quite small.
SaTH's 'crutch amnesty' will run throughout March. During that time equipment can be returned to the Plaster Rooms in A&E at either hospital.
Debbie said: "Dropping off unwanted equipment could not be easier. Parking at our hospitals is free for the first 30 minutes, so people can simply pop to their nearest hospital and drop their walking aids off at A&E reception.
"Returning this equipment will help to save valuable resources for the NHS and ensures this equipment is there for those who need it most."