8 February 2017
The Trust which runs Shropshire's two acute hospitals is to host a conference which will look at improvements in care for people living with dementia.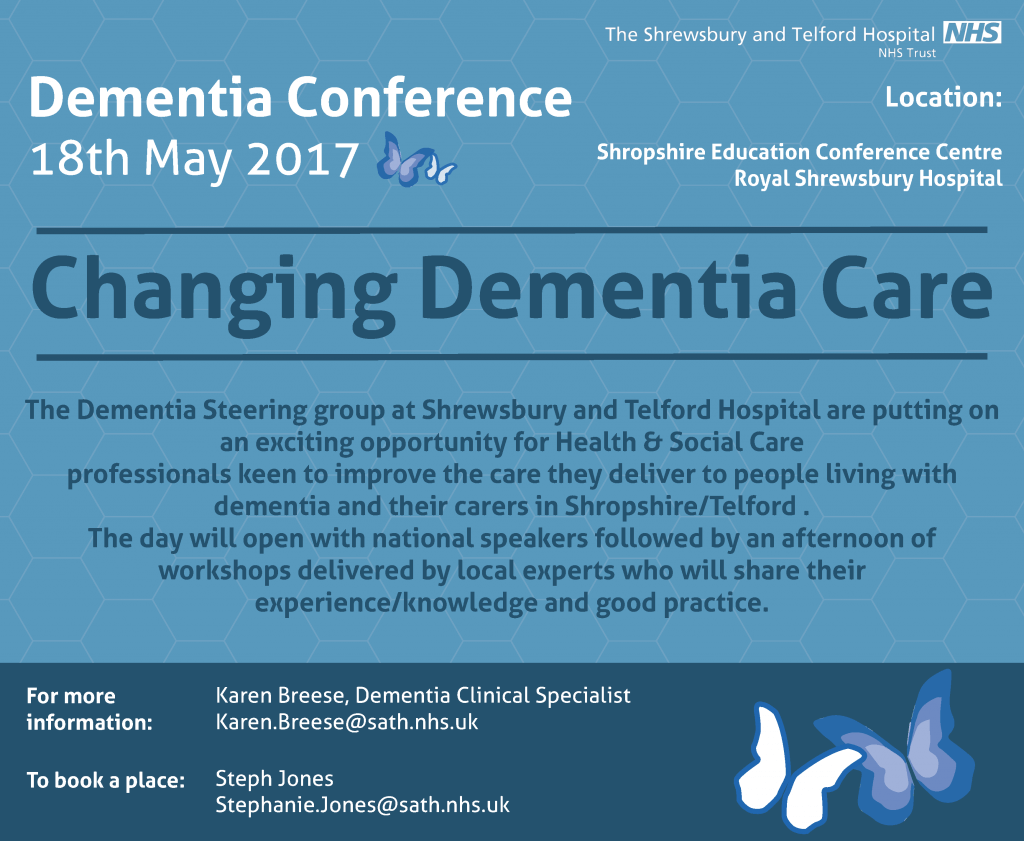 The conference – Changing Dementia Care – will take place at the Shropshire Conference Centre at the Royal Shrewsbury Hospital on 18 May 2017.
Speakers confirmed for the event include Chris Roberts and Jayne Goodrick, who featured in an extraordinary BBC Panorama documentary about living with dementia.
It is the latest conference to be hosted by The Shrewsbury and Telford Hospital NHS Trust (SaTH) as it continues to look at innovative ways of improving patient care not only at its two hospitals – the Royal Shrewsbury Hospital (RSH) and the Princess Royal Hospital (PRH) in Telford – but also in the wider community.
The Changing Dementia Care conference follows two successful end of life care conferences held in the last two years. It is being organised by Karen Breese, Dementia Clinical Specialist at SaTH.
She said: "A quarter of patients in our hospitals live with a dementia or some form of confusion. We are working to ensure that those patients, and their carers, receive the individualised and sensitive care that is appropriate to their needs, to help to ensure that their stay in hospital is no longer than it needs to be.
"In recent years, there have been a number of initiatives that we have introduced in order to improve care for people living with dementia and for the people who care for them. This conference will build on that and is an excellent opportunity for health and social care professionals to improve the care that they offer."
In September last year, SaTH launched its Living Well With Dementia appeal. The three year appeal aims to raise £2.6 million to provide a number of benefits for patients to improve ward and outpatient departments so that they are dementia friendly.
Work will include improvements to the ward and outpatient environments to make them dementia friendly, new clocks, colour-coded hand rails and toilet seats, improved signage, new crockery and cutlery and reminiscence items.
This will build on other initiatives developed by SaTH in recent years, including:
The Butterfly Scheme, which uses a butterfly symbol to quickly and discreetly identify patients with dementia or confusion.
The Carer's Passport, encouraging carers to visit and stay with patients living with dementia in order to provide reassurance, support, and help with eating and drinking and other day-to-day activities.
This Is Me, a leaflet that people living with dementia can use to tell staff about their needs, preferences, likes, dislikes and interests.
Twiddlemuffs, thick hand muffs with bits and bobs attached to the inside and out which are designed to provide a stimulation activity for restless hands for patients with dementia.
Dementia-Friendly Café – held once a month at PRH with plans to introduce a similar café at RSH to allow people with dementia and their carers to get together over coffee and cake to talk about their experiences.
Karen said: "The conference will open with national speakers and will be followed by an afternoon of workshops, delivered by local experts who will share their experience, knowledge and examples of good practice.
"We are very excited to be holding this conference for the first time. It promises to be an excellent day."
The conference costs £20. To book a place email Stephanie.Jones@sath.nhs.uk
For further information email Karen.Breese@sath.nhs.uk