4 December 2019
A team of volunteers from the League of Friends of the Royal Shrewsbury Hospital have been spreading some festive cheer this week.
For more than 30 years the volunteers have provided beautiful floral displays at the RSH to celebrate the four seasons – and this week colourful displays to celebrate the festive season have gone on display.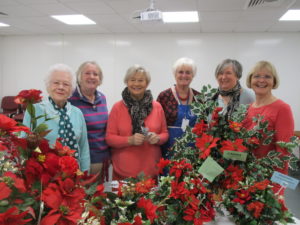 Hospital staff, patients and visitors alike all appreciate the flowers as they brighten up the waiting and reception areas within the hospital.
In the last ten months the Friends of the RSH have gifted in the region of £330,000 to the RSH for vital hospital equipment which is helping to improve patient care.
All profits from the Friends' four hospital coffee shops are put towards equipment.
Richard Lawn, Chairman of the League of Friends of the RSH, said: "We are very lucky to have such a marvellous team of volunteers who give their time to help in the shops and not only provide a service to all its customers, but a friendly and caring face too."
Pictured are Barbara Maund, Jane Preece, Tricia Wells, Barbara Lester, Gwen Johansen  and Jayne Mott