13 February 2023
A charity has presented SaTH with funding for virus air filters which improve the air quality for patients on wards and reduce the risk of COVID-19.
The League of Friends (LoF) of the Royal Shrewsbury Hospital (RSH) has gifted nearly £12,000 for the air filters.
Funding paid for four filters at RSH and SaTH bought four for Princess Royal Hospital in Telford. Inivos Ltd, the company which supplies the filters, also donated two machines – one for each hospital site.
The portable AIRQON COMBI-1200 HEPA and UV-C air purification systems were introduced to improve air quality and maintain patient safety, by preventing further outbreaks of COVID-19 and other respiratory infections.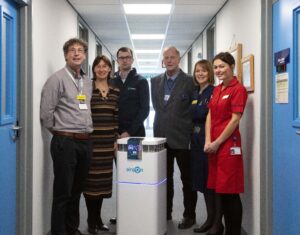 The LoF Executive Chairman, Richard Steventon, made the presentation to Hayley Flavell, Director of Nursing, and Janette Pritchard, Lead Nurse for Infection Prevention and Control.
Hayley said: "Thank you to the League of Friends for its generous donation, which has helped our Trust to buy these air filters. The portable filters will make such a difference to patients in our care and have shown that they can reduce the number of COVID-19 cases."
Richard said: "The Royal Shrewsbury Hospital League of Friends is pleased to have funded air infection filters for the RSH which are already in full use. They improve air quality, prevent outbreaks of viruses, reduce and dilute potential infections following an aerosol-generating procedure making the environment safer for the patients.
"Many thanks to all those who have contributed to our funds with donations or volunteering support in our shops and at our fundraising event days".
Pictured with one of the air filters: Consultant Microbiologist Dr Stephen Jones; Sue Hurdiss, LoF Organising Secretary; Grant Lyon, of Inivos Ltd; Richard Steventon, Janette Pritchard and Hayley Flavell