22 May 2017
The following information is provided by our colleagues  at Shropshire Council
Residents and organisations across Shropshire are being asked to support a new campaign to help older people reduce their risk of falling.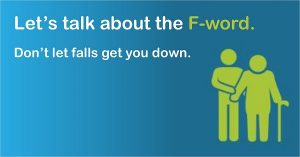 The 'Let's talk about the F-word' campaign launched today (Monday, 22 May 2017) is being led by Shropshire's public health service Help2Change and Age UK Shropshire Telford & Wrekin.
'Let's talk about the F- word' signposts people to a range of practical suggestions and online interactive tools and resources to help someone stay safe and avoid falls.
Resources include:
Falls assistant – An NHS-approved interactive online source which helps you check and understand what may be putting someone at risk. The online tool also provides information on what to do to reduce risk and provides information on exercises to improve mobility, gait and balance.
Mobility and balance – a simple online test to see how someone gets in and out of a chair and walks. This can help indicate whether they need to improve their strength, gait and balance.
Age UK preventing falls – Easy to follow home exercises to help build strength and balance as part of a healthy ageing programme.
Fall Check home safety – an interactive check for hazards in the home that may cause a trip.
Miranda Ashwell, physical activity lead at Help2Change, said: "Shropshire's Help2Change has teamed up with Shropshire's Age UK to develop a falls prevention campaign. It isn't enough just to raise awareness – we need to help people to act to stay safe. So our campaign promotes the wide variety of national resources designed to help people recognise and reduce their risk of falls.
"The falls prevention resources also illustrate the positive benefits of exercises that improve a person's balance and mobility, including health, strength, confidence and enjoyment."
Heather Osborne, Chief Executive, Age UK Shropshire Telford & Wrekin, added: "While the problem of falls is complex, it is not inevitable. Falls are not a 'normal' part of ageing. Many falls can be prevented, using interventions that have been trialled and tested and which have been proved to be effective.
"We really urge those who think themselves or someone they know could be at risk of falling, to visit the falls prevention online resource."
Falls prevention is a one of the key priorities for Shropshire's Health and Well-being Board's Healthy Lives programme. The Healthy Lives programme looks at how organisations and local communities can better support individuals, families and neighbourhoods to take more control over their health and well-being, to help them remain safe and reduce their risk of ill health.
For more information about the campaign, or if you are concerned about yourself, an ageing parent, family member or friend go online to
www.healthyshropshire.co.uk/topics/ageing-well/preventing-falls
You can also visit your local library and ask for information on the 'Let's talk about the F-word' campaign.
You can also follow @Shropcouncil and @AgeUK_STW using the hashtag #ShropFalls or on Facebook at www.facebook.com/shropshirecouncil  and www.facebook.com/AgeUKSTW