16 November 2023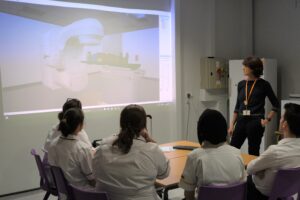 The Trust which runs the county's acute hospitals is the first in the country to get a state-of-the-art radiotherapy training system, bringing huge benefits for patients and staff.
The new system has been installed at the Royal Shrewsbury Hospital (RSH) which is run by The Shrewsbury and Telford Hospital NHS Trust (SaTH), and provides an 'exceptional level of training.'
Approximately 50% of patients will receive radiotherapy to treat their cancer and SaTH is using the £112,000 system to provide training for a range of complex treatments.
The system includes a wealth of training resources, allowing users to be transported into a life-size 3D treatment room, complete with a Linear Accelerator Radiotherapy Treatment machine.
It also creates a safer learning environment for students and enables experienced staff to practise newer techniques.
Mercia Edwards, Radiotherapy Practice Educator, said: "Having this virtual radiotherapy system helps us to provide an exceptional level of training, assists us in promoting our profession and provides more interactive information for our patients.
"We can deliver educational workshops, give student radiographers a more in-depth look at anatomy and learn more about complex techniques."
Louise Killey, Radiotherapy Services Manager, who is pictured above using the new system, said: "We are delighted to have received funding for the system, which has been made possible by Health Education England.
"This investment means that we can further develop the training that we provide for our staff, students and future workforce, improving the care we deliver to our patients and their families."
Dr John Jones, Executive Medical Director, said: "I am incredibly proud of the dedication of our radiotherapy colleagues who have helped to secure the investment for this fantastic new training system.
"Embracing new ways of working is a key priority because having a highly skilled workforce not only benefits our patients, it benefits the whole organisation by encouraging others to want to work here."
The Radiotherapy Department, which is based in the Lingen Davies Centre at RSH, uses a range of other state-of-the-art equipment including three Linear Accelerators and a CT Scanner.