It's time to get your mixing bowls out and dust off your apron in preparation for The Shropshire Big Bake.
The Shropshire Big Bake promises to be one of the region's most competitive baking competitions when it is judged at The Shrewsbury and Telford Hospital NHS Trust's Charity Fun Day on July 22.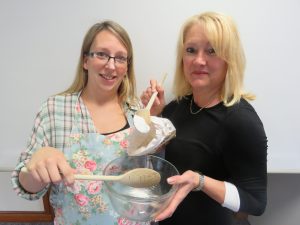 Entry is free, although donations will be welcomed, and all the cakes will be sold during the Charity Fun Day – which will take place at the Shropshire Conference Centre at the Royal Shrewsbury Hospital (RSH) from 12noon until 4.30pm – in aid of the Trust's Live Well With Dementia Appeal.
Patients, visitors, staff and people from across the local community are encouraged to show off their culinary skills and enter the competition.
Clare Walsgrove, Matron and organiser of the Shropshire Big Bake, said: "Simply choose your own theme, flavours and toppings for a chance to win in this fabulous competition. It is a great opportunity to do something fun for an excellent cause.
"The Live Well With Dementia Appeal is a really good reason to get involved and raise some money for, as it will provide a number of benefits for patients to improve ward and outpatient departments so that they are dementia-friendly."
The judging for the Shropshire Big Bake will begin at 12noon on 22 July, where a special guest will award prizes and certificates to the winners.
Registration for the competition closes on 15 July. To register or for more details email Clare Walsgrove at clare.fearnall@btinternet.com
The Charity Fun Day will start at 8am when hundreds of people will cycle, run or walk to the Royal Shrewsbury Hospital (RSH) as part of the annual hospital-to-hospital fundraiser, known as The Butterfly Effect – sponsored by Radfield Home Care. This will be followed by a Summer Fete at The Shropshire Conference Centre at RSH from 12noon until 4.30pm.
Lots of people attended the separate events in 2016 but this year it has been decided to combine to get even more people from the community involved, to create a fantastic atmosphere and raise thousands of pounds for SaTH's Dementia Appeal.
Julia Clarke, Director of Corporate Governance at SaTH, said: "Our hospitals are a big part of the local community and following the successes of last year's Fun Day we wanted to make the event bigger and better for all the family.
"We encourage as many people as possible to come on site and enjoy the number of exciting activities whilst also getting the chance to learn about what we do and the healthy messages we promote."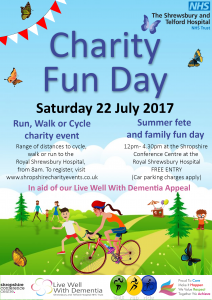 The day will start at 8am when the first cyclists will leave RSH on a 50-mile circular bike ride. They will be followed by cyclists taking part in a 35-mile bike ride from the Princess Royal Hospital (PRH) in Telford to RSH and an 18 mile bike run from PRH to RSH.
Runners and walkers are able to enter distances of 18 miles (PRH to RSH), nine miles (starting in Upton Magna) and a circular 5K walk starting from RSH. For more information about the routes visit www.shropshirecharityevents.co.uk
The Summer Fete at RSH will begin at 12pm and finish at 4.30pm with an array of health workshops, crafts and produce stalls, a tombola and lots more family-friendly entertainment.
Activities and events on the charity fun day will include:
Shropshire Big Bake cake competition
Health workshops
Children's Corner with face painting and bouncy castle
Refreshments
Crafts and local produce stalls
The cost to enter the Butterfly Effect fundraiser is £10, all of which goes to Living Well With Dementia Appeal. To register for the Butterfly Effect charity multi-distance event visit www.shropshirecharityevents.co.uk.
Entry to the Summer Fete is free, although car parking charges do apply. Anyone wishing to sponsor the event or have a stall should register via the Shropshire Charity Events website above or email members@sath.nhs.uk
For more information about the Charity Fun Day visit www.sath.nhs.uk