22 May 2019
More than 100 nurses past and present are to come together for their annual reunion in Shropshire next month.
They are members of The Royal Shrewsbury Hospital Nurses League who will travel from far and wide for the reunion to catch up and share memories with the colleagues they trained and worked with – with many friendships stretching over 60 years.
The League was formed in 1944 when it was formerly known as The Royal Salop Infirmary (RSI) Nurses League by the then Matron, Miss L Evans. The intention was to link past and present qualified nursing staff together, and to maintain a Benevolent Fund.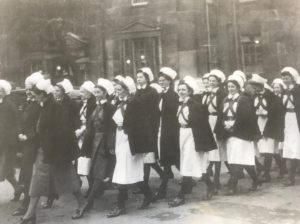 The Fund was put in place for members over the age of 80-years-old who wished to receive a Christmas gift token, and also any member who was poorly would receive flowers or a small gift.
The first reunion was held on 23 November 1944 when the day started with a service at St Mary's Church in Shrewsbury followed by a buffet at the RSI.
Now the League will celebrate its 76th reunion on Saturday 8 June with an event at Shrewsbury Town Football Club in Oteley Road, Shrewsbury.
It includes a service led by the RSH hospital chaplain, with two hymns and a reading, followed by lunch and a slide show featuring old photos of staff from the Royal Salop Infirmary, Copthorne Hospital South and the Eye, Ear & Throat Hospital – many going back to the 1940s.
Brian Bennett, Chairman of RSH Nurses League, said: "I am delighted to say that our League now has 330 members, with many living all over the world including the USA, Spain and South Africa as well as the UK.
"We do have a large number of members aged over 80 and 90-years-old who continue to show their full support. They may not be able to join us at the reunion, but they always take the time to write letters wishing us all a lovely day of enjoyment.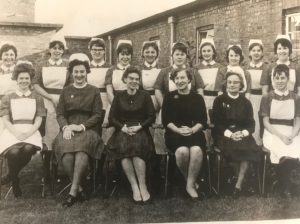 "We do this every year as it means so much our members. Every reunion I have so many saying the same thing, 'please keep going, this is our special day when we meet our friends and catch up'.
"We are keen to maintain the League going forward, and we are encouraging our members to invite a nurse friend – working or retired – to join us at the reunion day and hopefully become a member. It is very rare that people turn up and not know anyone. It really is a wonderful day and the atmosphere is incredible."
For more information about The Royal Shrewsbury Hospital Nurses League and becoming a member, contact Brian Bennett, Chairman, on (01743) 860452.