8 April 2019
A team at SaTH has been shortlisted for a national award after making financial savings of nearly £2million.
The Procurement team, based at Shrewsbury Business Park, is a finalist in the Financial or Procurement Initiative of the Year category of the Health Service Journal's Value Awards 2019, which recognise excellent use of resources and also seek out examples of demonstrable improvement in outcomes.
They have been nominated for their 'Lean Methodology Journey' – which saw them making savings of £1.8million in the 2017/18 financial year. The overall winner will be announced in May.
The savings were achieved by using 'lean methodology' from the Trust's Transforming Care Production System – created as part of the partnership with the Virginia Mason Institute in Seattle, the USA's Hospital of the Decade.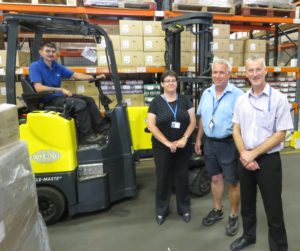 The team introduced new and improved methods of working, which has helped them to remove unnecessary jobs and reduce the value of stock held in store rooms, all of which has significantly cut down on wastage and transport costs.
The products that the Trust orders for its hospitals are also now in a catalogue meaning far fewer mistakes, and enabling clinicians to spend more time with patients instead of ordering stock for their wards and departments.
Paula Davies, Head of Procurement at SaTH, said: "To be recognised in this way for the work we have done is absolutely fantastic.
"As a result of this improvement journey we have saved a significant amount of money which can be put into improving patient care instead. That was an incredible achievement in itself; but to be shortlisted for a national award is the icing on the cake."
Simon Wright, Chief Executive at SaTH, said: "Paula and her team have made a considerable difference to our organisation and I am very proud of all their hard work.
"They have been able to use new, lean methods to completely transform the way their team operates – and as a result they have delivered huge savings, which will be of enormous benefit to our patients and staff. They thoroughly deserve this national recognition."