27 February 2018
Three drop-off parking spaces for people using the Shropshire Women and Children's Centre are to be temporarily relocated to allow ambulances to park while building work takes place at the Princess Royal Hospital (PRH) in Telford.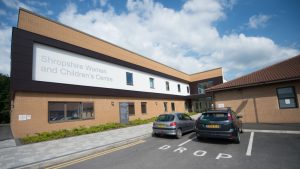 From Monday (5 March), three of the seven spaces outside the Centre will be moved to the main car park opposite so that non-emergency ambulances can use the existing spaces for collecting and dropping-off patients.
The spaces are needed because of building work which is being carried out to move the Urgent Care Centre at PRH from its current location in Clinic F to co-locate it alongside the Accident and Emergency Department. The work is expected to be completed in the summer.
While the work is being carried out, spaces normally used by non-emergency patient transport will be needed for emergency ambulances.
Rebecca Houlston, Emergency Centre Manager at The Shrewsbury and Telford Hospital NHS Trust (SaTH), said: "The relocation of our Urgent Care Centre next to our A&E is an important piece of work, which will help us to ensure people coming into our hospital are seen by the right people to best deal with their injury or illness.
"To allow the work to take place, our emergency 'blue light' ambulances will be using the area normally used by our non-emergency patient transport. To ensure our patients using this service are not inconvenienced too much, we will be using three of the drop-off spaces outside the Shropshire Women and Children's Centre for non-emergency ambulances.
"Those three spaces, which are used predominantly by people dropping off women in labour or collecting new born babies to go home, will be relocated just a few yards away in the main car park, and will be clearly marked to ensure they are used for the correct purpose."
While the work takes place, an attendant from CP Plus, which manages the car parks on behalf of SaTH, will be on hand to assist patients, visitors and staff.