24 May 2017
The Trust which runs Shropshire's two acute hospitals scooped a major award at this year's NHS Sustainability Awards.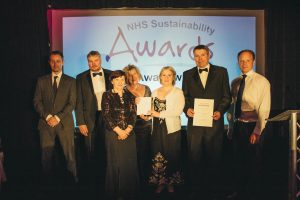 The Shrewsbury and Telford Hospital NHS Trust (SaTH), which runs the Royal Shrewsbury Hospital and the Princess Royal Hospital in Telford, won the Travel and Transport Award at the prestigious awards ceremony for influencing staff to become engaged with sustainable and active travel.
The NHS Sustainability Awards celebrate healthcare efficiency and sustainable development.
As well as being named the winner of the Travel and Transport Award, SaTH was also Highly Commended in the Leadership Award and the Digital Award for making its Trust Board meetings paperless.
Julia Clarke, Director of Corporate Governance at SaTH, said: "We were delighted to receive such tremendous recognition at the NHS Sustainability Awards.
"With almost 6,000 staff and more than half a million people visiting and using our services each year the environmental impact could be significant, but staff across the Trust have done their bit to reduce this impact.
"SaTH takes its environmental responsibilities very seriously but we could not have won this award without support from our employees. After re-branding our bicycle user group, now known as Greener Travels, it grew from six members of staff to nearly 200, and we now have up to 80 members of staff cycling to work every day."
The Travel and Transport Award recognises the work the Trust has done to get staff engaged with sustainable travel through a number of key initiatives.
Alex Ford, Sustainable Travel Plan Coordinator at SaTH, said: "We now have 16 cycle shelters on our hospital sites and it is really rewarding to see staff using them, reducing our carbon footprint while helping to live an active lifestyle.
"The introduction of more cycle shelters, coupled with the creation of new male and female shower and changing areas, has seen a sharp increase in the number of people cycling to work."
As part of SaTH's ambition to become more sustainable, the Trust has also negotiated up to 20% off seasonal bus fares with Arriva, created a new footpath, refurbished a bridleway and holds an annual Active Travel Roadshow.