12 May 2023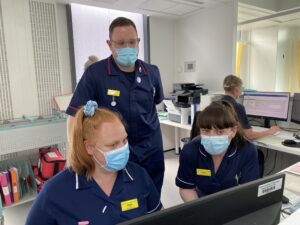 Colleagues at The Shrewsbury and Telford Hospital NHS Trust (SaTH) are being celebrated today to mark Nurses' Day.
The Trust that runs Shropshire's two acute hospitals is saying a big thank you to its 2,528 nurses, and will be rewarding their dedication by hosting its first Joint Nursing/Allied Health Professionals (AHP)/Midwifery Conference.
Key speakers, treats including beauty treatments and entertainment from the Rock Choir will be on offer at the conference, which will be held at Shropshire Education and Conference Centre at Royal Shrewsbury Hospital, today (Friday).
Hayley Flavell, Director of Nursing at SaTH, said: "Nurses' Day is an ideal opportunity to say a special thank you and to celebrate our wonderful colleagues.
"This year's theme is 'the difference you make every day' and that is exactly what colleagues from across the county's health and social care system do every single day.
"As a nurse, I know how challenging, yet rewarding, this profession can be, and I could not be prouder of the dedication and compassion of my colleagues."
Nurse Nick Jones, Haematology Unit Manager at the O'Connor Haematology Day Unit at The Royal Shrewsbury Hospital and the Macmillan Unit at The Princess Royal Hospital, and Emma Jones, Trust Lead Advanced Clinical Practitioner, talk about their roles and what they find rewarding.
Nick Jones – Haematology Unit Manager
Nick started at SaTH in 2011 as a Healthcare Assistant. He was then seconded to Staffordshire University's Adult Nursing programme.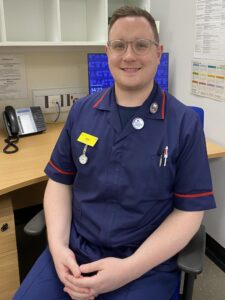 He qualified as a Staff Nurse in October 2018 and then progressed to a Clinical Nurse Specialist (CNS) within the Cancer Centre.
Nick said: "I have always cared and always found that I have wanted to help. I have a family history of cancer and in a way by being a cancer specialist nurse I have a better understanding of the disease. I enjoy trying to make a difference.
"I care deeply about my team. I am so passionate about cancer care and the care we provide to our patients. We cover such a huge area as a Trust and our patients thank us every day for what we do, and that most importantly is what matters."
Nick said that his role is to ensure the day-to-day running of both Day Care Units and to ensure that a high quality of care is provided to patients for Haematology cancers and Haematology disorders.
He added: "My role does require me to be hands-on and clinical too. I am the lead nurse for intrathecal chemotherapy. It's my role to stay relevant as the haematology field of medicine is at an exciting time – it is always expanding and introducing new lines of therapies for our patients."
Emma Jones, Trust Lead Advanced Clinical Practitioner
Emma has been a qualified nurse for 30 years after completing her training in New Zealand and then registering in the UK nearly 14 years ago.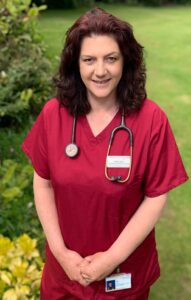 She comes from a family of health professionals with her parents meeting at Shrewsbury Hospital, where her mum worked as a Paediatric Sister and her father in Histopathology.  Her daughter is following in their steps and will gain her nursing qualification later this year.
Emma said: "My nursing career has provided many opportunities to shape both progressions for nurses and, most importantly, improve patient services. Nursing is a highly diverse profession that can provide many career opportunities and is one I have been proud to be part of. My passion lies with patient-facing roles."
When she came to the UK, she started a second Masters in Advanced Clinical Practice, which led to her role as Trust Lead Advanced Clinical Practitioner for SaTH.
She has grown a team of over 60 ACPs in various clinical areas that are continually expanding. The ACP role provides an advanced clinical career path for nurses and allied health professionals who form part of the medical workforce as non-medical clinicians.
"My role is also integral to improving patient services and innovating change and provides a different career path right up to Consultant level practice. I also remain working in a patient-facing clinical role within acute medicine and am currently on a diverse training programme to become a Consultant Advanced Clinical Practitioner.
"I am nearing completing a Postgraduate Degree in Acute Medicine through Cardiff University. I am passionate about advanced practice roles, developing others, patient care and services. Being a nurse has been rewarding, and it continues to be a privilege to care for patients and their families."
Rejimon Abdul Khadir, Practice Education Facilitator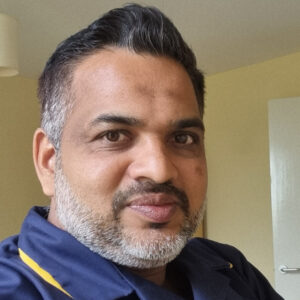 "It was always my dream to become a nurse and it is something I am very passionate about.
"I come from India, which is where I completed my training and worked as an A&E nurse. I also spent some time lecturing in a nursing college there, and I really enjoyed helping students to learn the skills and knowledge required to provide compassionate care.
"I became interested in nursing abroad, particularly within the NHS, and so applied for a position through the Health Education England Global Learners Programme with help from Overseas Development and Employment Promotion Consultants (ODEPC), part of the Government of Kerala, who provided English Language training and pastoral support before I travelled to the UK.
"I managed to get an interview with the Trust and was successful. When I arrived in the UK, Rachel Armstrong (Head of Non-Medical Education) picked me up from the airport and I instantly felt safe. I started work in January 2020 and despite some initial challenges, I managed to pass the Objective Structured Clinical Exam (OSCE).
"I am always keen to learn and develop, so after missing out on some other job opportunities within the Trust I worked through the feedback with Rachel and kept trying.
"The hard work paid off because I have been successful in progressing in my role, having completed the Galvanise Leadership Course and I am presently doing PgCert in Medical Education with Staffordshire University.
"Nursing makes me happy and I feel like I'm making a real difference to people's lives when I care for them. I would like to thank all of my colleagues who have helped and supported me on this journey."