1 June 2023
The Shrewsbury and Telford Hospital NHS Trust (SaTH) will join thousands of charities and voluntary organisations recognising the contribution volunteers make across the UK during Volunteers' Week (1-7 June).
With this year's theme of 'Celebrate and Inspire' SaTH hopes to encourage people to get involved in volunteering in whatever way works for them.
The contribution of volunteers is often unseen, visible only through the incredible impact of their efforts, so taking the time during Volunteers' Week to celebrate all they contribute to our local communities, the voluntary sector and society as a whole has never been more important.
SaTH will be celebrating its 353 volunteers who are involved in more than 30 different roles across its social media channels. Staff and visitors are also being encouraged to send a thank you message which will be shown at the annual recognition event, an afternoon tea taking place on Wednesday 7 June.
Julia Clarke, Director for Public Participation said: "Volunteers are the heart and soul of hospitals, offering their time and compassion to uplift patients and support staff. Volunteers' Week is a chance to celebrate and recognise the invaluable contribution volunteers make, expressing profound gratitude for the impact they have on the lives of others."
All the details on how to get involved in volunteering are on our website www.sath.nhs.uk/ volunteers.
SaTH has put the spotlight on several of our volunteers as part of Volunteers' Week.
Amisha Venkatesh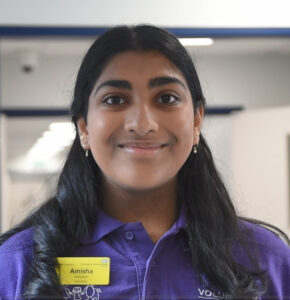 Where do you volunteer?
Currently, I volunteer as a Patient Support Volunteer in the Frailty Ward in RSH. Previously I volunteered as a ward-based volunteer in the Urology Ward.
How long have you volunteered for?
I started volunteering in March 2022. Volunteering for me has been such an interesting journey, and I really wanted to continue it!
Why are you volunteering?
At the beginning, I thought that volunteering would be a great way to support our community, especially due to the pressure the NHS was under after COVID. It not only provided me with work experience but was also a very rewarding experience.
What do you like the most?
As a Patient Activity Support Volunteer, I regularly speak to patients who have comorbidities, one of which may be dementia. The hospital environment can be really unnerving for some patients and I have loved learning about different illnesses and how best I can communicate with these patients to help them feel more comfortable and at ease.
Judi and John Anderson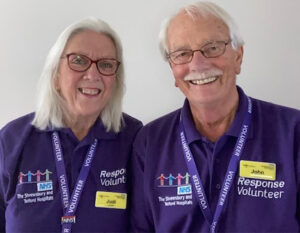 Where do you volunteer?
Judi works in Phlebotomy and John in the Discharge Lounge. We both cover in A&E when we need to too.
How long have you volunteered for?

We have spent most of our lives volunteering, including for Samaritans, Citizens Advice, Mind, Cats Protection and PRH League of Friends Coffee Shop and Ward Trolley. After being a hospital 'customer' it was a natural progression to apply to PRH to volunteer.
Why are you volunteering?
We enjoy meeting and interacting with people so if we can also help and support them that's a double whammy.
What do you like the most?
Watching patients' and visitors' reactions after we have helped relieve them from anxiety and stress. It's also nice to be appreciated. Even though many patients and staff are in stressful situations it's surprising how many smiles and laughs we have (especially with John's sense of humour!)
Paul Baskerville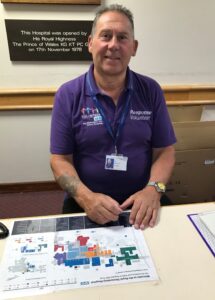 How long have you volunteered for?

I joined the team around February 2021.
Where do you volunteer?
I work Wednesday mornings as a Response Volunteer in the main ward block. A lady called Rebecca helped me along, showing me the ropes etc.
Why are you volunteering?

I was not in a good place after my heart attack back in January 2020, which meant I lost my job, along with my confidence.
What do you like the most?

Volunteering is not only helping me, but allows me to help others – to me that's a win-win. I thoroughly enjoy my Wednesday morning, it's my way of giving back to the brilliant people who kept me alive. Long may it continue.