27 April 2023
We are contacting patients who have been on our waiting lists for over 12 weeks to check whether they still need a hospital outpatient appointment.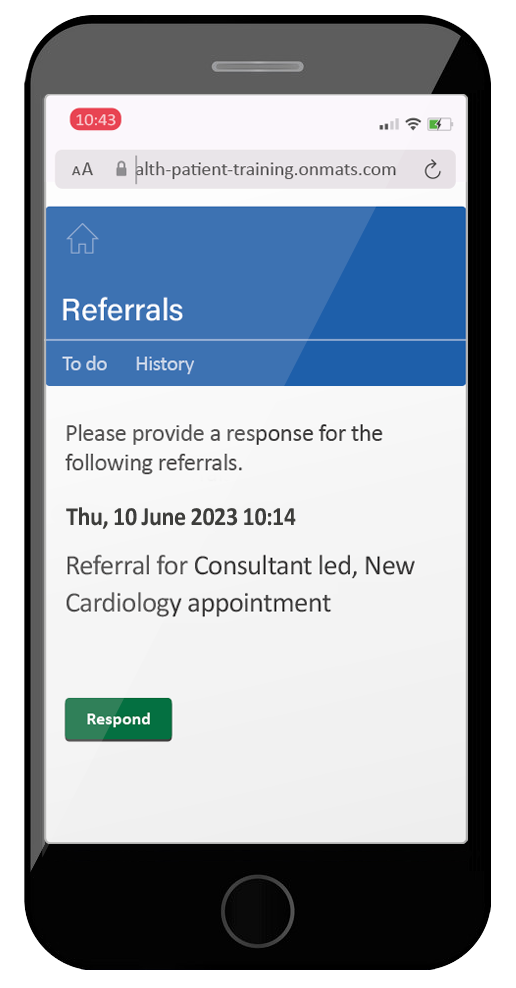 Patients will be sent a text message which includes a link to a form to complete. The form will ask for the patient's date of birth and if an appointment is still needed.
Please make sure we have an up-to-date mobile phone number and email address for you.
We are very sorry about how long you have waited for an appointment and we thank you for your patience. By updating our waiting lists in this way it helps us to make sure everyone is seen according to clinical priority.
We know that some of our patients may be worried about whether the link is genuine, so we have included information on this page about the message we are sending out.
Who will the text message come from?
The text message will come from NHS-NoReply.
What will the text message say?
The text will say:
Dear [Name]
You have a new notification concerning and outstanding referral, please click this secure link https://patienthub-sath.oncreate.app/login to get started.
If asked to provide a User Verification Code when logging in, enter [code]
Regards,
The Shrewsbury and Telford Hospital NHS Trust
What do I need to do when I receive the text message?
You will need to follow these steps:
Click on the link in the text message / email
You will be taken to a login page to access your 'Patient Hub' account – this has already been set up for you by the hospital.
On the login page, you'll be asked to enter either your mobile number or email address, together with your date of birth. Please enter your date of birth in the following format: DD/MM/YYYY
You will then be sent a 6-digit authentication code by SMS, or by email if we don't have your mobile number
Enter the 6-digit code. Please be aware the authentication code will expire in 2 minutes and 30 seconds. If the time limit has expired or the code is entered incorrectly a new code is required.
Click on 'Referrals' to view your appointments
Select an appointment and click 'respond'
Select your response from the list of options
Click 'confirm'
Click 'proceed' or 'discharge – depending on the option you selected
All done!
A visual step by step guide can be viewed here.
How do I access my referrals if I have accidentally deleted the text message from my phone?
You can use the following link to access your referrals – Login (oncreate.app)
Is the service secure?
This service is designed with security in mind. Once you click on the link, you will be asked for two forms of identity, to check it really is you. This will be either your mobile number or email address and your date of birth. This information, coupled with a 6-digit authentication code, forms the secure 2-factor authentication.
Is my information safe?
Yes, your information is protected and confidential. The information you submit will only be used to validate our waiting list.
What happens if I do not respond to the text message link?
If you do not respond to the text message link within the given time, a referral letter will be posted to you.
What happens if I want to opt out, or still want to receive a letter in the post?
You can access the link to opt out of future communications on the Portal. This does mean that you will need to wait for updates through the post.
What if I don't have a smart phone? Or a computer?
If you don't have a smart phone or computer, don't worry, you will continue to receive any information about the waiting list by letter in the post.
Who can I contact if I need help?
The Appointments Team on 01743 261000 ext 1044