4 October 2019
Staff who have their annual flu jab at The Shrewsbury and Telford Hospital NHS Trust (SaTH) will receive a coffee shop voucher as a thank you.
The Trust wants to encourage as many staff as possible to have their jab to help protect patients and colleagues at the Princess Royal Hospital (PRH) in Telford and the Royal Shrewsbury Hospital (RSH) – and also thank them for their dedication as winter approaches.
Staff who are immunised against the flu during the 2019/20 campaign will be gifted a £3 voucher that can be redeemed in the Trust's two Caffé Bistro coffee shops at RSH and PRH.
The Trust has just launched the campaign with a music theme – Don't Let Flu Become The No.1 Hit This Winter and the hashtag #WeWillRockFlu.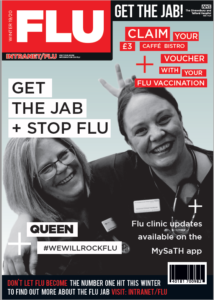 As part of the campaign, teams of peer vaccinators – nicknamed Flu DJs (Designated Jabbers) – will be immunising their colleagues at static flu clinics and during walkabouts for those staff who are unable to leave their work areas, to make having the jab as convenient and as simple as possible.
Dr Arne Rose, Medical Director at SaTH, said: "It is extremely important that our staff, particularly those that work with patients, have their flu jab not just to protect patients, but also to protect themselves and their families.
"As well as offering a free immunisation programme, we will have teams of vaccinators working across both hospitals, to give their colleagues the jab. We would like to thank all those who have offered to become a vaccinator to help us deliver this programme.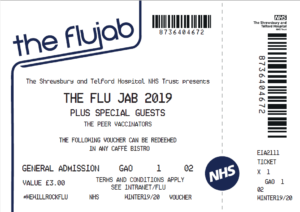 "I am doing my bit too. I will support the teams when I am able and I will also be having my jab."
Barbara Beal, Director of Nursing, Midwifery and Quality at SaTH, said: "Our staff do such a wonderful job looking after our patients and with winter just around the corner and the challenges that it brings, we wanted to let them know that they are appreciated.
"All those staff who have the flu jab during this campaign will receive a voucher to spend in our coffee shops as a thank you."
A record 75% of frontline staff at the Trust were vaccinated during the flu campaign 2018/19.