22 August 2019
A new waiting area for patients being treated for cancer has been officially opened at the Royal Shrewsbury Hospital (RSH) – and has been named after a former patient who helped create it.
The Bernadette Roberts Waiting Room was opened on the O'Connor Haematology Unit by members of Bernadette's family.
Bernadette, from Shifnal, was diagnosed with cancer in 2008 and regularly attended The O'Connor Haematology Unit until her death in December 2015.
The 69-year-old was so grateful for the support and friendship she received during those seven years that she decided to leave more than £235,000 to the unit.
Sally Hodson, Operations Manager for Oncology and Haematology at The Shrewsbury and Telford Hospital NHS Trust, which runs RSH, said: "The new area looks fantastic and I would like to say a big thank you to Bernadette, and to her family, for the generous donation Bernadette gave the department which has enabled us to make this happen.
"In the six months since the expansion was completed, over 10,794 patients have used this area and we have received so many comments from patients saying how comfortable it is and how the environment has improved."
A plaque in remembrance of Bernadette was unveiled at the official opening by her sisters Christine Hayward, Anne Winn and Sarah Wilkes.
Mrs Hayward said: "The new waiting room has been tastefully done, there is plenty of room for patients and the décor is light and airy with ample seating. I know Bernadette would have been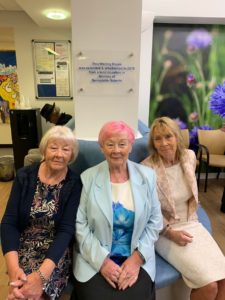 overjoyed by this and her memory will live on for all to see and enjoy."
Mrs Winn said: "The waiting room looks amazing – so light, bright and airy, which will make the patients who frequent the room more relaxed.
"On a personal note I am thrilled how it is looking, with the beautiful cornflower picture and new comfy chairs. What an everlasting memory for us, Bernadette's family. She would have been very happy with the way everything now looks."
Mrs Wilkes added: "Bernadette always appreciated the support and treatment she received from Dr O'Connor and the Haematology Team. Her donation was Bernadette's best way of showing her gratitude. The waiting room is like a breath of fresh air."