Shropshire Diabetic Eye Screening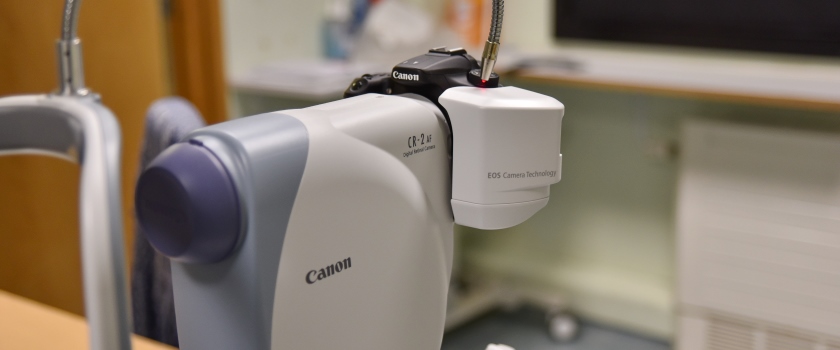 Service Changes
Please note, as of the 1st January 2020 SaTH will no longer be commissioned to provide Diabetic Eye Screening.
If you are registered with an English GP, from 1st January 2020, the NHS Diabetic Eye Screening Programme for Staffordshire and Shropshire will be provided by Midlands Partnership NHS Foundation Trust. For more information visit the Midlands Partnership Website.  Any enquiries after 31 December, please call 01785 783283.
If you are registered with a Welsh GP, from 1st January 2020 your Diabetic Eye Screening will be provided by Diabetic Eye Screening Wales. For more information visit the Eye Care Wales website or telephone 01443 844244.
Our team, based in the Hummingbird Centre at Royal Shrewsbury Hospital, consists of 9 Eye Screening Practitioner / Graders, 1 Optometrist Retinal Graders and 4 clerical staff. We arrange our own clinics to photograph the retinas of diabetic patients and also run the Community screening programme. We have 2 fixed cameras at our hospital sites and 3 mobile cameras, which we transport to 19 venues around the county.
Digital screening is available at the Hummingbird Centre, Royal Shrewsbury Hospital (RSH) and at The Princess Royal Hospital (PRH), Monday – Friday. This will be the central call and recall for all patients with Diabetes to have their eyes screened.
We screen at 21 different venues throughout the county. We can now screen patients in their own GP practice or local hospital, where the facilities are available on different dates throughout the year.
Clinics
Patients have their eyes screened for Diabetes changes with a digital camera.
Royal Shrewsbury Hospital & Princess Royal Hospital 
RSH – Mon-Fri 9.00am – 4.30pm
PRH – Mon-Fri 9.40am – 4.00pm
Community locations
Various venues across Shropshire, please call to discuss your screening requirements. Contact telephone number: 01743 261257