Maternity Care and Coronavirus (COVID-19)
Please continue to attend antenatal appointments unless advised otherwise.
If you are unsure whether to attend or if you have a temperature over 37.8 or new persistent cough, please contact your midwife.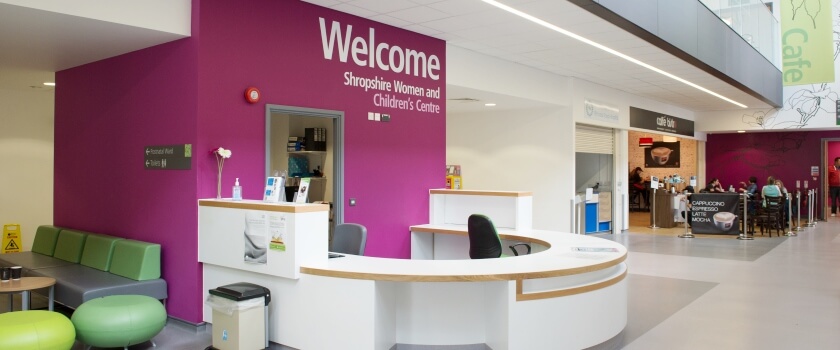 Birthing Partner/Visitor Restrictions
In line with national guidance there are some changes to visiting, which also apply to antenatal and postnatal care. You can read more about this here.
Temporary changes to our Maternity Services
As a nation we have been asked to follow Government instructions on social isolation. These rules apply to our staff as well as to all those we care for, so, alongside other NHS organisations across the country, we have implemented some temporary changes to our maternity services.
These changes have been made so we can continue to provide the safest, most effective and compassionate care to everyone who needs it during the Coronavirus (COVID-19) outbreak.
Visitor access to our Women and Children's Centre has been restricted – for more information click here.
Scans will not be offered at our Oswestry and Bridgnorth Midwife-Led Units, or Sutton Hill Children's Centre. Instead, expectant mothers will attend their scan appointments at the Princess Royal Hospital in Telford or the Royal Shrewsbury Hospital.
These are challenging times and we understand that many of our expectant mums will be feeling anxious about these exceptional measures. However, we want to reassure you that we are working hard to maintain the best care for mums and their babies, and will return as quickly and safely as possible to normal.
What These Changes Mean for Expectant Mums
By asking women to attend appointments for antenatal care and clinics alone, we can stop overcrowding in our waiting rooms and consultation rooms and reduce the number of people that pregnant women and staff are in contact with.
By limiting visitors to our antenatal and postnatal wards we can reduce the number of people expectant mums, their babies and our staff will come into contact with. We will try to get all new mums home as soon as possible, providing they and their baby are well.
We hope you will understand and support the steps we have taken to provide as much protection as possible for those using and working in our maternity services.
Further changes to our services may be necessary in the coming weeks and we will update this information at that time.
Thank you for using our services responsibly and for following the Government instructions on social isolation.
Information Leaflets
Information Leaflets for Parents can be found below:
Being Tested for Coronavirus 
At SaTH our priority is to keep you and your baby safe. That is why we are now testing all pregnant women who need to be admitted to SaTH.
This includes women who have symptoms of COVID-19 such as a cough or temperature as well as women who have no symptoms of COVID-19.
The test for COVID-19 is a simple swab taken from your nose and throat. Your results will take about 48 hrs to report. A midwife will contact you by telephone, even if the result is negative. She will also give advice on any further plans if needed.
COVID-19 positive patients will be looked after in a side room – patients will be asked to wear a mask when necessary and will have the use of separate toilets and bathrooms. COVID-19 negative patients will be cared for in a bay or area with other negative patients. Patients will have use of designated toilets and bathrooms.
Frequently Asked Questions About Maternity Care and COVID-19
Our Maternity Services team at The Shrewsbury and Telford NHS Trust are currently responding to the national Coronavirus (COVID-19) emergency. We are very aware that some women will be concerned about their care during their pregnancy.
We hope that this list of Frequently Asked Questions will answer concerns and also advise what you need to do at this time.
Please be aware that the guidance is changing regularly. We will keep this page as up to date as possible.
We also recommend that you read the guidance from the Royal College of Obstetricians and Gynaecologists for pregnant women.