Orthodontics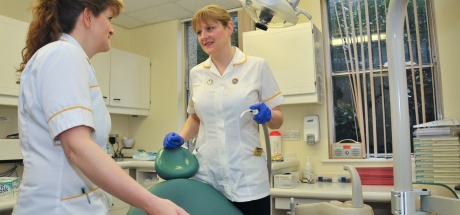 What we do
Orthodontics is a type of specialist dentistry concerned with the growth of the teeth, jaws and face including the correction of dental and facial abnormalities.
Orthodontic management involves the diagnosis, prevention and treatment of problems in these areas to produce a healthy, functional bite with aligned teeth, creating greater resistance to disease and improving dento-facial appearance and function.
The Orthodontic service provided within the Shrewsbury and Telford Hospital Trust varies significantly from that provided in the primary care setting either in specialist practice, the community service or general dental practice.
The hospital service focuses not only on providing advice to a range of patients and practitioners, but also undertakes highly specialised treatments which sometimes involve joint care with oral and maxilla-facial surgery consultants and restorative dentistry consultants, to allow complete corrections to be planned for both the jaws and the teeth.
The conditions we treat include:
Problems with the development of the teeth and jaws in children
Severely crowded teeth
Failed eruption or impacted or unerupted teeth
Missing teeth (Hypodontia)
Incorrect bites (Malocclusion)
Severe facial disproportion in adults
Multi-disciplinary cases requiring joint planning with oral/maxillofacial surgeons or restorative dentistry consultants
More information regarding orthodontic treatment including patient information leaflets and general advice can be found at the British Orthodontic Society website.
Eligibility
Not everyone is eligible for treatment within the NHS. Funding is limited to those cases that are particularly severe and is entirely dependent on an individuals need.
Your entitlement to treatment will be assessed at your initial appointment. Please be aware that a referral to the hospital service does not automatically qualify you for treatment within the NHS.
Under 18s
The Index of Orthodontic Treatment Need is a system used universally by NHS providers to decide which cases are severe enough to warrant treatment funded by the NHS in children less than 18 years of age.
This Index, based on a patient's need, is an objective and reliable way for specialists to select those children who will benefit most from treatment and is a fair way to prioritise limited NHS resources.
A simplified summary of the Index of Treatment Need (IOTN) can be found on the British Orthodontic Society website.
Adults
NHS orthodontic treatment to adults is not usually available unless there is a severe dental health issue, facial disproportions or complex multi-disciplinary needs.