Breast Services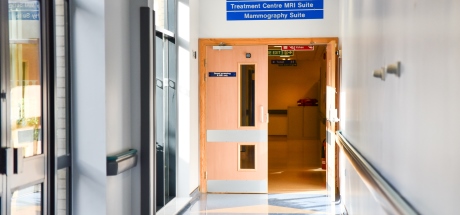 Welcome to the Shropshire Breast Service. We provide all breast outpatients services for those requiring diagnosis or receiving treatment in the Shropshire area. Approximately 18,000 patients will visit the Breast Service every year.
The Breast Care Service in Shropshire has been established since 1989, and is recognised for providing excellent patient care. Our team is dedicated to patient-focused treatment.
Our service specialises in the treatment of all breast conditions. Each year the service deals with more than 500 new breast cancers and a wide range of benign disease.
Our services include:
Outpatient diagnostic clinics
Treatment clinics
Follow-up clinics
Each patient treated by the service is designated with a key worker, which is usually one of the Breast Care Nursing Team. This gives the patient and their families an immediate point of contact for support, advice, information from diagnosis, throughout treatment and follow-up and ensures that a trained specialist is on hand to explain in detail the care that the service provides.
Key Info
---
Contact Us
Royal Shrewsbury Hospital
01743 261000 (Switchboard)
Princess Royal Hospital
01952 641222 (Switchboard)
---
Interested in working with us?
For more information about vacancies in the Trust please visit our Belong to Something website.
---
Useful Links
Further information on breast diseases can be found on the Breast Cancer Care website. In addition to providing excellent and up to date information on breast cancer the website has detailed information on all aspects of breast diseases.
Breast Cancer Care
Publications
NHS Breast Screening 
---
Associated Services
Breast Services: common procedures performed
There may be a need to carry out further tests. Some of these tests can be uncomfortable; every effort is made to minimise any discomfort or distress that may be caused.
Some of the main tests carried out are listed below. It is possible that you may not require any of these tests.
Mammogram
A mammogram is a breast X-ray. The breast is compressed between two special x-ray plates. Some women find this uncomfortable but it only lasts a few seconds.
Ultrasound scan
An ultrasound scan uses high frequency sound waves to produce an image of the breast. The scan is painless and only takes a few minutes.
Core biopsy
Should this test need to be performed, you will receive a local anaesthetic, and a tiny incision is then made in your skin. A small biopsy device is inserted, which extracts a small piece of breast tissue for examination. Sometimes this has to be done using mammogram or ultrasound equipment. The results from this test are not available at your first visit, as they take a number of days to process.
Our Team
Mr T Usman: Clinical Lead for Breast Surgery and Director of Breast Screening, Shropshire, Consultant Breast Surgeon
Mr Andrzej Przyczyna: Consultant Breast Surgeon
Miss S Rastall: Consultant Oncoplastic Breast Surgeon
Mrs Donna Appleton: Consultant Oncoplastic Breast Surgeon
Dr L Pettit: Consultant Oncologist
Dr M Metelko: Lead Consultant Radiologist
Dr Mahmood Alkhouly: Consultant Radiologist
Dr Umit Aksoy: Consultant Radiologist
Ms Sue Williams: Consultant Radiographer
Linda Deane: Consultant Radiographer
Mandy Wilson: Advanced Nurse Practitioner
Sue Lewis: CNS
Lynne Norwood: CNS
Helen Wilkins: CNS
Marion Johnson: CNS