Radiology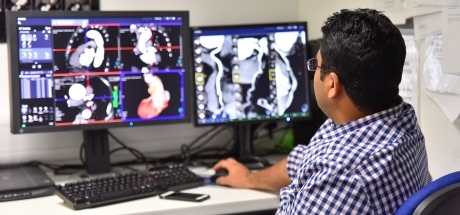 Welcome to SaTH Radiology. Radiology is the branch of medicine specialising in the use of imaging to diagnose and treat disease seen within the body.
What We Do
Radiographers and Radiologists use a variety of imaging techniques such as X-ray, Ultrasound, Computed tomography (CT), Nuclear Medicine, Magnetic resonance Imaging (MRI) in the diagnosis and treatment of disease.
Our Imaging departments and teams provide an imaging and treatment service at both hospital sites for the Trust. Some imaging is also provided within the community.  These sites include Ludlow, Bridgnorth, Whitchurch and Newport.
Our Aim
We aim to offer you great customer service, with direct access to our imaging service for patients and those who have been referred by their GP. We also offer 7 day services with extended days. We value and welcome your feedback to help us improve; please take the time to complete one of our feedback forms during your visit to us. Should our service fall below satisfactory in any aspect during your visit, please follow the Trust's complaints procedure via the PALS team who will link with us for a full response.
Please be aware that we are a training site for undergraduate Radiographers and Radiologists supporting Birmingham City, Bangor and Keele Universities.
Carers and Visitors
We welcome you to attend with your friends and family in order to provide support. Please be advised that we cannot however offer child-care facilities. For certain procedures, we will enquire if you require a chaperone.
Special Requirements
We would be grateful if you could advise us of any specific requirements before your visit.
Our contact numbers will take you to a member of the clerical team who will take your initial enquiry should you require specific information or support from a member of our dedicated teams.
For more information on the services we provide, please see our departments page and the NHS  Website.
Taking a Child/Young Person for an MRI
If you're taking a child for a scan then you can show them the video below, which will help explain to them what to expect. The video, produced by our team here at SaTH, targets children between the ages of four and ten who have either never had a scan before or are trying it for the first time without a general anaesthetic.
Access to Health Records
Please be advised that the Radiology department cannot provide copies of imaging without the completed access to health records form.
Please contact the Legal department on the following numbers:-
Princess Royal Hospital 01952 641222 Ext 4413 (Legal team PRH) 
Royal Shrewsbury Hospital 01743 261000 Ext 3593 (Legal Team RSH)
The Radiology Management Team
Amanda Royle – Radiology Centre Manager.
Claire Baker – Lead Superintendent Radiographer.(RSH)
Janette McCloud – Lead Superintendent Radiographer (PRH)
Alison Allwood – Lead Ultrasonographer.
Cat Rowlands – Lead Breast Radiographer and Programme Manager.
Sharron Richardson – Lead Radiology Nurse
Anna Emlyn – Radiology Office Manager
Vacant post – Radiology Systems IT Manager
Medical Referrers
Please use the Royal College of Radiologists site for guidance on patient pathways and imaging requirements.
Key Info
---
Contact Us
Royal Shrewsbury Hospital
01743 261000 (Switchboard) Ext 1150/ 1172
Princess Royal Hospital
01952 641222 (Switchboard) Ext 1150/ 1172
---
Interested in working with us?
For more information about vacancies in the Trust please visit our Belong to Something website.
---
Location
We have three X-Ray departments across the two sites. Please view our site maps for individual department locations.
Princess Royal Locations
X-Ray 1 at the Princess Royal Hospital is located in the main Radiology department (number 49 on the site map), X-Ray 2 is located next to the Day Surgery entrance (number 3 on the site map).
Royal Shrewsbury Locations
The X-Ray department at the Royal Shrewsbury Hospital is located on the main ground floor (number 43 on the site map)
---
Associated Wards and Services
Breast Services
Cancer Services
Outpatients
Surgery
Trauma and Orthopaedics