Cardio Respiratory Department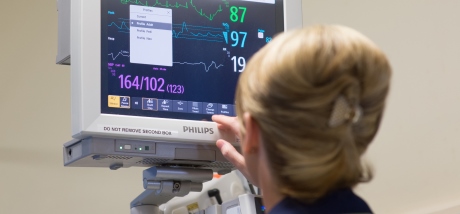 About us
The Cardio Respiratory department provides diagnostic tests for both inpatients and outpatients at the Shrewsbury and Telford Hospital NHS Trust. Most tests are offered at both hospital sites.  It is very important that you check which site your test will be performed at – this can be found on your appointment letter. Your letter will also state the date and time of your appointment, again please check that this is convenient for you to attend.
It is the Trust access policy that patients give 48hrs notice to cancel or change any appointment. Two alternative dates can be offered, but should neither if these be acceptable to you, then the request for the test will be returned to the requesting physician for them to decide the next course of action for your care.
The Cardio Respiratory team work very closely with the hospital consultants and other healthcare professionals to offer the highest level of care, professionalism, and quality. Patient well-being is of the utmost importance to our staff. Staff performing tests are highly trained in their specialist fields. Occasionally students or newly qualified staff may perform tests, but they are always under the supervision of a senior physiologist.
All test results are only available from the consultant or GP that requested the test. Healthcare professionals performing the tests will not give out test results. The test results are NOT kept by the department, they are sent to the requesting physician, that being the hospital consultant or your GP.
Key Info
---
Contact Us
Royal Shrewsbury 
01743 261000 (Switchboard)
Princess Royal
01952 641222 (Switchboard)
---
Interested in working with us?
For more information about vacancies in the Trust please visit our Belong to Something website.
---
Location
Princess Royal Hospital Telford
The Cardio Respiratory department is located along the ground floor corridor next to the AMU.
Royal Shrewsbury Hospital
The Cardio Respiratory department is located in clinic 8.
Please see our location maps for more information.
---
Associated Wards and Services
Ward 6 (Princess Royal Hospital)
Ward 24C (Royal Shrewsbury Hospital)
Cardiology
Respiratory
What to do before my test
Please arrive at least five minutes before your test time.  Please click of the tests below for any specific information that you may need to be aware of before your test.
Tests and services provided by us
Cardiac tests
Cardiac device clinics for pacemakers, implantable cardioverter defibrillator's (ICD's), cardiac resynchronisation therapy (CRT), and insertable cardiac monitors (REVEAL)
Respiratory tests
Pulmonary Function Test (PFT)
Oxygen Assessment
Sleep Studies
Field Exercise Test
Airway Challenge and Muscle Function Tests
Cardiorespiratory tests
Cardio Pulmonary Exercise Test (CPEX)