Respiratory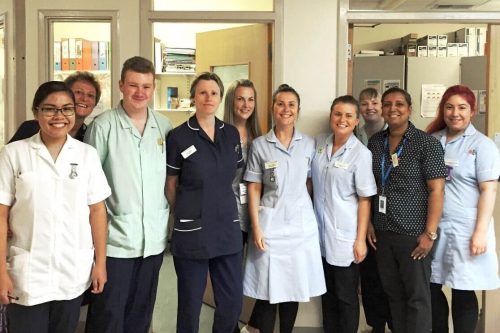 Welcome to Respiratory Services at Shrewsbury and Telford Hospital NHS Trust.
Who are we?
We provide Respiratory services across Shropshire, Telford and mid Wales. The team is led by 12 Consultant Chest Physicians, with each overseeing general respiratory care of patients and specialising in a different area of respiratory medicine. They are supported by middle-grade and junior doctors from the local post-graduate deanery. In addition, we have a Specialist Nurses and we work closely with the community respiratory team from the Shropshire Community NHS trust. Underpinning all of our activity is an excellent Cardio-Respiratory department.
What do we do?
In-patient care
Both the Royal Shrewsbury Hospital and the Princess Royal Hospital provide similar respiratory facilities. The Royal Shrewsbury Hospital has 39 beds on ward 22RE and the Princess Royal Hospital has 28 beds in ward 9. There are also some extra beds on ward 10 in Princess Royal.
All diagnostic procedures are undertaken locally at each site. Patients requiring surgery for lung cancer treatment or complicated pleural diseases are referred to Cardiothoracic team at University Hospital North Midlands, Stoke-on-Trent. Respiratory wards at each site are also fully equipped to provide non-invasive ventilation treatment in an emergency.
Out-patient care
We answer all forms of general chest related questions and offer specialist clinics for sleep, lung cancer and asthma. There is a rapid access lung cancer clinic, meeting the two-week referral target at both Hospitals. Specialist Respiratory Nurses provide an excellent, integrated sleep clinic working with the community team.
Consultant-led outreach respiratory clinics are provided at Newtown, Telford, Bridgnorth and Whitchurch.
Some of our specialist work involving Pulmonary Hypertension, Alpha-1-antitrypsin Deficiency, chronic non-invasive ventilation and assessment for Lung transplant gets sent to Sheffield, Stoke-on-Trent and Birmingham.
Conditions we treat
Chronic Obstructive Pulmonary Disease (COPD)
Asthma
Bronchiectasis
Sleep Apnoea
Lung Cancer
Idiopathic Pulmonary Fibrosis
Sarcoidosis
Aspergillosis
Cystic Fibrosis
Alpha-1 Antitrypsin Deficiency
Tests we conduct
Respiratory tests
Pulmonary Function Test (PFT)
Oxygen Assessment
Sleep Studies
Continuous Positive Airway Pressure (CPAP) Therapy
Field Exercise Test
Airway Challenge and Muscle Function Tests
Chest CT Scan
Cardiorespiratory tests
Cardio Pulmonary Exercise Test (CPEX)
Interventional Procedures
Bronchsocopy
Endobronchial Ultrasound
Ultrasound guided drainage of pleural collection