Celebrating Our Achievements – Ward 16
Exemplar
Ward 16 were awarded the first  Gold Trust Exemplar award. The Exemplar Ward initiative is a drive to build on the Trust's vision to provide the safest and kindest care in the NHS. To achieve Exemplar Ward status, the team on a ward must meet high standards in a number of key areas including: caring, medicine management, leadership, nutrition and hydration, cleanliness, safety and record-keeping.
Simon Wright, Chief Executive, said: "The team on Ward 16 should be very proud of themselves – I am certainly very proud of them and the fantastic job they are doing. Ward 16 is an great example of what a ward environment should be like.''  Helen Jenkinson, Deputy Director of Nursing and Quality, who is driving the Exemplar programme, added: "The Exemplar Programme represents our visions and aspirations for the Trust and the patient experience is at its heart."
Leadership for Change award winner 2017
Ward Manager Ann Allsop received the Trust Leader of the year award, this award is given in recognition of an outstanding leader which has had a direct and positive impact on patient care, amazing support to their team and acts as an inspirational leader.
When assessing the nominations the judges were awarding against the following criteria:
Leadership that helps all members of the team put the patient first and creates a culture of kindness
Embedding the Trust Values and behaviours
Collaboration with Managers / Clinicians / Teams
Measurable impact upon patient care, organisational / team efficiencies
A leader who fosters openness, allowing staff to have the confidence and freedom to speak up with an effective response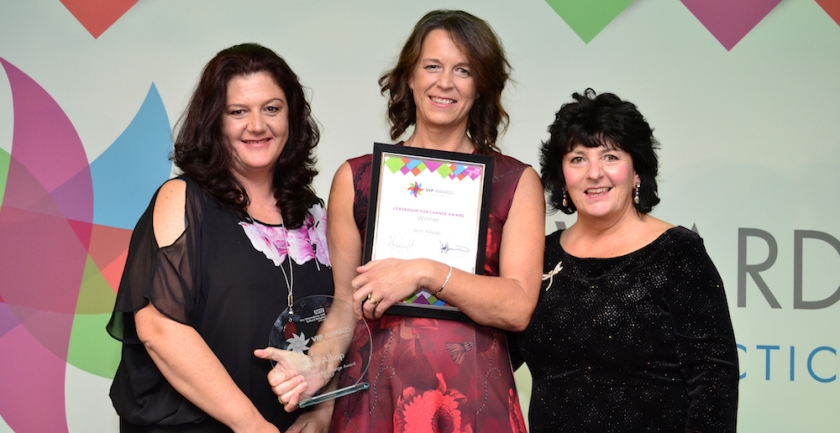 Nominated for a National Patient Safety Award for Product / Innovation
The stroke team completed their first kaizen event with the purpose to explore how the patient journey for stroke patients could be improved through reducing the time taken from presentation within the A&E Department to when a swallow assessment is completed.
Through taking time out to review existing processes and reducing waste the nursing team introduced a swallow test kit box which has everything needed to complete the assessment and is kept within A&E to be available at the point of assessment. This small change has led to the time taken to complete a swallow assessment reducing from 7 hours 33 minutes to 66 minutes.
The stroke team are proud of this achievement and are planning future kaizen events to continue to improve patient experience.
#EndPJparalysis
The team on Ward 16 actively support #EndPJparalysis and have been promoting that patients get up, get dressed and get moving since Professor Brain Dolan visited the Trust in August 2017. The Ward team recognise that patient's time is the most valuable resource in healthcare and through making simple changes the team can reduce deconditioning and maximise their patient outcomes.
Ward 16 staff promote patients getting up and dressed in their own clothes and encourage movement and social stimulation through communal dining, activity groups and rock' n' roll rehab sessions which take place daily.
BBC Radio Shropshire Broadcast
VIP Award – HCA Sarah Harnett
The Trust celebrates staff achievements through a monthly Value in Practice (VIP) Award to recognise the fantastic work that our staff do to support patients and their families every single day. Health Care Assistant Sarah Harnett from Ward 16 has been selected as the Care Group winner in recognition of the excellent service she provides to the Trust and for her hard work and commitment, particularly the amazing work she did in her own time to develop a visitors information board. The Care Group and Ward Team are really proud of Sarah's achievements.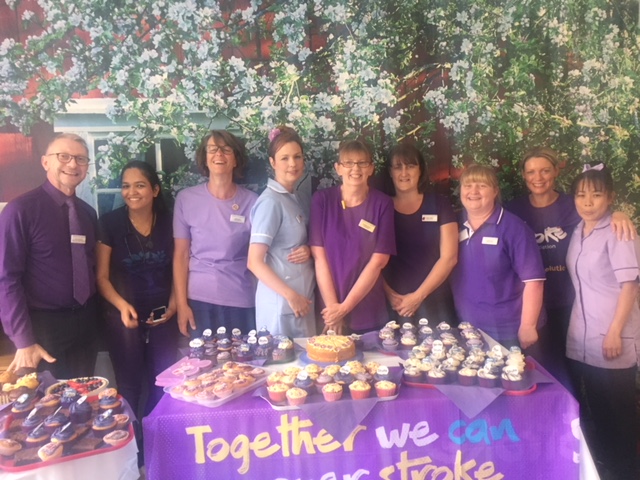 Raising Awareness
The Stroke Wards 15 and 16 joined together to 'Make May Purple' and promote stroke prevention and awareness. Staff on both Wards wore purple to work to raise awareness and support the campaign, the teams also held a cake sale, tombola and raffle to raise money for the Stroke Association.
An information stand was available to visitors providing advice and information on stroke awareness, prevention, lifestyle advice and support.