Join Our Team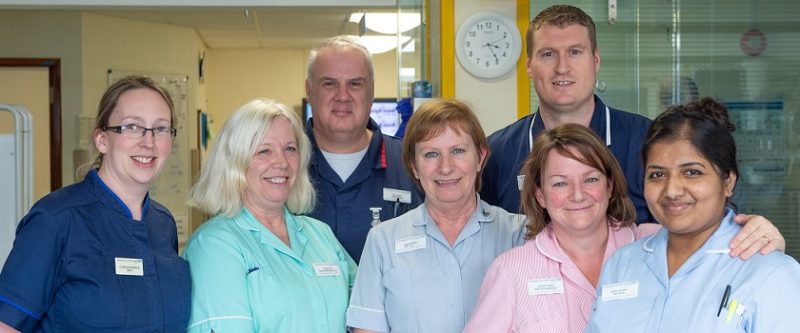 Our patients and colleagues are our inspiration and our drive. They are the reason we do what we do and we try very hard to make this show in the care we provide, not just to the patients, but to each other.
Naturally we want our patients to get better as soon as possible, and get home to friends and family. One way we try to make this happen, is by supporting the "end pj paralysis" campaign. This is a nationwide campaign supported by the NHS, and the aim is to get every patient back into their own, normal day to day clothes as soon as possible during their hospital stay.
Evidence shows very clearly that people recover quicker and get home sooner when they wear their own clothes. It may seem a very simple step, but it can make a world of difference. We all know that the longer you stay in hospital, the more likely you are to get an infection, or suffer muscle degeneration due to lack of normal daily activity.
We want you to help us help you enjoy you time with us!
Developing and Supporting You
As an organisation we know how important it is to support new staff and we will do this in a number of ways, such as preceptorship and Band 5 competencies. We pride ourselves on being a 'family' and as such we will look after, encourage, challenge and support you.
You will have the opportunity to enhance your skills and further your personal development through the national Learning Beyond Registration (LBR) with the opportunity to include mentorship, tissue viability and diabetes.
Staff on the ward will improve their knowledge and skills by working in partnership with our Specialist Consultants and Clinical Nurse Specialists (CNS) in Urology, Vascular and Pain Control. As an organisation we believe anything is possible and recently we were delighted that a number of Staff Nurses successfully progressed to become Clinical Nurse Specialist.
Our Hospitals
The Trust which runs Shropshire's two acute hospitals, the Royal Shrewsbury Hospital (RSH) and the Princess Royal Hospital (PRH) in Telford, is developing a culture of safest and kindest care through its partnership with the Virginia Mason Institute (VMI) – the USA's 'Hospital of the Decade'. On the back of this exciting partnership, we launched our Transforming Care Production System, housed in our Transforming Care Institute, and already we have made significant improvements to patient care. It is an area of work that CQC inspectors described as "outstanding practice" during their most recent visit. While the CQC report says the Trust 'requires improvement' the organisation is on a journey to provide the safest and kindest care in the NHS and we were delighted to be rated 'good' for caring and medical care.
Every individual in our organisation makes a significant contribution to the care we are able to deliver to our patients and their families, and as employers we recognise and celebrate the outstanding efforts of our staff through our monthly and annual VIP (Values in Practice) Awards. The awards celebrate the fantastic work that takes place across our Trust.
Working and Living in Shropshire
Shropshire is a beautiful county between the West Midlands and North Wales. Whilst rural and home to the Shropshire Hill Area of Outstanding Beauty, it is anything but sleepy. Unlike many counties we are a short distance from major cities, and an even shorter distance to the unique and dramatic Welsh landscape.
Fun and/or family time can be enjoyed within the county at one of our five major towns – Shrewsbury, Telford, Oswestry, Ludlow and Bridgnorth – where you can enjoy days out, great food, musical festivals or shopping trips.
Good transport links make it easy to travel around the country while we are also a very safe county where housing standards are high with a range of excellent state and private schools.
Staff benefits
Various salary sacrifice schemes
NHS discounts
Generous annual leave entitlement
Access to NHS pension scheme
Find out more
To arrange a visit or ask about a shadowing opportunity with a member of staff, please contact Ward Manager Pab Hnatiuk on 01743 263077 / 01743 261300 or email pab.hnatiuk@nhs.net.