Our Dermatology Team
Dr Dimple Jain – Lead Consultant Dermatologist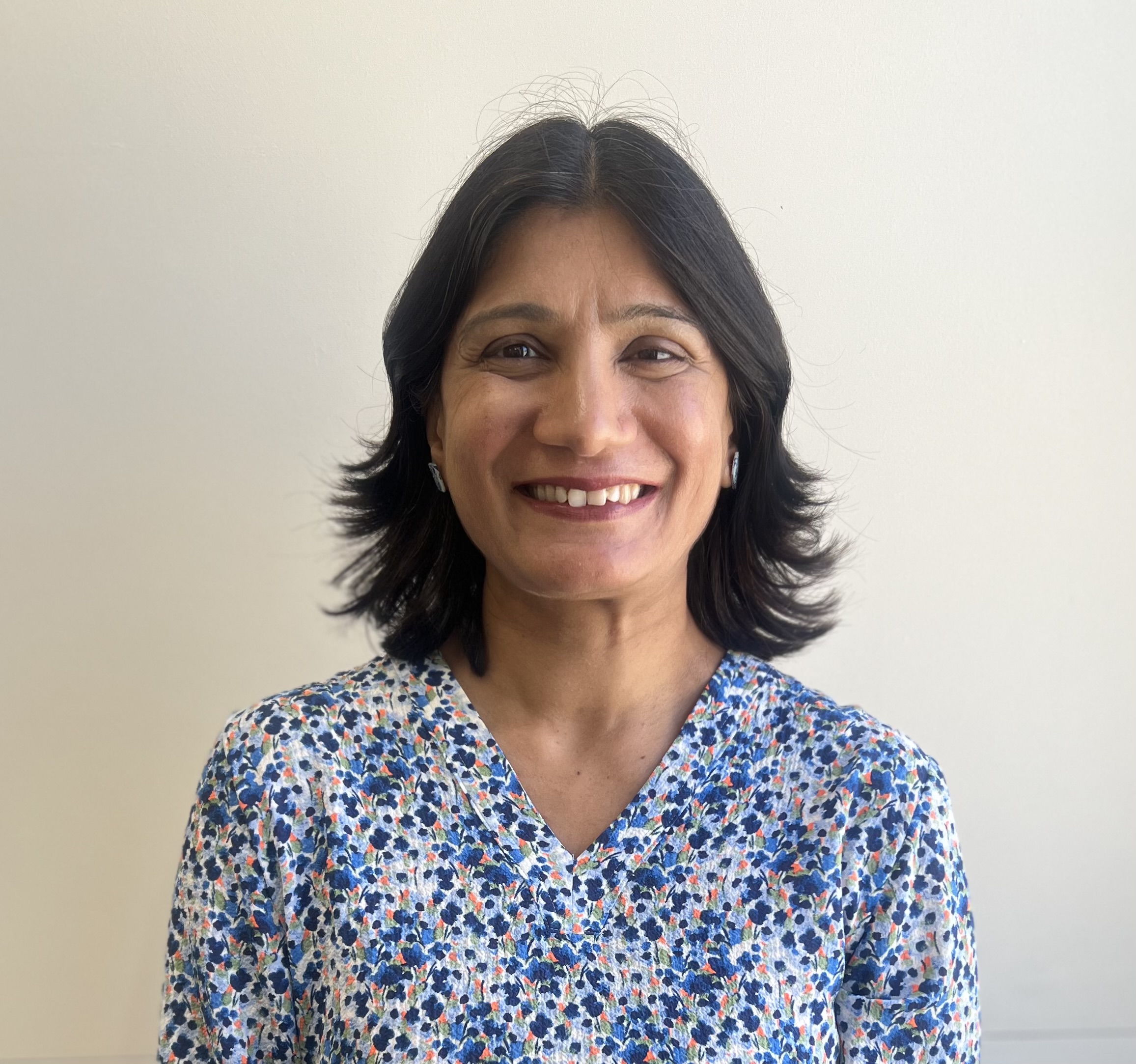 Having completed my core medical training, I then completed my Dermatology Training in the North East Region. I initially worked as a Consultant at the Durham and Darlington Hospital NHS trust for about 3 years, before moving to SATH in October 2019; where I am now the Department Lead.
As a Dermatologist, I deal with many different dermatological conditions daily, ranging from general dermatology to skin cancers and covering patients of all ages, including paediatrics. My special interests lie in inflammatory skin conditions, such as eczema and psoriasis, and other complex skin conditions. I also do a joint dermatology rheumatology clinic with my Rheumatology Colleague.
During my training I undertook a research project looking at the long-term effect of phototherapy treatment in adult atopic eczema.
Furthermore, I am passionate about teaching and training, and I take every opportunity to educate my team members, medical doctors, General Practitioners, and medical students.
I believe in working in close collaboration with my team members, colleagues in the Trust and in community to provide best, safe, and effective care to the patients.
Dr Simone Oliwiecki – Consultant Dermatologist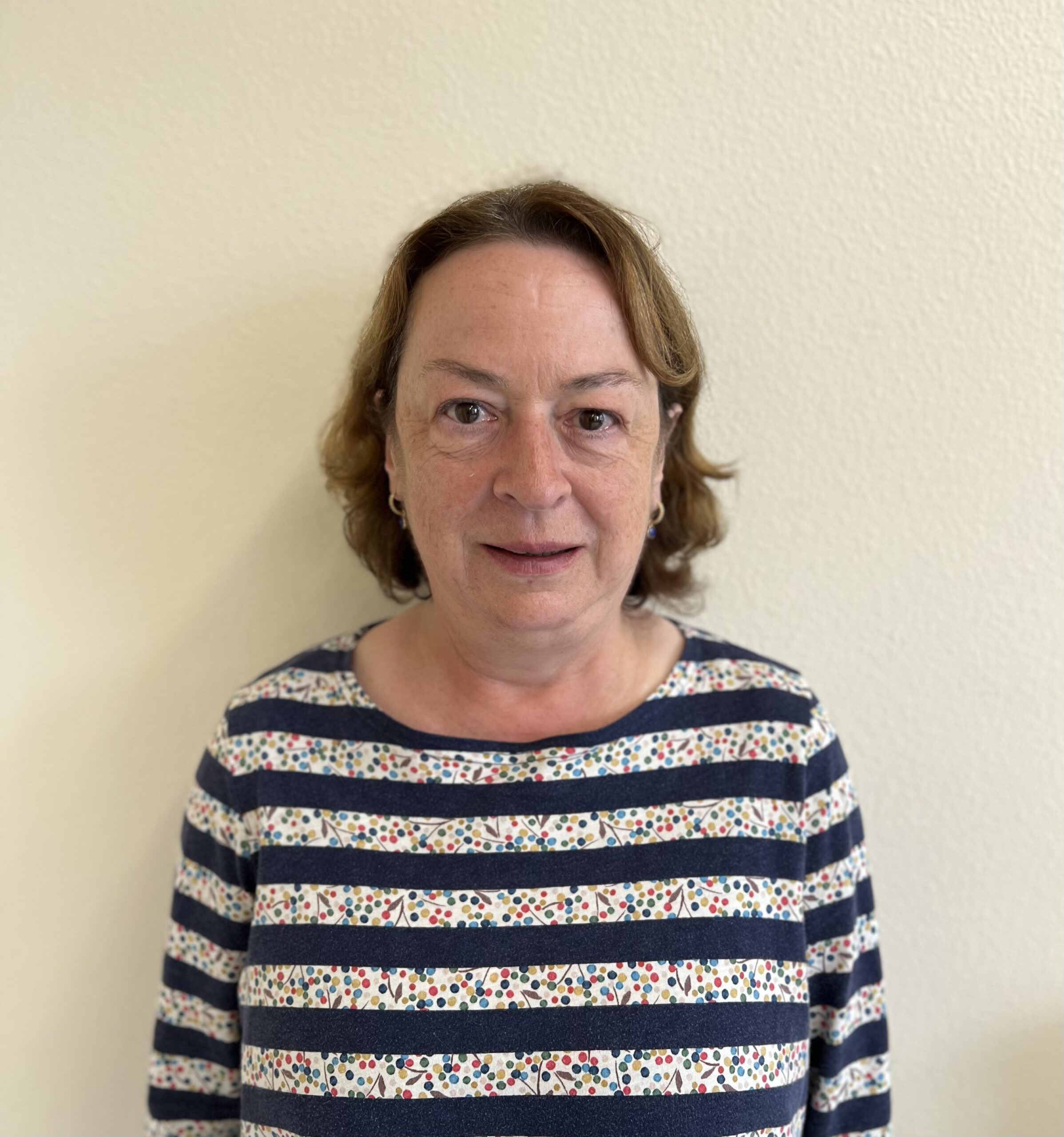 I am a Consultant Dermatologist and joined Shrewsbury and Telford NHS Trust in 2019.
I manage a wide range of Dermatology skin conditions, with a special interest in Paediatric Dermatology. I am the skin cancer and clinical governance lead of the department.
Dr Marta Jackowiak – Dermatology Specialty Doctor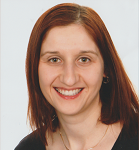 My name is Marta Jackowiak. I come from Poland originally, but Shropshire has been my home since 2006. I work as a GP for half of the week and feel very privileged to have joined Dr Kelly and her team in December 2016. Part of my work involves skin surgery.  I have also trained in Paediatrics in the past and very much enjoy seeing our younger patients. I feel that my GP background helps me provide holistic care to my patients
–
Dr Mareen Jacob – Dermatology Specialty Doctor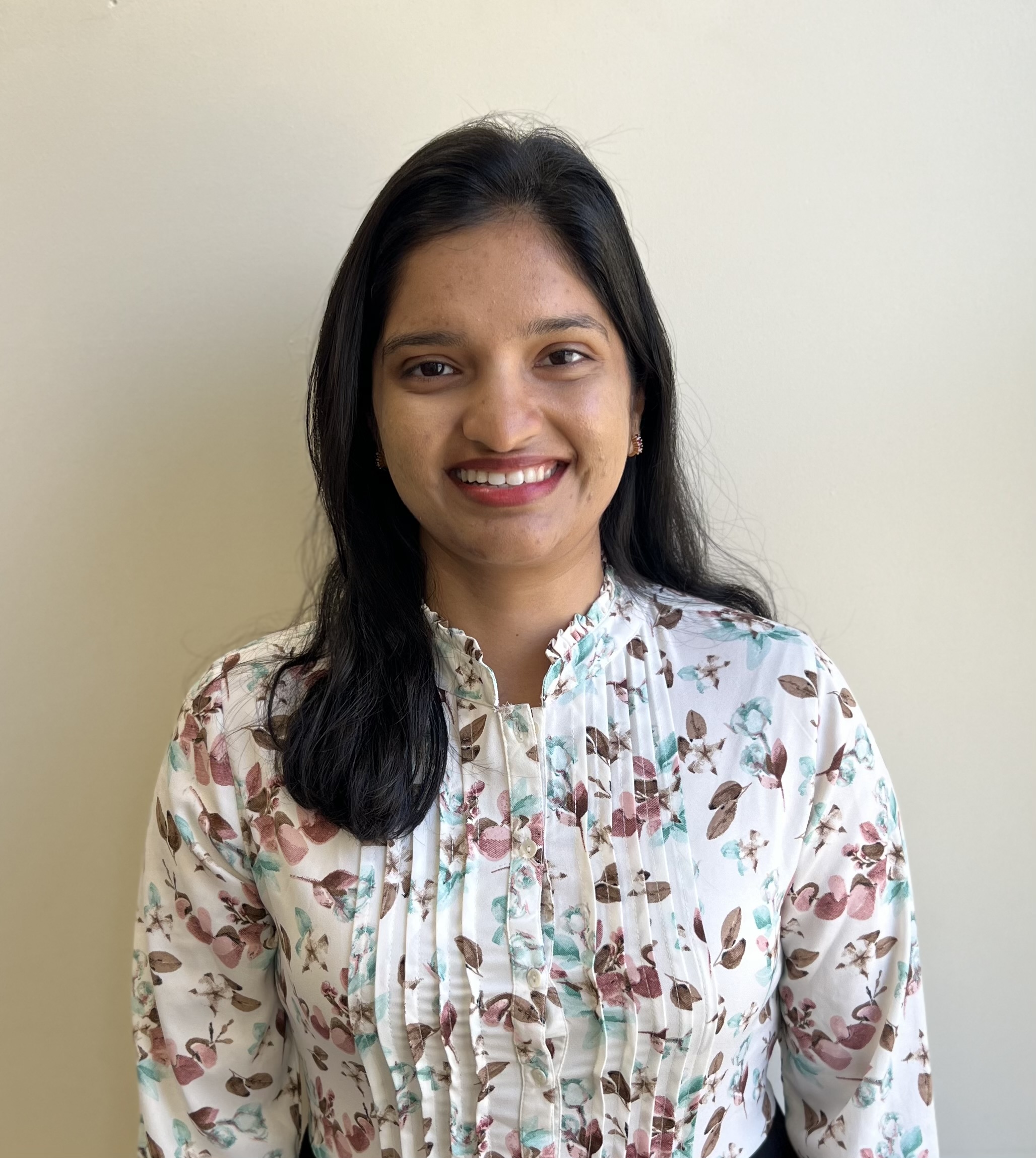 After completing my Dermatology training in India, I worked as a Dermatologist at a reputable tertiary care hospital for four years gaining valuable expertise in diagnosing and managing a wide range of inflammatory and infectious skin conditions.
In December 2021, I began my Dermatology career in the UK at the Shrewsbury and Telford NHS Hospital Trust, joining as a Specialty Doctor. I have been actively involved in managing patients with skin cancers, inflammatory skin conditions and performing minor surgical procedures as part of their treatment.
During my training , I undertook a research project on foot eczema and evaluation of patch testing in the patients. This experience enhanced my expertise and strengthened my skills in evidence-based practises.
I have a keen interest in inflammatory skin diseases like eczema , psoriasis, and acne management.
I am committed to staying up to date with the latest research and treatment modalities within the field of Dermatology. I am passionate about teaching and learning and believe in sharing knowledge for the benefit of both patients and colleagues.
I believe in teamwork, both within the department and as a part of the Trust and am committed to deliver the highest standards of patient care.
GPwSI (General Practitioners with Special Interest in Dermatology)
Dr James Muir MRCGP,  FRCS(Ed)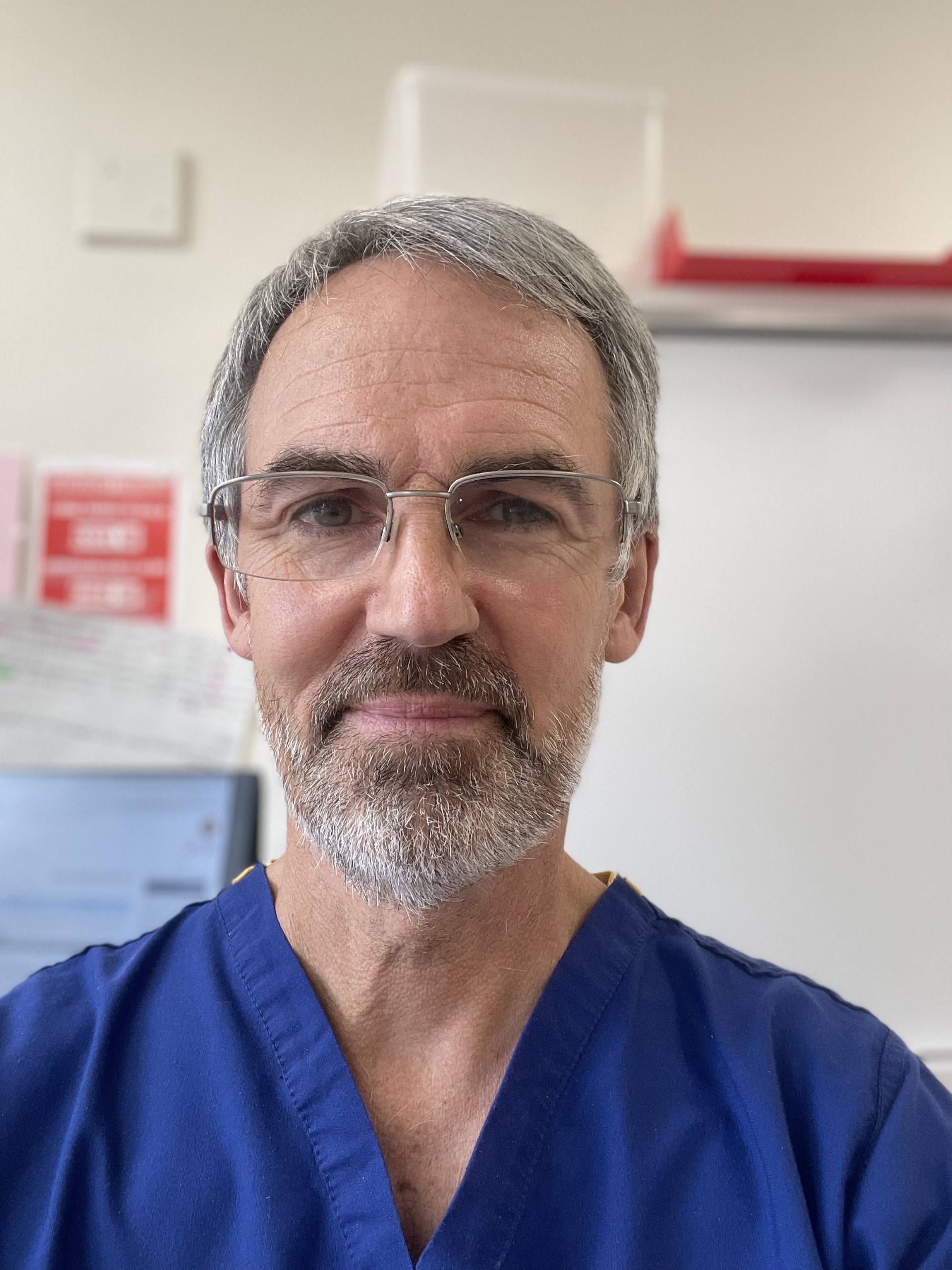 I first worked as a skin Surgeon in Bromley, Kent  in 2000. Since then, I have been working for the Dermatology team at the Royal Shrewsbury Hospital since January 2006.
Skin Cancer Clinical Nurse Specialists
Sister Jo Hoyle – Skin Cancer Clinical Nurse Specialist (CNS)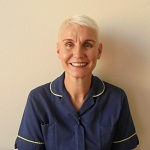 I qualified as a Staff Nurse from Staffordshire University in 2008 and joined the trust as part of the Dermatology Team in 2009. As a Dermatology Nurse, I looked after patients with inflammatory skin disorders such as eczema and psoriasis, providing advice on a variety of treatments. In 2016, I became a Dermatology Clinical Nurse Specialist (CNS) and began seeing patients in complex Biologic Clinics.
In 2018 I became part of the Macmillan Nursing team and took on the role as Skin Cancer CNS. I see patients with suspected skin cancer where I assess lesions, give advice regarding sun protection and general skin care. I am also part of the local Skin Cancer Multi-disciplinary Team. As a skin cancer CNS, I provide support for patients diagnosed with skin cancer and am there as a point of contact throughout their journey. I am passionate about all things skin and committed to providing holistic, patient centred care.
Sister Esther Bode-Smith – Skin Cancer Clinical Nurse Specialist (CNS)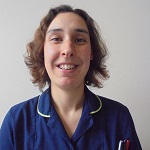 I am Sister Esther Bode-Smith, and I am a Macmillan Support CNS in skin cancers. I have been in dermatology since 2013 where I began as a general dermatology nurse, then in 2017 transferred into skin cancer. I see patients who have been diagnosed with a skin cancer. I support patients through their cancer process which includes the diagnosis, planning of care, discussing their case at our skin multi-disciplinary meetings, and offering them emotional support and social support. I work with Sister Joanna Hoyle skin cancer CNS. We are your contact for any skin cancer related problem. We communicate regularly with Birmingham Queen Elizabeth Hospital for those patients whose cancer require more specialised advice or treatment.
Sister Helen Childs – Dermatology Clinical Nurse Specialist and Clinic Manager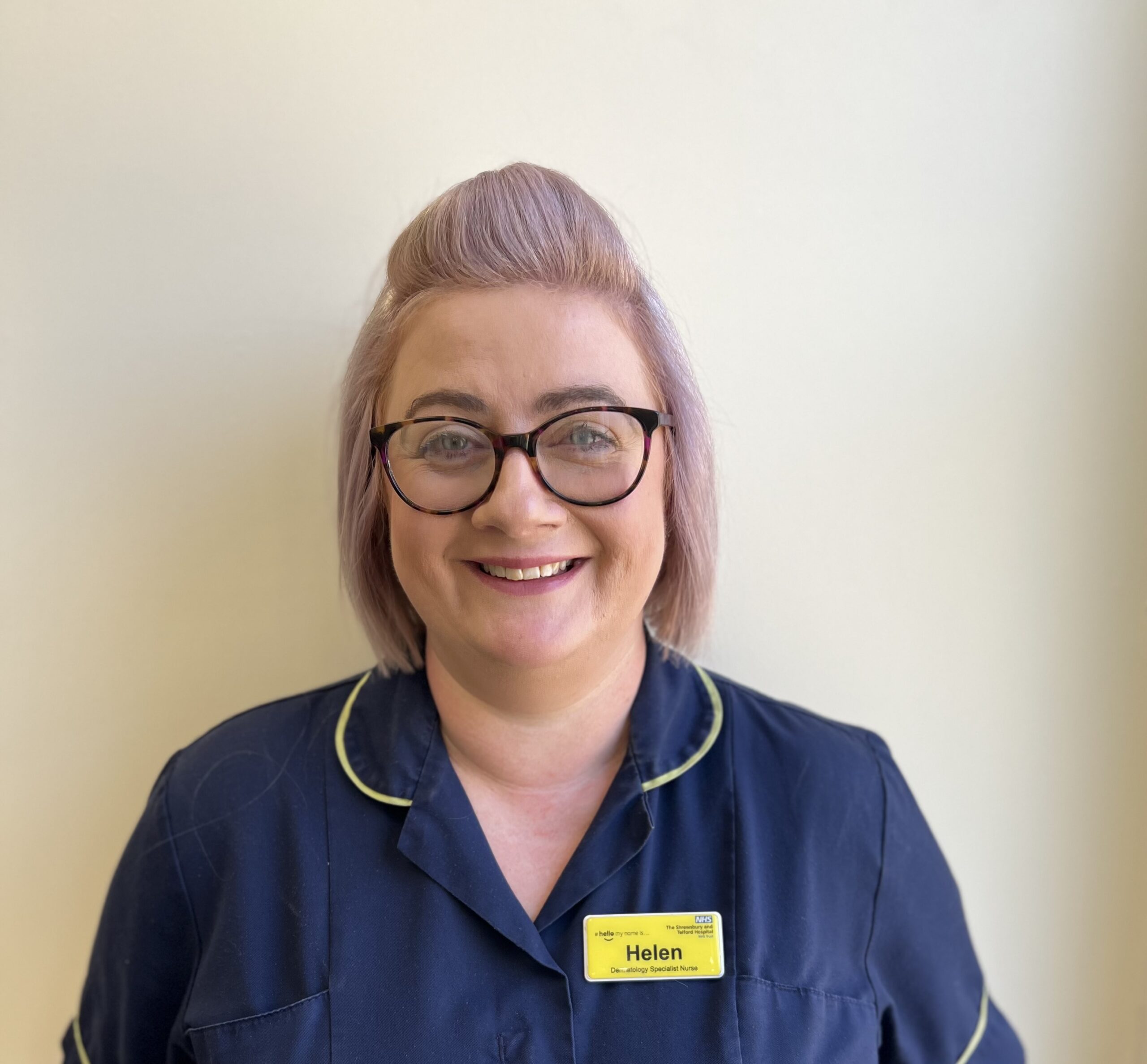 Hello, my name is Helen and I have been nursing for over 20 years. My nursing career has covered acute medicine, oncology, and community nursing and in 2017, I joined the Dermatology team. Presently, I run the nurse led paediatric eczema clinics, biologics and systemic clinics for patients suffering with conditions such as psoriasis, I also cover our acne and Isotretinoin clinics and our minor ops service too.
My job predominantly is to educate people about their skin conditions and enable them to be proactive about how to treat their condition.
The burden of skin conditions is massive and affects all patients (and their family/partners) differently from dictating what clothes they wear to avoiding activities like swimming, affecting the quality of their sleep to educational and work life potential.
By delivering effective education, enabling the patients to take control of their disease and improve their lifestyle choices to some extent is thoroughly rewarding. I love my job when patients feedback that the condition has improved or that they don't consider themselves to have skin condition anymore that tells me that we have done our job.  The skin after all is our largest organ, we should take care of it.
Every day is a school day in Nursing, and I love playing a part in improving my patient's quality of life.
Tracy Rowson – Dermatology Nurse
Hello, my name is Tracy.
I have worked for SaTH since 1982 when I started on the old YTS scheme, then becoming auxiliary nurse before qualifying as a Registered General Nurse in August 1982. I have spent the majority of post registration career working in Gynaecology, covering many different aspects of this speciality including Ward and Unit Manager, early Pregnancy Nurse Specialist and Post-Menopausal Triage Nurse.
I started working in Dermatology in October 2020. I had many transferable skills going into a new speciality but also a steep learning curve especially in Dermatology terminology.
Since starting in Dermatology my main roles are supporting the general clinics, I also work in our Minor Operative room where we undertake surgical procedures to either treat or diagnose various skin conditions including cancer.
I completed the Phototherapy in Cardiff course to be able to deliver regular sessions within our department. This is something I enjoy as the patients attend for a few weeks and you get to know them well and see the positive effects that Phototherapy can have on many different types of skin conditions.
I also work regularly in the Isotretinoin clinics we undertake for the treatment of Acne.
Many of the skin conditions we treat are a lifetime illness and can affect both the physical and psychological wellbeing of our patients and it is extremely satisfying as a health professional to be able to support patients through the treatments.
On one of the feedback forms for one of my patients completing treatment for acne said the following:
"The effective treatment over the last seven months has given me the confidence I have lacked for so many years and I feel the Dermatology team want you to become the best version of yourself you can."
This type of feedback and response to treatment inspires me continue to improve and do what I do each day.
Andrea Hughes – Dermatology Nurse
Hello, my name is Andrea. I trained in Shropshire at the Royal Shrewsbury Hospital and Robert Jones and Agnes Hunt hospital Oswestry. I started my nursing career in theatres as a scrub nurse where I worked for 14 years. After this, I worked in the private sector at the Nuffield hospital in Shrewsbury before returning to the NHS in 2020.
I started working in Dermatology in September 2020, and I have enjoyed my position as a Dermatology Staff Nurse ever since. I successfully finished a phototherapy course during that period, allowing me to run my own clinic and provide ultraviolet light therapies (PUVA and narrow-band UVB) for skin conditions including psoriasis. Additionally, I enjoy running a Paediatric Eczema Education Clinic once a week at both RSH and PRH. Every week I also participate in an isotretinoin clinic and occasionally help our doctors out with minor surgeries.
Sam Noakes – Dermatology Nurse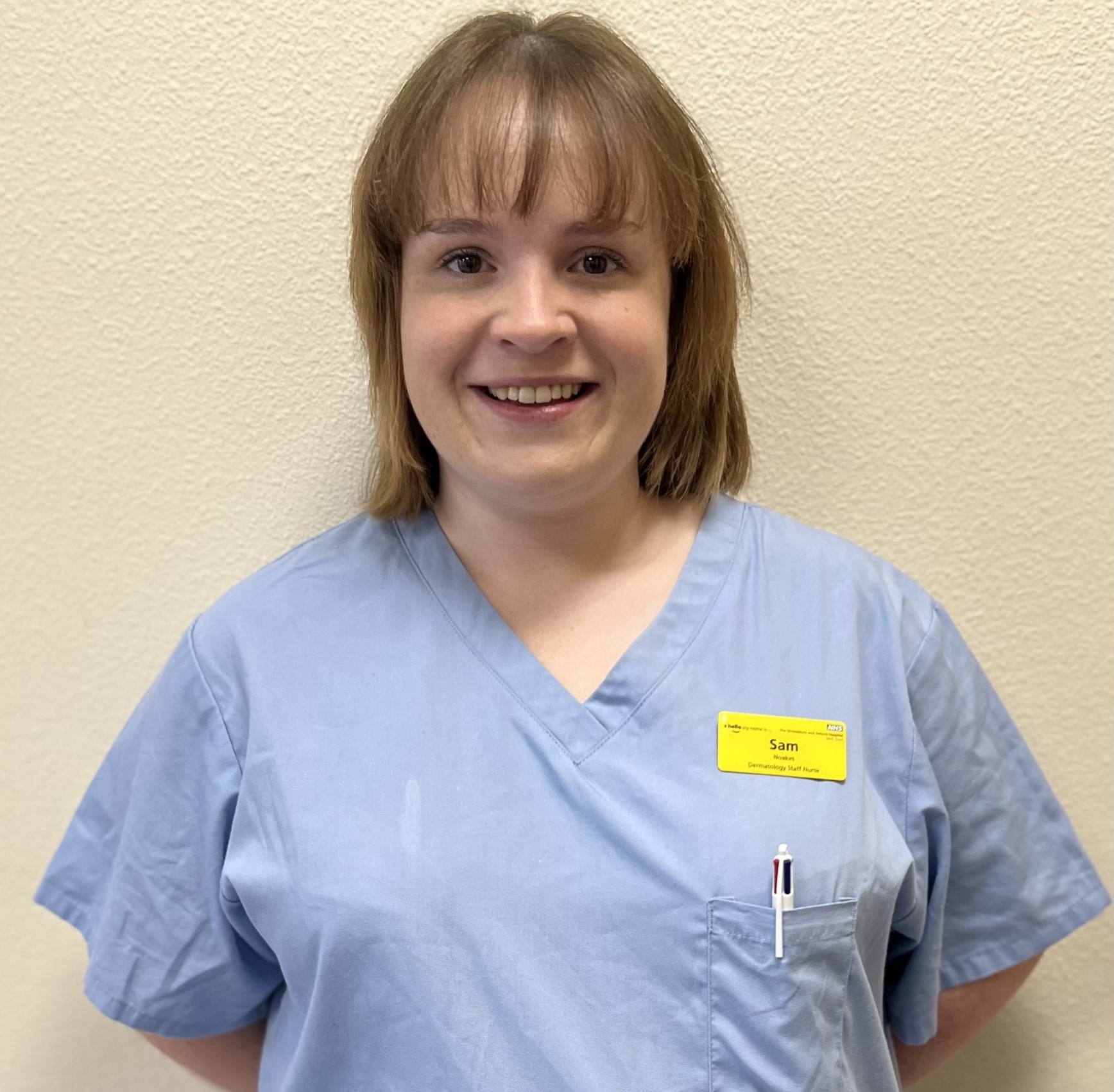 Hello, my name is Sam and I qualified as a registered nurse at University of Chester in 2018. I began my career working on surgical wards but then started working with dialysis patients in 2020. I really enjoy continuity of care and building therapeutic relationships with my patients. My background in renal helped me understand how a skin condition can really debilitate someone's mental and physical health. Your skin being your largest organ, there is so much variety which I've always found fascinating. My interest continued to grow so I decided to specialise in Dermatology. I primarily assist in minor procedures, but you may also see me in Phototherapy and Paediatric eczema clinics.
Meet our Dermatology HCA's
Jess has worked for SaTH since 1998, and previously worked in the gynaecology department for 22 years. After giving all these years of commitment to women's healthcare, Jess became part of the dermatology team in 2020.
Sophie joined SaTH in 2019, prior to that she worked at Welshpool Medical Centre for 7 years. Given all this experience gained in primary care, Sophie wanted to work in a hospital setting. Sophie applied for a post in Trauma and Orthopaedics, where she worked for 9 months and in 2020, she joined the dermatology team.
Siân worked as a Senior Dementia Carer in a Nursing Home before joining SaTH in 2021 where she secured the role Preoperative Assessment Clinic. After 12 months, Siân wanted to develop a broader range of skills within a more specialised area and joined Dermatology department in 2022.
So, what is the Dermatology HCA role….
Giving shared responsibilities and team work to support the smooth running of outpatient clinics and patient care, we complete a variety of clinical duties under the indirect supervision of our registered colleagues.
Each of our roles include, but is not limited to, supporting Speciality Doctors and Nurses with Dermatology clinics with wound care, dressing changes, reviewing, and organising Dermatology minor surgery lists by assessing our patients' individual needs prior to their surgery, running our Minor operative room where we assist in surgical procedures to either treat or diagnose Skin Cancers or variable skin conditions and assess perioperative wound care.
We manage the outpatient appointments alongside our Medical Secretaries. We provide support to patients with a range of skin, hair, and nail diseases and see patients in follow up clinics. Part of our role is to monitor our telephone helpline and respond to patients' enquiries and requests.
We all thoroughly enjoy our role within the dermatology team and support each other in a busy department and our medical team.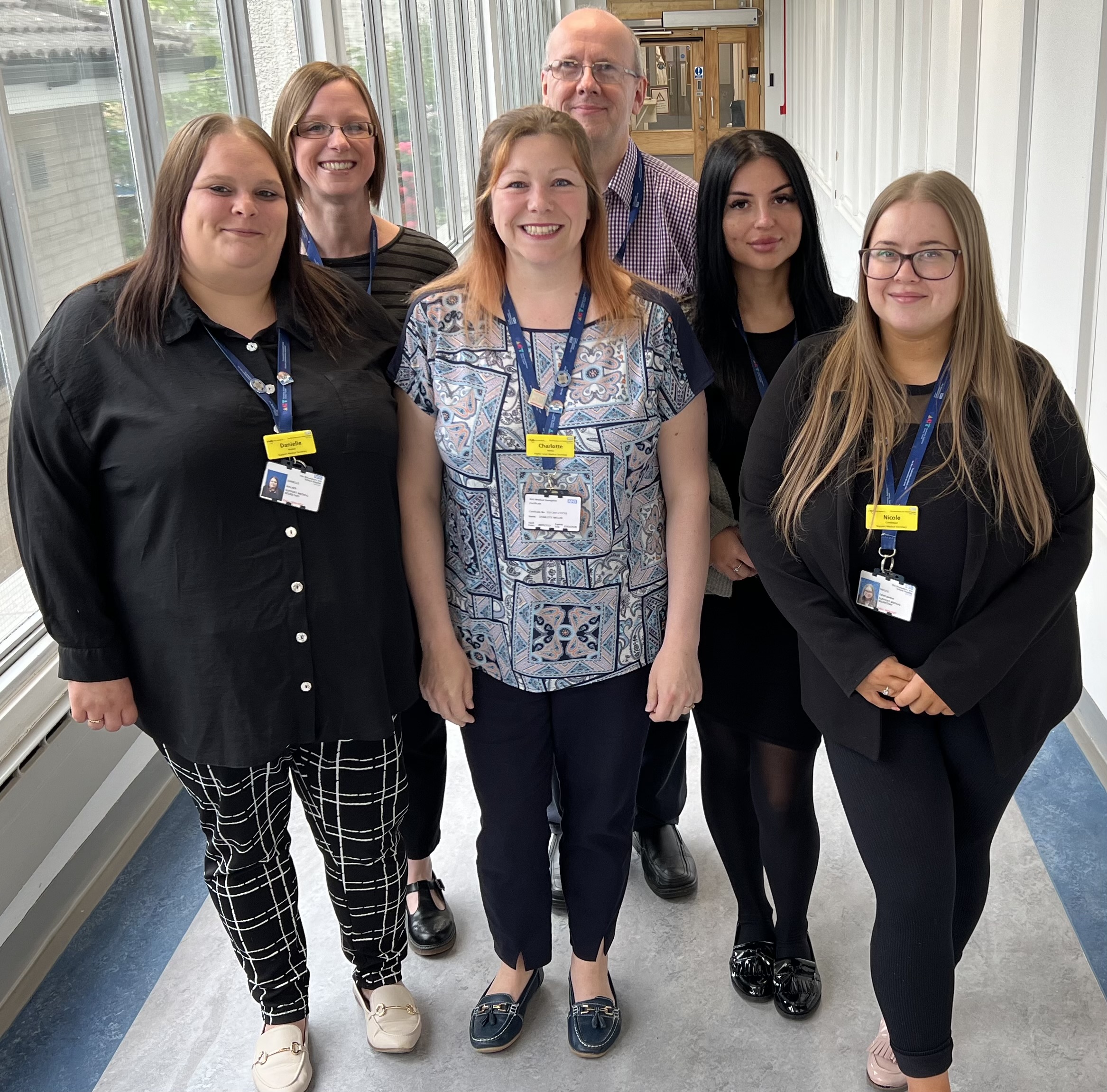 The Dermatology Clinic Staff are supported by 5 secretaries and 1 administration assistant. Between them they have over 20 years' experience working in the NHS. They are usually the first port of call for all Dermatology patients and can help with general enquiries and assist patients with contacting specific clinicians within the team.
It is the trust policy that they are unable to give you results over the phone; a clinical staff member can help with this. All queries are dealt with in strict confidence.
Lead Dermatology Secretary – Charlotte Mellor
Dermatology Secretary – Clare Brown
Dermatology Secretary – Nicole Cowlishaw
Dermatology Secretary  – Danielle Walker
Dermatology Secretary – Sarah Hill
Administration Assistant Dermatology – Bob Oakley
Carole Hughes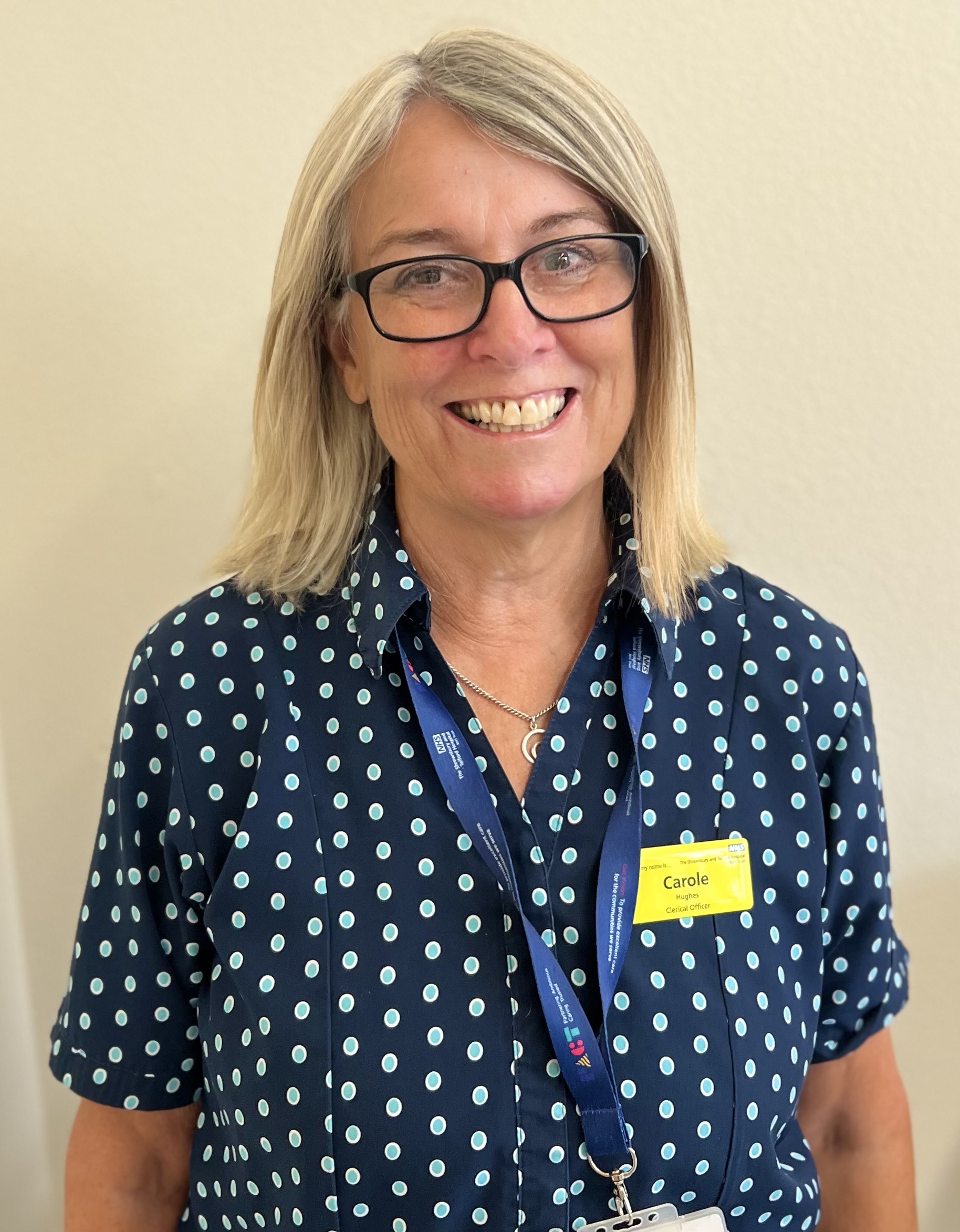 Carole joined the dermatology team in December 2017, in her role as clerical officer Carole will be the first person to greet you in Clinic 3, making sure you are booked in and ready to see the Doctor or Specialist Nurse.