Our Dermatology Team
Dr Susan Kelly – Clinical Director & Consultant Dermatologist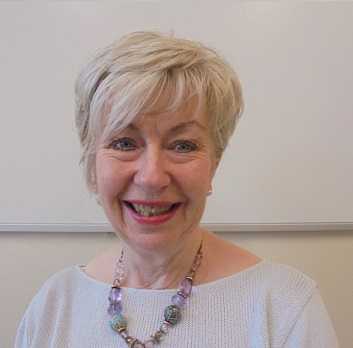 I qualified from the University of Glasgow and trained in Dermatology in Oxford, London and Edinburgh. I was awarded MD from the University of Glasgow for research into blistering skin disorders. I joined SaTH as Consultant Dermatologist in 1993. I am Skin Cancer lead for Shropshire and I have a particular interest in Medical Dermatology.
I see both adults and children with a range of skin disorders, from babies with eczema to elderly patients with skin cancer.
The skin is the largest organ in the body and skin conditions can be long lasting and life changing.  Skin cancer is the commonest cancer in UK.  My aim is to provide high quality skin care and give patients the education and tools needed to take control of their skin problems and lead fulfilling lives.
Dr Simone Oliwiencki – Consultant Dermatologist
Bio to be added
Dr Dimple Jain – Consultant Dermatologist
Bio to be added
GPwSI (General Practitioners with Special Interest in Dermatology)
Dr Nigel Russell (Radbrook Green Surgery, Shrewsbury) and Dr James Muir (Churchmere Medical Group, Whitchurch) all have many years' experience of performing skin surgery in general practice and have been working for the dermatology team for around 15 years.
They perform surgeries one day a week each within the department.
CNS (Clinical Nurse Specialists)/ Macmillan Nurse Team
Contact information:
Sister Joanna Hoyle / Sister Esther Bode-Smith
01743 261267
Sister Jo Hoyle – Dermatology CNS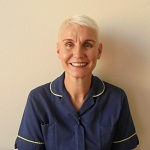 I qualified as a Staff Nurse from Staffordshire University in 2008 and joined the trust as part of the Dermatology Team 9 years ago. As a Dermatology CNS I look after patients with inflammatory skin disorders such as eczema and psoriasis, providing advice on a variety of treatments.
I also see patients with suspected skin cancer where I assess lesions, give advice with regard to sun protection and general skin care. I am also part of the local Skin Cancer Multi-disciplinary Team. As a skin cancer CNS I provide support for patients diagnosed with skin cancer and am there as a point of contact throughout their journey. I am passionate about all things skin and committed to providing holistic, patient centred care.
Sister Esther Bode-Smith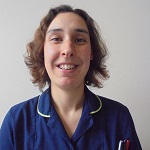 I am Sister Esther Bode-Smith and I am a Macmillan Support CNS in skin cancers. I have been in dermatology for 5 years where I began as a general dermatology nurse. I see patients who have been diagnosed with a skin cancer. I support patients through their cancer process which includes the diagnosis, planning, discussing their case at our skin multi-disciplinary meetings and offering them emotional support and social support. I work with Sister Pia Thompson Macmillan CNS in skin cancer and Sister Joanna Hoyle dermatology and skin cancer CNS. We are your contact for any skin cancer related problem. We communicate regularly with Birmingham Queen Elizabeth Hospital for those patients whose cancer require more specialised advice or treatment. I also have a wide range of experience in non-cancer skin conditions and am involved in assisting with surgery.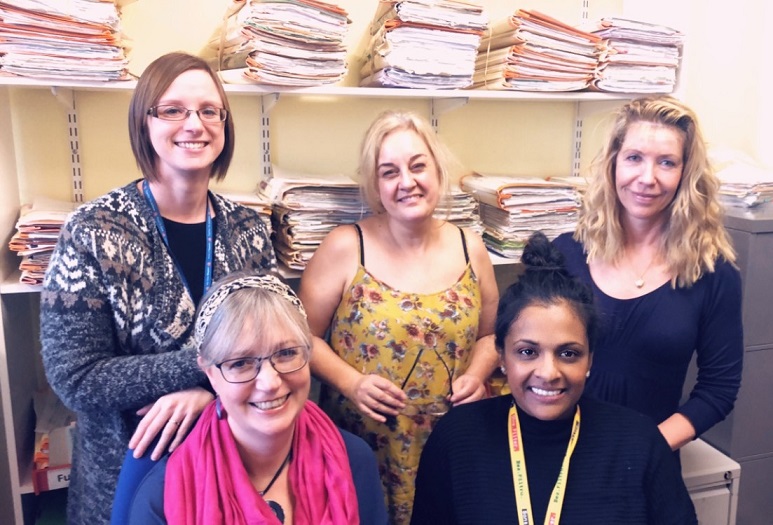 The Dermatology Clinic Staff are supported by 4 secretaries and 1 administration assistant. Between them they have over 20 years' experience working in the NHS. They are usually the first port of call for all dermatology patients and can help with general enquiries and also help patients with contacting the clinicians within the team.
It is trust policy that they are unable to give you results over the phone; a clinical staff member can help with this. All queries are dealt with in strict confidence.
Caroline White – Lead Secretary in Dermatology
Jacqueline Allen – Dermatology Secretary
Clare Brown – Dermatology Secretary
Charlotte Mellor – Dermatology Secretary
Sarah Higgins – Administration Assistant in Dermatology
Carole Hughes – Clerical Officer
Carole joined the dermatology team in December 2017, in her role as clerical officer Carole will be the first person to greet you in clinic 3, making sure you are booked in and ready to see the Doctor or Specialist Nurse.