Trauma and Orthopaedics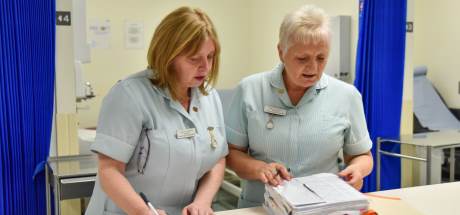 We are providing our patients with a streamlined service through video and phone technology.
We are using Attend Anywhere (Video Consultation) and Virtual Clinic (Telephone Consultations) to provide patients with easy access to the service.
If you have sustained an injury and visited the Emergency Department at either Royal Shrewsbury Hospital or Princess Royal Hospital you may have been advised that you will be reviewed in the Virtual Fracture Clinic. A call will be made to you on the telephone number that you have provided us with. Please ensure that your phone is on and able to receive calls where the caller ID is withheld.
The Virtual Fracture Clinic Team consists of senior trauma and orthopaedic surgeons, physiotherapists and associated practitioners. If the Emergency Department have asked for your care to be reviewed in the Virtual Fracture Clinic you will receive a telephone call by a member of the team to discuss your injury and how best to manage it.
If you've not received a phone call within 72hrs of leaving the Emergency Department please call through to the fracture clinic on 01743 261 000 ext 1044 with your name, date of birth, and date of attendance at the Emergency Department.
While you are waiting for your telephone call please review the information pages below (please note these links are to external website, the content was accurate at time of publication of the links, however your treatment may vary depending on what your injury requires).
Fracture Prevention & Osteoporosis
With the ongoing national focus on managing the coronavirus COVID-19 pandemic, Shrewsbury and Telford Hospitals Trust have made changes to our Orthopaedic services to protect our patients and community, to minimise the risk of spreading the virus and increase the availability of beds for sick patients.
In keeping with the principles of social distancing the Trust has already issued advice regarding attendance and visitation to the hospitals. Although we fully understand and empathise that most of our patients struggle with significant pain and dysfunction we have currently halted all non-emergency surgeries and clinics to ensure that we minimise the risk of further spreading COVID-19.
Emergency Trauma Services are provided at both the Princess Royal Hospital in Telford and the Royal Shrewsbury Hospital and have recommenced at SaTH following repatriation from Robert Jones and Agnes Hunt Hospital on the 21st August 2020.
You may find useful information via the following links:
Welcome to the Shropshire Orthopaedic (MSK) Centre. We are a team of dedicated and specialist healthcare professionals who provide a wide range of Orthopaedic treatments and operations.
Elective and Emergency Trauma Orthopaedic Services are provided at both the Princess Royal Hospital in Telford and the Royal Shrewsbury Hospital, as well as outreach Orthopaedic Clinics run at several locations across Shropshire. We provide services for people in Shropshire, Telford & Wrekin, mid Wales and beyond.
Both sites provide an extensive Orthopaedic Trauma service and Fracture Clinics for a wide range of bone and soft-tissue injuries. The Specialist Team at Princess Royal Hospital also provide a wide range of elective (planned) surgical procedures, including Hip, Knee and Shoulder replacement surgery.
Key Info
---
Contact details
01952 641222 Ext 4656
MSK Supervisor/Administration Manager: Cheryl Humphries
Email: Cheryl.humphries1@nhs.net
Telephone:
Princess Royal: 01952 641222 ext 4486
Royal Shrewsbury: ext 3402
---
Interested in working with us?
For more information about vacancies in the Trust please visit our Belong to Something website.
---
Associated Wards & Services
Day Surgery/Trauma and Orthopaedics (Princess Royal Hospital)
Ward 4 (Princess Royal Hospital) Trauma Ward
Ward 22O (Royal Shrewsbury Hospital) Orthopaedic Ward
Radiology