Trauma and Orthopaedics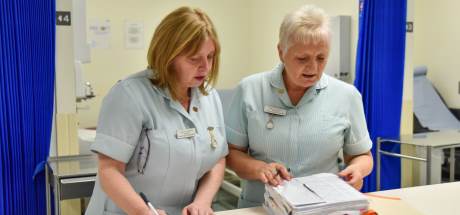 With the ongoing national focus on managing the coronavirus COVID-19 pandemic, Shrewsbury and Telford Hospitals Trust have made changes to our Orthopaedic services to protect our patients and community, to minimise the risk of spreading the virus and increase the availability of beds for sick patients.
In keeping with the principles of social distancing the Trust has already issued advice regarding attendance and visitation to the hospitals. However, to further mitigate the risk and protect our patients as best we can the Trauma & Orthopaedic department has implemented the following strategy in collaboration with the Robert Jones & Agnes Hunt (RJAH) Orthopaedic Hospital in Oswestry
Trauma Services
All adult trauma including surgery has transferred to has been transferred to RJAH in Oswestry
Where possible we are encouraging patients to only attend hospital for emergencies.
Where appropriate follow up appointments at fracture clinics will be carried out by telephone or delayed. Where face to face appointments are required adult appointments will predominately take place at RJAH and paediatrics at PRH. You will be informed by letter and/or telephone of your appointment location.
Adults
If you have a trauma injury that you feel needs emergency treatment and you are able to travel without needing an ambulance please attend the Royal Shrewsbury Hospital, Shrewsbury.
Paediatric (aged 15 years and under)
If your child has a trauma injury that you feel needs emergency treatment and you are able to travel without needing an ambulance please attend the Princess Royal Hospital, Telford.
Elective Services
Although we fully understand and empathise that most of our patients struggle with significant pain and dysfunction we are currently halting all non-emergency surgeries and clinics to ensure that we minimise the risk of further spreading COVID-19.
We are sorry if you or your family have been affected by this decision.
You may find useful information via the following links:
Welcome to the Shropshire Orthopaedic (MSK) Centre. We are a team of dedicated and specialist healthcare professionals who provide a wide range of Orthopaedic treatments and operations.
Elective and Emergency Trauma Orthopaedic Services are provided at both the Princess Royal Hospital in Telford and the Royal Shrewsbury Hospital, as well as outreach Orthopaedic Clinics run at several locations across Shropshire. We provide services for people in Shropshire, Telford & Wrekin, mid Wales and beyond.
Both sites provide an extensive Orthopaedic Trauma service and Fracture Clinics for a wide range of bone and soft-tissue injuries. The Specialist Team at Princess Royal Hospital also provide a wide range of elective (planned) surgical procedures, including Hip, Knee and Shoulder replacement surgery.