Adult Gastroenterology and Hepatology Services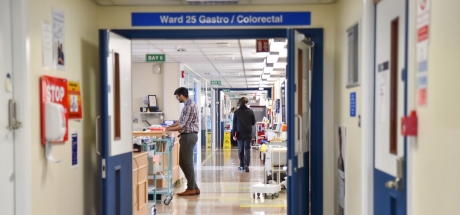 Welcome to Gastroenterology and Hepatology Services at Shrewsbury and Telford Hospital NHS Trust.
The Department is situated at the Royal Shrewsbury Hospitals with out-patient clinics, in-patient wards (25G and 25CR Royal Shrewsbury) and modern JAG accredited endoscopy suites on both sites. We work closely with Endoscopy on a daily basis.
Most patients are seen in the out-patients department by specialist doctors and nurses. Some clinics are for specific conditions.
Gastroenterology and Hepatology doctors specialise in the investigation and treatment of a wide range of gastro-intestinal conditions. The services we provide include-
Diagnostic upper gastro-intestinal endoscopy (OGD)
Diagnostic lower GI endoscopy (flexible sigmoidoscopy and colonoscopy)
Endoscopic Retrograde Cholangio-Pancreatography (ERCP)
Endoscopic ultrasound (EUS)
Bowel Cancer Screening Colonoscopy
Family Cancer Colonoscopy Screening Service
Insertion of PEG and gastropexy service
24hr upper GI bleeding service
Barrett's surveillance endoscopy
Oesophageal variceal banding service
Therapeutic upper GI endoscopy (gastric/ duodenal EMR, dilatation, stent insertion (oesophageal and duodenal)
Interventional colonoscopy including level 4 polypectomy and balloon dilatation
Small bowel capsule service (160-180/year)
Colon capsule endoscopy (as part of the NHSE pilot response to COVID)
Transnasal endoscopy service
Nutrition team including 3 clinical nurse specialists supporting in-patient PN
Oesophageal physiology- Oesophageal manometry and pH studies (also impedance)
Fibroscan
Dedicated IBD team with clinical nurse specialists and an infusion suite
Out-patient paracentesis service
Out-patient liver biopsy.
The Gastroenterology Department is supported by a number of clinical nurse specialists and support administrators-
3 IBD CNSs with a support administrator
3 Nutrition Nurse Specialists with a support administrator
2 Liver nurse specialists (out-patient paracentesis/ viral hepatitis including Hepatitis C management)
9 Nurse Endoscopists (who also support Bowel Cancer Screening, small bowel and colon capsule, Barrett's surveillance and the Family Cancer colonoscopy Screening service)
The department provides a comprehensive evaluation and treatment service and liaises closely with other departments with the Trust including the colorectal surgical service, upper and lower GI oncologists and the benign upper GI laparoscopic and bariatric surgeons.
Useful Information and Links
Crohn's and Colitis UK
Coeliac UK
IBD Advice Line
For particular concerns related to your condition that your GP is unable to answer, you may contact the advice line.
Tel: 01952 565708
The advice line is an answerphone service and not for emergencies. A nurse specialist will return your call as soon as possible.
Key Info
---
Contact Us
Royal Shrewsbury Hospital
01743 261000 (Switchboard)
Princess Royal Hospital
01952 641222 (Switchboard)
Please see our "Meet the Team" page for individual consultant contact numbers.
---
Interested in working with us?
For more information about vacancies in the Trust please visit our Belong to Something website.
---
Location
Royal Shrewsbury Hospital
Outpatients: Main Outpatient Department
Inpatients: Ward 25G and 25 CR
---
Associated Wards and Services