Adult Gastroenterology and Hepatology Services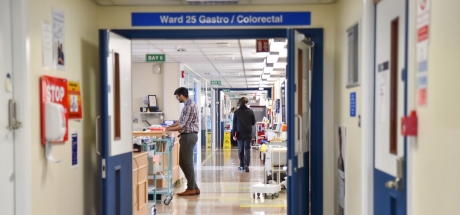 Welcome to Gastroenterology and Hepatology Services at Shrewsbury and Telford Hospital NHS Trust.
The Department is situated at the Princess Royal and Royal Shrewsbury Hospitals with out-patient clinics, in-patient wards (Ward 11 Princess Royal and 25G Royal Shrewsbury) and modern endoscopy suites on both sites. We work closely with Endoscopy on a daily basis.
Most patients are seen in the out-patients department by specialist doctors and nurses. Some clinics are for specific conditions.
Gastroenterology and Hepatology doctors specialise in the investigation and treatment of conditions such as:
Gastritis
Gastroesophageal Reflux
Problems of Absorption
Cancer Screening
Cancer Treatment
Eosinophilic Oesophagitis
Nutritional Support and Intestinal Failure
Useful Information and Links
Crohn's and Colitis UK
Coeliac UK
IBD Advice Line
For particular concerns related to your condition that your GP is unable to answer, you may contact the advice line.
Tel: 01952 565708
The advice line is an answerphone service and not for emergencies. A nurse specialist will return your call as soon as possible.
Key Info
---
Contact Us
Royal Shrewsbury Hospital
01743 261000 (Switchboard)
Princess Royal Hospital
01952 641222 (Switchboard)
Please see our "Meet the Team" page for individual consultant contact numbers.
---
Interested in working with us?
For more information about vacancies in the Trust please visit our Belong to Something website.
---
Location
Princess Royal Hospital
Outpatients: Bickerstaff Unit
Inpatients: Ward 11
Royal Shrewsbury Hospital
Outpatients: Main Outpatient Department
Inpatients: Ward 25
---
Associated Wards and Services 
Ward 11 (Princess Royal Hospital)
Ward 25 (Royal Shrewsbury Hospital)
Endoscopy