Your Radiotherapy Treatment
Coming for Treatment in Shrewsbury
Radiotherapy treatment can start on a weekday generally a few weeks after planning CT scan has taken place. Treatment appointments normally take between 10 and 30 minutes. On your first day of treatment, a member of the team will come and collect you from reception, and show you round to the treatment areas. They will sit down with you, and explain what will happen during your appointment, and it is another opportunity to ask any questions you may have. On subsequent visits you will be called to the treatment units via an intercom. If there is a problem with being called in this manner, please let the team know and we will work out an alternative.
Patients are asked to bring and change into a gown each day for treatment as clothing will need to be removed in the treatment area.
Your Treatment
When attending for treatment, you will be asked by the radiographers to stay as still as possible so that the treatment can be given to the correct place. No-one else can stay in the room with you whilst the machine is on but the radiographers that are operating the machine outside are watching you on cameras and can hear you at all times. If for any reason you need the radiographers, we ask you to raise a hand and the radiographers will immediately stop the treatment and enter the room. You cannot feel the radiotherapy treatment being delivered, but may feel the bed moving and be aware of a buzzing or beeping noise in the room, when the machine is switched on.
Your journey begins with a Planning CT Scan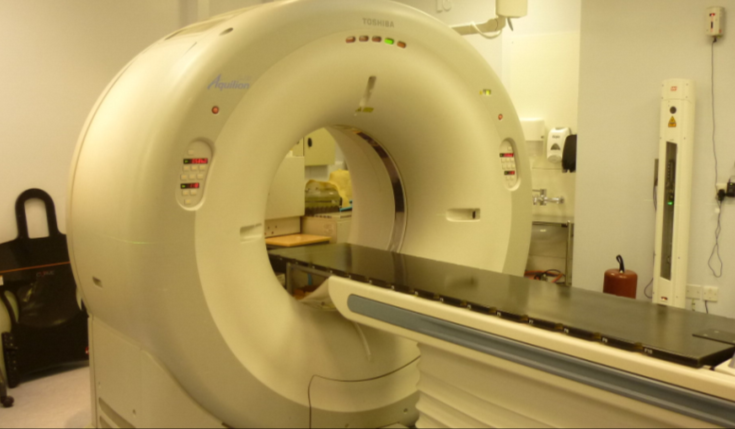 When you are referred for Radiotherapy, a Radiographer will be in contact to arrange a CT planning scan. This is to enable the Dosimetrists and Oncologists to plan your treatment carefully and specifically for you. At the scan, you will have an opportunity to meet some of the staff and ask any questions.
During the CT scan, the radiographers will put small dots on your skin using a special felt pen. At the end of the session the radiographers will have asked your permission to make these marks permanent by tattooing very small dots. These are necessary to ensure your treatment is delivered accurately each day. Depending on the area of the body treated, you may be here for around 30 to 45 minutes, but sometimes this can be longer.
Depending on the area being treated a Positron Emission Tomography (PET) scan and Magnetic resonance Imaging (MRI) scans may also be required for the planning of your treatment. These will be performed by our colleagues in the diagnostic radiology departments and you will either be contacted separately in order to arrange appointments.
The information from the CT scan is sent to the Physics department who work with your Oncologist to plan your treatment.
Treatment Planning

Your CT scan is used to produce a personal treatment plan all of which needs to be checked and transferred to the treatment machine.
Your Oncologist will review the images from your CT scan and draw on each slice to show exactly where the treatment needs to be. They will also draw around structures where the dose needs to be kept as low as possible. This is so that we can keep side effects to a minimum.
Once this is done, a Dosimetrist will plan your treatment. There are a number of different types of treatment available so the Dosimetrist and your Oncologist will decide which one is most appropriate for you. The plan is then checked by a physicist who ensures it is correct, safe and ready for your treatment.
Types of Treatment used in Shrewsbury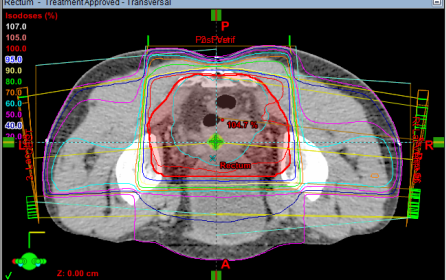 This is a type of treatment that uses a Linear Accelerator.
The dosimetrists can plan the radiotherapy treatment area very precisely in 3 dimensions – width, height and depth. The radiotherapy beams are shaped to fit the treatment area very closely.
They make sure that the entire tumour is inside the radiotherapy field and healthy tissue is avoided as far as possible. This reduces the risk of side effects.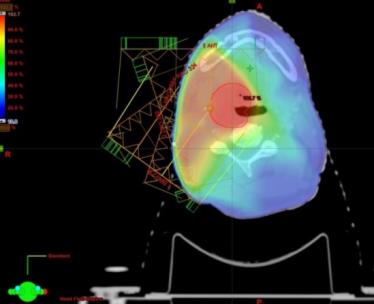 This is a type of is a type of conformal radiotherapy that uses a Linear Accelerator.
This treatment gives high doses of radiation at very specific parts of a tumour. Each radiotherapy beam is divided into many small beamlets that can vary their intensity. This allows different doses of radiation to be given across the tumour. In this way we can create a very conformal treatment which deliver a much lower dose to healthy tissues and reduce long term side effects.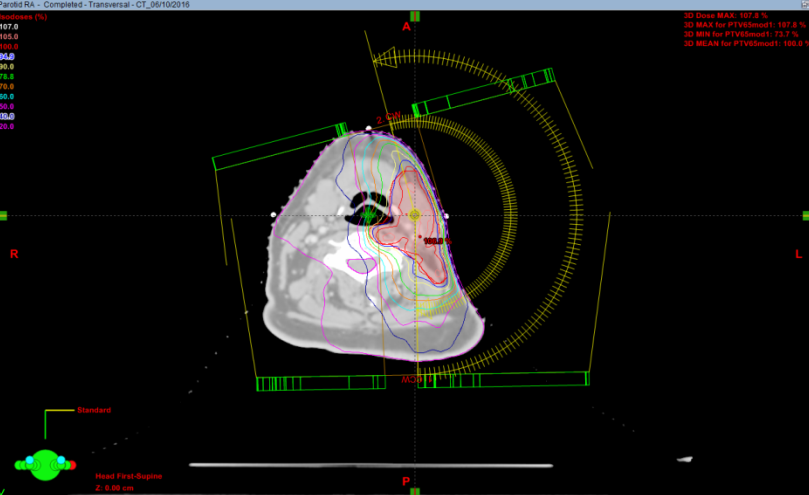 Volumetric Modulated Arc Therapy (VMAT) is a type of IMRT and also uses a Linear Accelerator.
This is very similar to IMRT. During this treatment the linear accelerator rotates around the patient continuously delivering the treatment. The machine reshapes and changes the intensity of the beam as it moves around the body. Giving the radiotherapy in this way shortens the treatment time.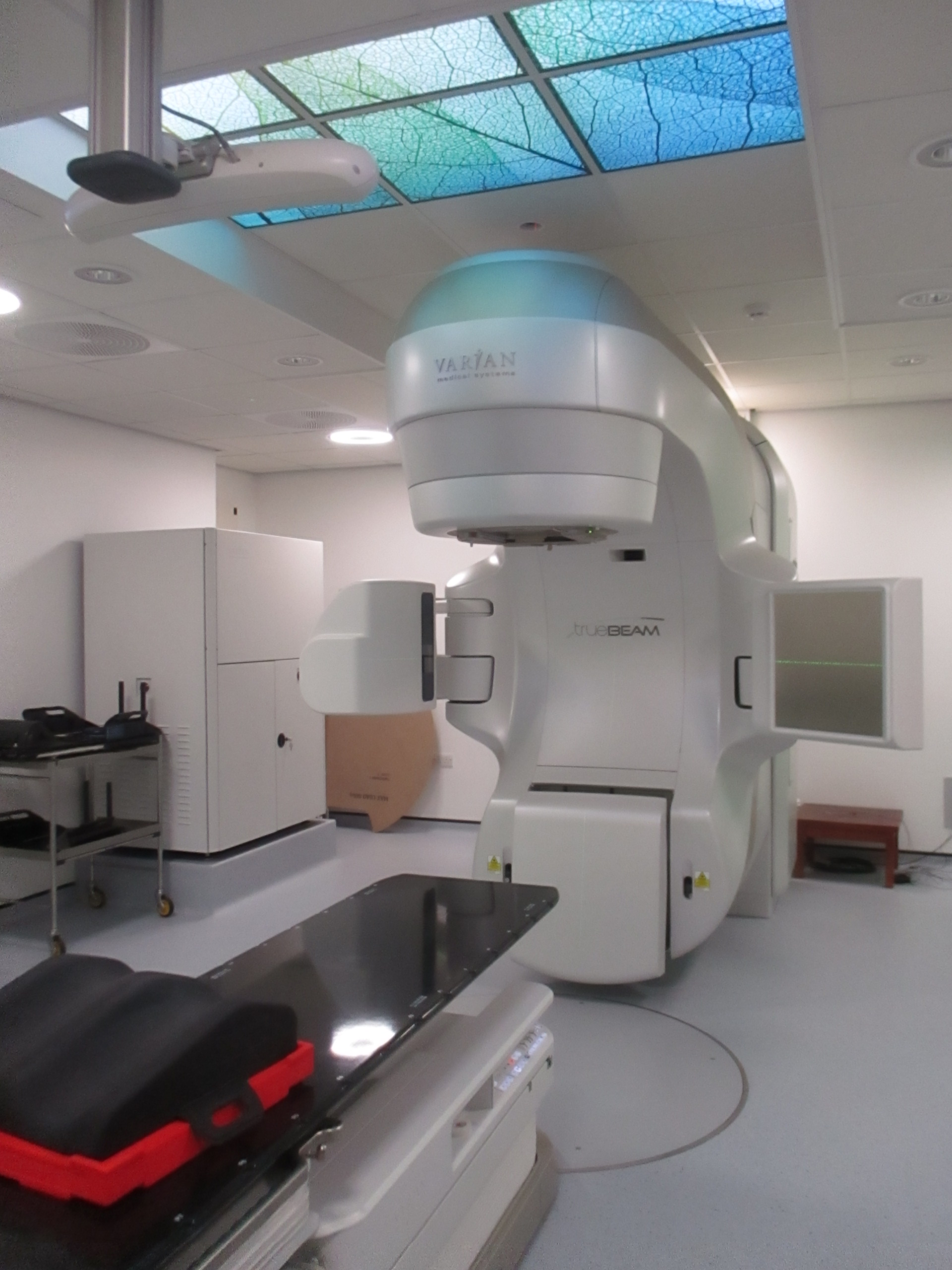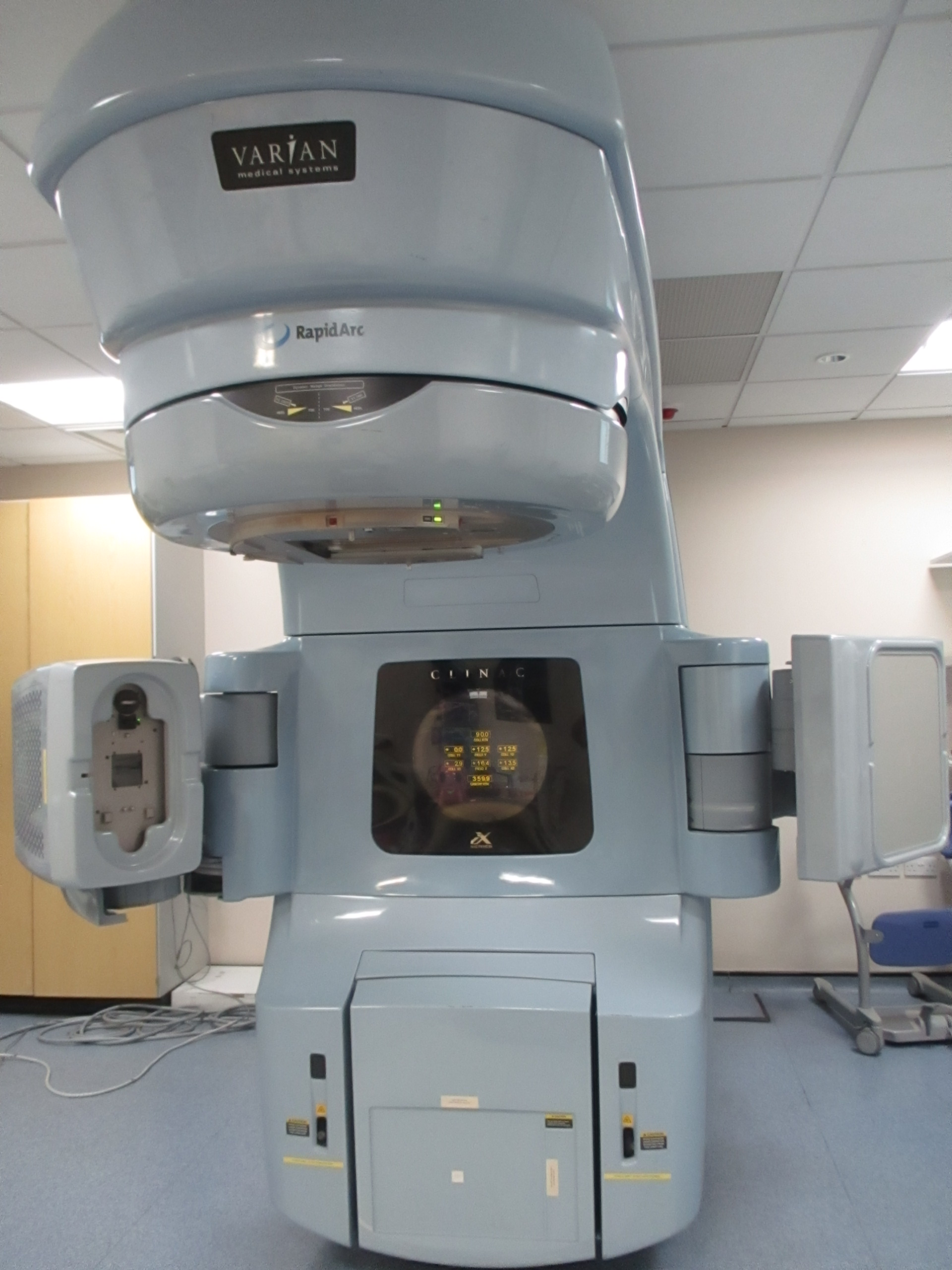 We have 3 "state of the art" Linear Accelerators here at the Royal Shrewsbury Hospital.
Each of our Linear Accelerators has on board imaging. This means that we can take X-ray images of you in the treatment position to help with ensuring that we are set up accurately. They can also take CT images of you in treatment positions. These are known as cone beam CT or CBCTs and allows us to offer Image Guided Radiotherapy (IGRT) to you.
Review
You will be reviewed once a week by a Review Radiographer who will check up on how you are doing, offer advice and answer any of your questions. If at any time you need to speak to a Radiographer please do not wait until it is time for your review, all the radiographers will be happy to help or to find the help you need.
During your Radiotherapy it is important to keep hydrated and drink plenty of fluids; it will also help if you can keep active. At the Royal Shrewsbury we have Macmillan "Get Active Feel Good" who can guide you through an exercise regime tailored to your needs. They can be contacted at getactivefeelgood@gmail.com or by phone: 0754 3827531.
It is possible that there will be times when you will have to wait for treatment, this may be due to other patients taking longer than anticipated, or because of a machine issue. As you may be here for some time, it would be advisable to bring any regular medications with you for example pain killers.
After Radiotherapy has finished
Once your treatment is completed, the acute side effects may continue for a few weeks even though you are no longer receiving treatment.
If the side effects persist, then you should continue with the advice that you were given during radiotherapy until the side effects stop. If unsure of what to do, please contact us on 01743 261179 and leave a message, we will get back to you with advice as soon as we can.
Most patients will be seen by their consultant 6-12 weeks after the end of treatment. This appointment will be at the hospital where you originally saw your Oncologist. If an appointment is not received in the post within this time please contact the department.