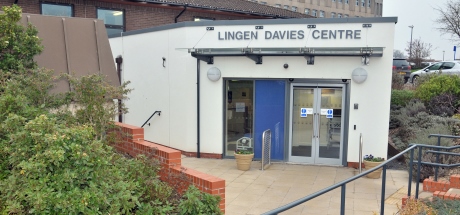 The Lingen Davies Oncology Centre comprises of Outpatient clinics, Radiotherapy and Chemotherapy services. Our multi-disciplinary team of Clinical and Medical Oncologists, Medical Physicists, Dosimetrists, Therapeutic Radiographers and Clinical Nurse Specialists are dedicated to delivering high quality cancer treatment.
The department is actively involved with clinical trials for new treatments and has access to the latest radiotherapy equipment and techniques.
We are a 3 Linear Accelerator (Linac) department complete with up to date imaging technology. We are also able to offer localised skin treatment on our DXR orthovoltage machine.
Radiotherapy at Shrewsbury is used to treat many forms of cancer including skin, prostate, breast, colorectal, head and neck, lymphomas, lung and gynaecological. It can be given in combination with chemotherapy, hormone therapy, immunotherapy and surgery.
What is Radiotherapy?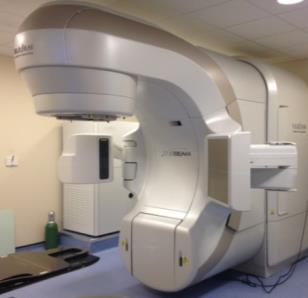 Radiotherapy uses high-energy rays, to treat disease. It works by damaging cells in the area that is treated. The X Rays pass through normal healthy cells and the cancer cells. The normal cells have the ability to repair and begin the process of mending themselves as soon as the treatment has finished each day.
However cancer cells are abnormal, therefore are not able to repair themselves and will eventually die. This is why a course of radiotherapy is often over a number of weeks.
It is the damage to your normal healthy cells that causes treatment side effects however, we aim to keep side effects to a minimum and there is always help and advice available from the team throughout your treatment.
Many patients with cancer will have radiotherapy as part of their treatment. As well as aiming to cure, radiation can be used to control the symptoms of cancer and improve your quality of life.
Treatments are usually given once a day, with a rest at the weekend. Each treatment session takes between 10 to 30 minutes.
Radiotherapy is a very personalised treatment and you will need to have a Planning CT scan before you can begin your treatment. The Clinical Oncologist will use this scan to identify the areas they wish to treat and areas they need to keep dose down to a minimum, this will help make side effects manageable.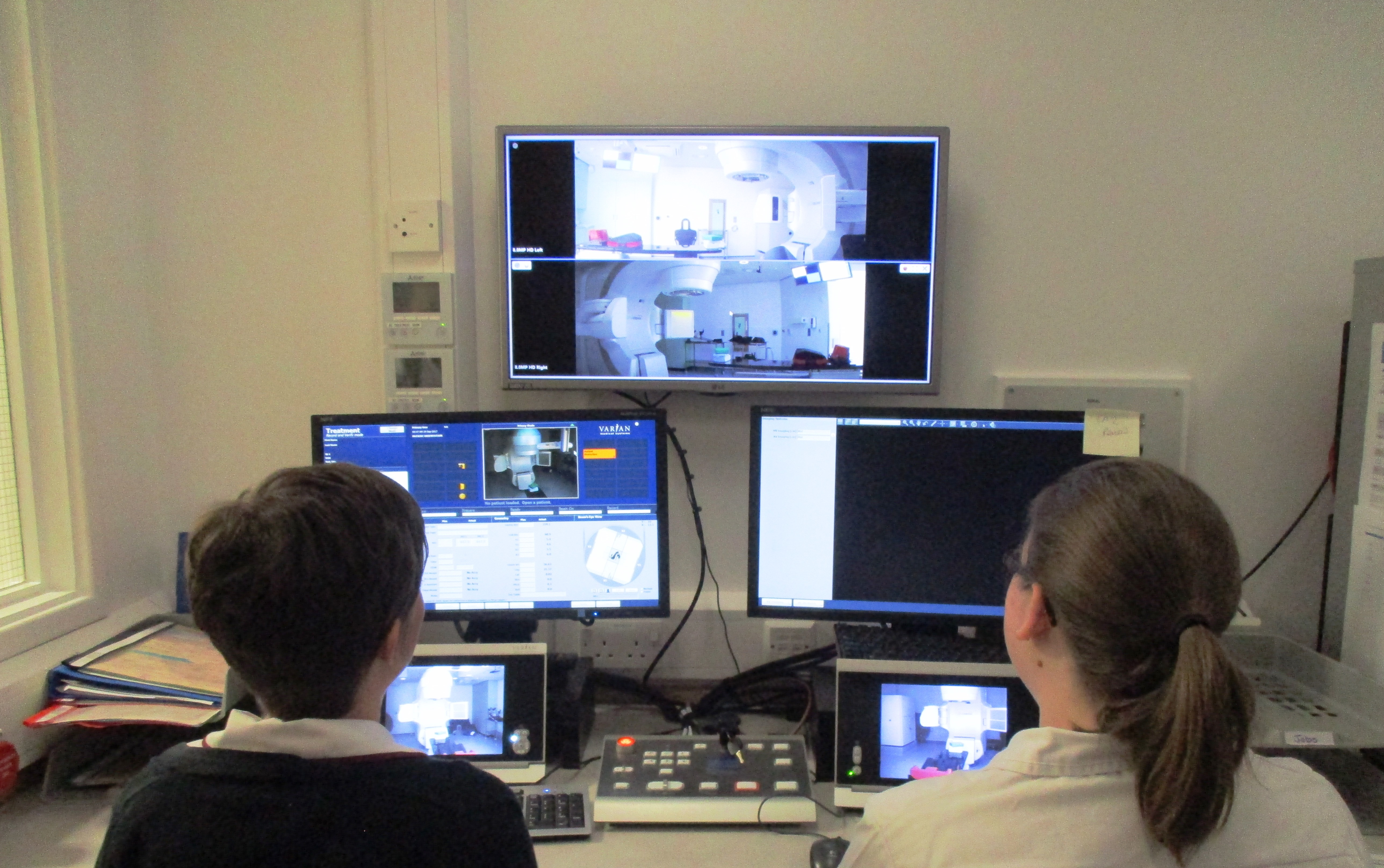 The Physics department will use this information to create an individualised treatment plan. This plan is personal to you and you will need to follow any instructions you are given to ensure that we can give you the optimal treatment.
No-one can stay in the room with you whilst the machine is on, but the radiographers that are operating the machine can see you on cameras and have intercoms. If there is a problem radiographers will immediately stop the treatment and enter the treatment room.
During the course of your treatment we will take X ray or CT images to ensure that we are able to position you in the same place at each visit. These images are useful to us as they confirm that we are treating the right area, but they do not give any information about how you are responding to treatment.
We are a teaching hospital and have student radiographers in the department everyday who are supervised by trained staff. Please speak to a member of staff if you would prefer not be treated by students. Your radiotherapy is delivered by radiographers, both male and female.
External radiotherapy doesn't make people radioactive so it is perfectly safe for patients to be with other people, including children, throughout treatment.
However, it is extremely important that you are not pregnant or become pregnant during their course of radiotherapy. If your circumstances change please inform a radiographer immediately.
Key Info
---
Contact us
Contact Radiotherapy Department on: 01743 261179
This is an answerphone, please leave a short message with your name, hospital number if possible and contact number and we will get back to you as soon as we can.
If you have an urgent problem outside normal working hours please use the emergency helpline number: 0333 2226646
---
Patient Information Films
Breast
Please Note: Recent evidence from the Fast forward trial showed that 5 treatments are as effective as a longer course of treatment to your breast. This, coupled with the need to reduce the number of visits to the hospital during the Coronavirus pandemic, means we may have changed the number of treatments you are due to receive from the 15 treatments mentioned in this film.
Prostate
Making a Shell
Head and Neck
Speech & Language and Dietitian Advice
---
Staff Articles
"The Mouse that Roared" – a blog post by Technical Superintendent Radiographer Bernadette Mortiboy.
"Enhancing Palliative Patients' Experience of Radiotherapy" – an article by Therapeutic Radiographer Kate Urquhart
---
Chemotherapy
In some cases radiotherapy can be given alongside chemotherapy, for more information about chemotherapy please contact Chemo Day centre on: 01743 261000 ext. 2425 or visit the Chemotherapy Service Page.
---
Appointments
Our department is open :
Monday – Friday, from 8am – 6pm.
We do our best to fit patients in at preferred times but please note that it may be difficult to get preferred appointment times as our schedule can get quite busy.
---
Clinical Trials
Here at the Royal Shrewsbury Hospital we actively take part in Clinical Trials, which are a driving force of improving patient's treatment. If you are eligible for a Trial you will be contacted by one of the Trials team.
Who works in Radiotherapy?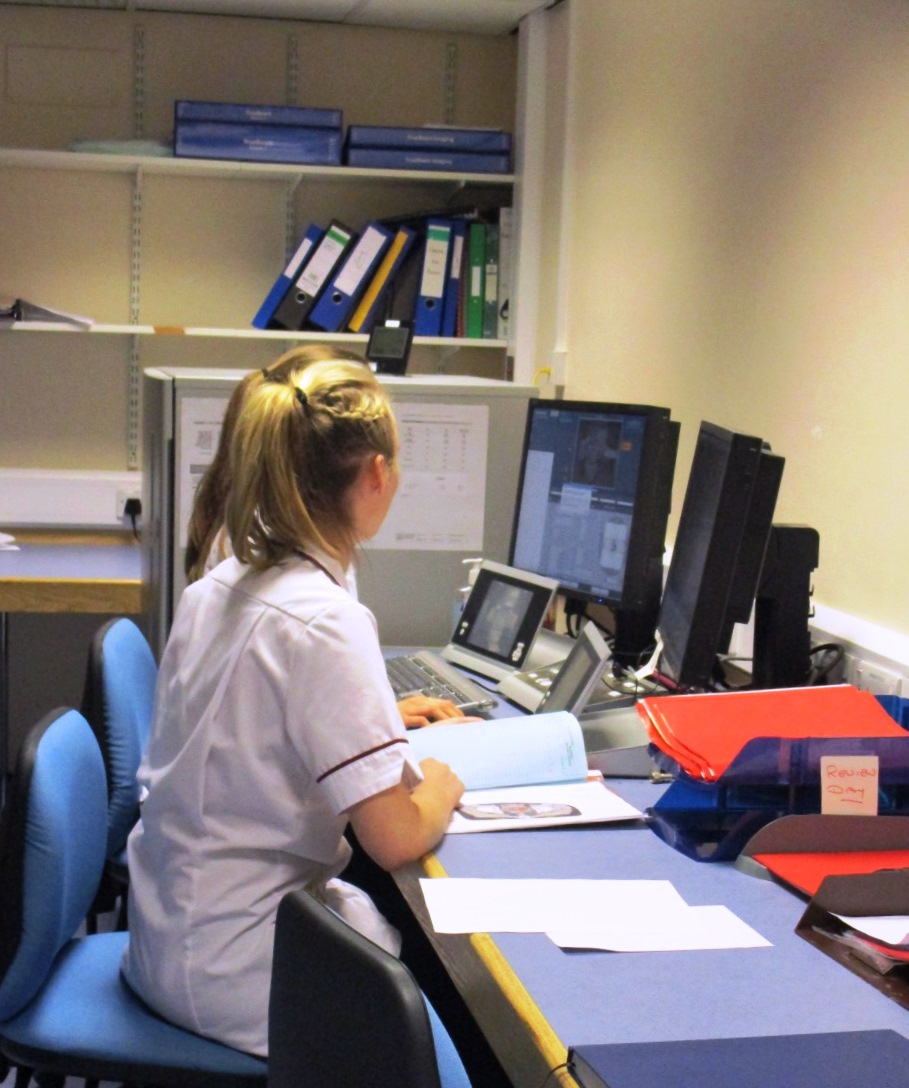 During your time in our department, you will come into contact with many different professionals, some more than others. The department is mainly staffed with Therapy Radiographers, both male and female, and Health Care assistants. In addition to this, we have several Oncologists and Doctors who we work closely with.
There is a team of Dosimetrists who plan your treatment and team of Medical Physicists and Engineers, who ensure that the machines are delivering accurate treatments and that the plans are correct. At times it may be necessary for you to be seen by other people. This may include Dieticians, Speech and Language Therapists, Clinical Trials staff and many others.
Radiotherapy Facilities
The centre offers a range of radiotherapy equipment including:
3 Linear Accelerators – all have Image Guided Radiotherapy (IGRT) facilities, and both Volumetric Modulated Arc Therapy (VMAT) and Intensity Modulated Radiotherapy (IMRT) facilities
1 orthovoltage DXR unit for treating skin cancers
A Pre-Treatment suite – with wide bore CT scanner
A Planning suite – 3D planning facilities
Treatment Room
This is a view of one of our radiotherapy treatment room where you will receive your treatment.

You will be in the same position as you were at your CT scan and the same equipment and will be used each time.
The radiotherapy machine is technically called a LINEAR ACCELERATOR – but you may hear it being referred to as a Linac or as its name e.g LA1, LA2 or LA3.
The machine will not touch you at all and you will not see anything during your treatment. The machine will simply move to each angle and will make a clicking sound when the radiation is being delivered.