Shropshire NHS Audiology Services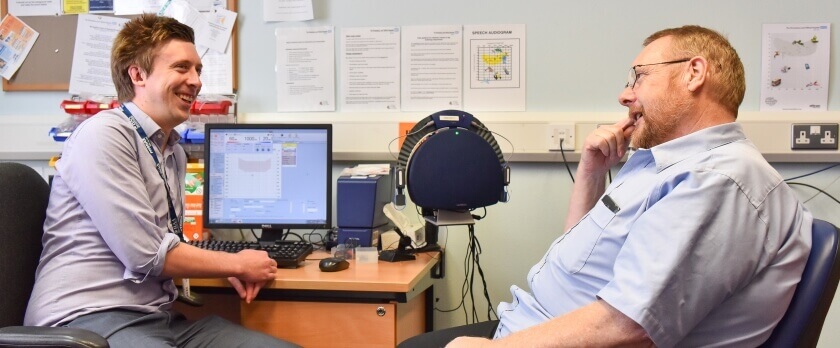 Coronavirus: Audiology Update (September 2021):
NHS Shropshire Audiology is continually working to ensure that we provide a service in the safest and most supportive way possible.
We continue to provide a postal hearing aid repair service for our patients. If you post your hearing aids to the department for a service or repair, please include a note with your name, address, contact number and details of any fault(s). We recommend that you get the package weighed so that the correct postage costs are paid. We are no longer operating any drop in repair clinics.
The Shrewsbury and Telford Hospital NHS Trust Audiology Department is committed to providing outstanding Audiology Services throughout Shropshire for people of all ages
Our experienced Audiologists are dedicated to improving the quality of life for patients and their families by using the latest digital hearing aid technology, rehabilitation, support and advice.
We are accredited by the United Kingdom Accreditation Service (UKAS), which recognises quality for commissioners, providers and users of service with patient quality outcomes at its core.
The Shrewsbury and Telford NHS Hospital Trust provides a comprehensive Audiology service for deaf and hard of hearing people in the rural county of Shropshire.
Local Services
The two main sites are at the Royal Shrewsbury Hospital and the Princess Royal Hospital in Telford. Audiology services are also provided in various community clinics, which are located throughout Shropshire.
High Quality Services
The Audiology team have been awarded 'Improving Quality in Physiological diagnostic Services' (IQIPS) accreditation, which is a programme hosted by the Accreditation Unit of the Royal College of Physicians (RCP) with support from the Department of Health.
Digital Hearing Aids
We fit the latest digital hearing aid technology for all of our patients. There is more information about hearing aids on the NHS website.
Excellent Links to Support Services
Additional support services are available to help patients make the most of their hearing aids. You can read more about support services that are available in our Support Services page.
UKAS Register No: 7977 / Head of Service: Darren McHale.
Key Info
---
Contact Us
Royal Shrewsbury Hospital
Tel: 01743 261 482
Princess Royal Hospital
Tel: 01952 282 804
Email
sath.audiology@nhs.net
SMS
07913 798 467
Coral House (Services for Children & Young People)
Longbow Close,
Harlescott Lane,
Shrewsbury,
SY1 3AS
Telephone: 01743 450 800
---
Interested in working with us?
For more information about vacancies in the Trust please visit our Belong to Something website.
---
Associated Services