Meet the team
Lead Chaplain – Post presently vacant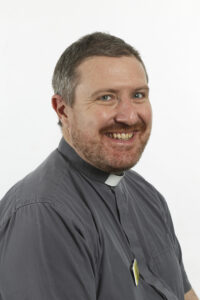 Full-time Chaplain – Rev. Neil Dunlop
My name is Neil and I'm one of the new hospital Chaplains. For the past 6 years, I've been a vicar working locally just the other side of Bridgnorth (in the villages of Alveley and Quatt), but before that I was Chaplain to a very large Further Educational College on the outskirts of Coventry. I'm also a Chaplain in the Royal Navy Reserve, in fact the only one found in the West Midlands. For this role I have worked out of HMS Forward, the RNR Unit in Birmingham.
I'm married and have three children and in any spare time I get I love going to watch Worcester Warriors (which shows I have tremendous faith as they are not a rugby team to follow if you like winning). If you see me around, please say hello.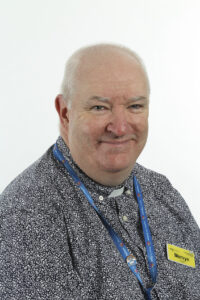 Part-time Chaplain – Rev. Mervyn Williams
Hello, my name is Mervyn Williams. I am a part time Chaplain for SATH and have been since June 2010. Before that I worked as Verger for our parish church in Church Stretton (I live on the Longmynd at All Stretton) and when I left school I was a baker for fourteen years.
In my spare time I love cooking, reading, playing Mah Jong and most importantly travelling.
You may recognise me in the corridor as the person with the bright shirts! Please say "hello" if you see me around.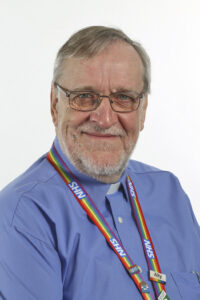 Part-time Chaplain – Rev. Keith Osmund- Smith
Hello, my name is Keith Osmund-Smith and I have recently been appointed to the SaTH Chaplaincy Department although I have been an on-call Chaplain for about ten years. Having spent the first half of my adult life as a police officer I was ordained in 2002 as a Baptist Minister and since then have been the minister at a Baptist Church in Telford. I have been involved in Interfaith Relations and was a member of the Wolverhampton Interfaith Council before moving to Telford where in 2000 I was a founder member of the Telford & Wrekin Interfaith Group (TWIG). I am the Brigade Chaplain for Shropshire Fire & Rescue Service (since 2019) and have served West Mercia Police staff as their Chaplain since 2007.
In June this year I stepped down from full time ministry and was delighted to be appointed to a half time position as Multifaith Healthcare Chaplain. My work base is Princess Royal Hospital but of course on the days I am working I am also available for Royal Shrewsbury Hospital. I look forward to helping to provide the spiritual, pastoral and religious care that so many need in difficult days.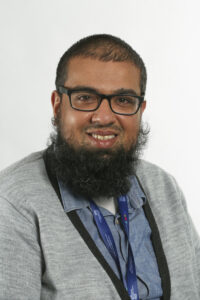 Full-time Trainee Chaplain: Imam Adil Saleem
Hello, my name is Adil Saleem and I have recently joined the SaTH multi-faith chaplaincy team.  Before this role I've held several positions across a wide variety of industries including local government and the charity sector.  Alongside my chaplaincy role at SaTH I am an imam and religious advisor for a Mosque in Birmingham and the Muslim chaplain at the University of Birmingham.
I am looking forward to providing religious, spiritual and pastoral care which is so important in a healthcare setting.  Please say "hello" if you see me around!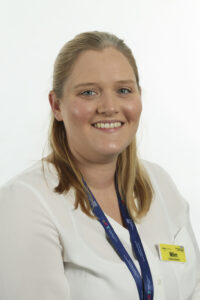 Chaplaincy Secretary – Miriam Johnson
Miriam has recently joined the team to assist with the secretarial and administrative aspect of the services we provide. Miriam has lived in Shrewsbury for 3 years having moved back to the area after spending 10 years living in Manchester. She has two young children who she shares with her husband Pete. The family are active members of Barnabas community church. Miriam likes to complete jigsaw puzzles and likes to watch medical documentaries, crime dramas and cooking programmes.
On-call Chaplains
Rev. James Eaton-Challiner, Rev. Richard Hall, Rev. Sarah Cawdell,
Roman Catholic Priests can be contacted via the hospital switchboard.