Research and Innovation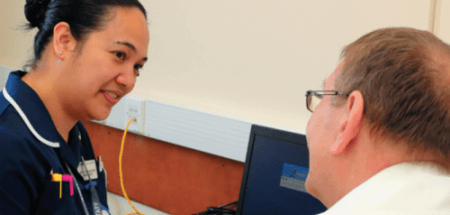 The Trust's Research and Innovation Department helps to ensure that the Trust and our patients have the opportunity to take part in expanding knowledge and understanding about treatment and care. The Trust is part of the Clinical Research Network West Midlands.
Research and Innovation goes from strength to strength 
The Shrewsbury and Telford Hospital NHS Trust is a significant participant in the research programmes of the National Institute for Health Research and is one of the top 100 performing Trusts in the country. Involvement in these studies helps make sure that patients at the Trust have access to rapidly developing improvements in treatments for many conditions and illnesses.
In 2016-17, over 2000 patients were included in studies across the majority of fields of medicine within the Trust. Many of these studies included testing new drugs, new combinations of known drugs or new procedures in cancers, cardiovascular disease, reproductive health, neurology (including stroke and dementia), renal disease, dermatology, respiratory diseases, etc.
Key Info
---
Contact Us
The Research & Innovation team comprises of teams of Research Nurses, Research Radiographers, Assistant Research Practitioners and Research Administrators who are based at both sites. Whether you are making an enquiry, or would like to find out more information about research as a patient, researcher or representative from a commercial company, please contact us at:
Research & Innovation/ Clinical Trials Department
The Royal Shrewsbury Hospital
Mytton Oak Road
Shrewsbury, Shropshire
SY3 8XQ
E-mail: sath.research@nhs.net
Tel: 01743 261 000 ext 1646
Nigel Capps – Director of Research and Innovation 
nigel.capps1@nhs.net
Tel: 01952 641222 extension 4311
Kelly Hard – Research & Innovation Manager
kellyhard@nhs.net
Tel: 01743 261 646
National Institute of Health Research – Be Part of Research
The National Institute of Health Research (NIHR) has partnered with the Centre for BME Health to offer tips and advice on designing and delivering health and care research that is sensitive to and inclusive of people from BAME groups. You can read more about this on their website.