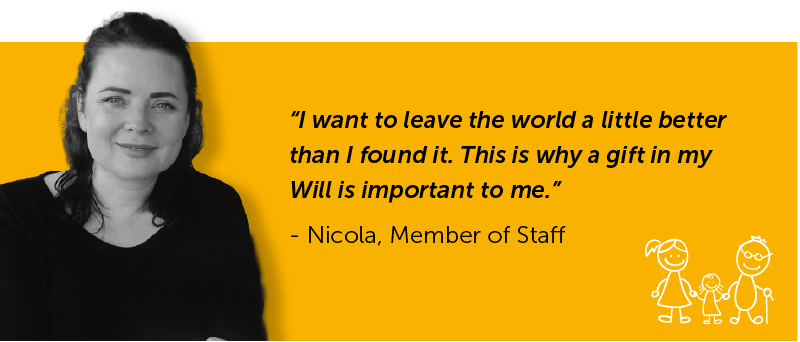 Gifts in Wills
For almost 20 years donations and gifts in Will from our local community have enabled us to provide grants for the benefit of patients now and into the future by:
Buying life-changing and life-saving equipment
Improving patient experiences in our hospitals
Bringing comforts to staff, patients and their families
Babies, children, those living with dementia and those needing end of life care have been helped. THANK YOU to everyone who supports us.
Did you know?
Gifts in Wills are invaluable and can be any size you can afford. You can leave us even 1% in your Will so that those closest to you inhert the remaining 99%. You can of course leave a bigger percentage if you wish to.
If you would prefer to leave us a cash sum in your Will that is also welcomed, but it's value might dimish in the future.
If you are considering a gift in your Will THANK YOU. The only information needed by your Will writer is our charity name and number:
The Shrewsbury and Telford Hospital NHS Trust Charity
Register Charity Number: 1107883
When you leave a gift in your Will to SaTH Charity we:
Promise to use your gift wisely
Realise you might want your gift used in a special way. We can arrange that
Recognise that those closest to your come first!
Understand that you might have to change your mind due to a change in your personal circumstances
Will never put pressure on you to leave a gifts in your Will
Will treat you and your next of kin sensitively and with respect and gratitude
Our legacy charter to Executors – family and professional
We understand that the loss of a relative is truly difficult and sad time and promise to deal with their gift in a sensitive manner.
We are keen to say thank you to next of kin for such gifts – each gift helps us make a wonderful difference. Should any family member want to visit us we would relish the opportunity to say thank you personally.
We will not put any pressure on any family members who are executors to release assets or money in the Will in an untimely manner.
We hope all Executors realise, under charity law, that our trustees have an obligation to receive the gift and to ensure valuations of a residuary (%) gift are well valued. We will strive to fulfil our legal duties reasonably and sensitively.
If any executor, or family member, wants more information about our work we will send it promptly.
Contact details 
Phone: 01743 492256
Email: sath.charity@nhs.net
If you would like a confidential discussion with a member of our Team please call 01743 492256. There is no obligation to leave a gift and, if you do, you can change your wishes at any time.
If you would like to share your intentions with us, please email sath.charity@nhs.net – it would be lovely to be able to thank you personally.
Thank you for thinking of supporting SaTH Charity with a gift in your Will.