Ward 15 Stroke Rehabilitation Unit
---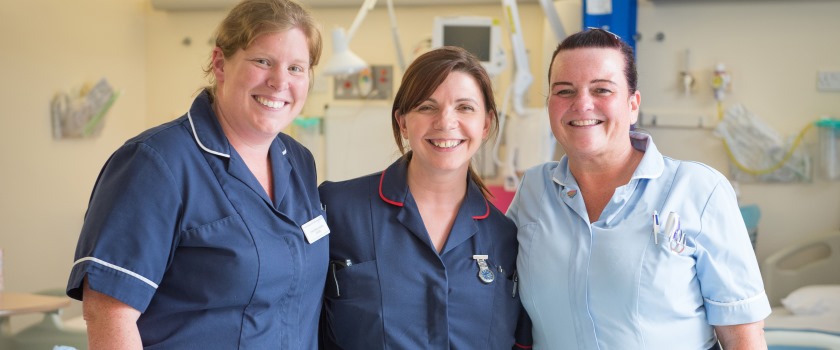 Welcome to Ward 15 Stroke Rehabilitation Unit
Our Ward consists of 25 beds:
1 Thrombolysis treatment room – This is where patients are admitted to if they meet the criteria and require thrombolysis. A patient can be in this room for between 1 – 4 hours with an RN present at all times to monitor their condition. Patients are transferred into HASU from this area for further monitoring.
6 Hyper Acute stroke beds (HASU) – This is where patients are first admitted to for assessment and observation or following thrombolysis. Patients usually spend around 24 hours within this area.
18 Acute stroke beds – This is where patients are transferred to from HASU to be nursed whilst they remain acute. Patients can be discharged home from these beds or be transferred to Ward 16 for on-going stroke rehabilitation depending upon their needs.
Our stroke team consists of Nurses, Doctors and therapists, including Occupational, Physio, Speech and Language and Dieticians. We all work very closely together for the benefit of our patients.
Patients staying on our ward are encouraged to actively participate in their recovery, this may involve washing themselves, getting up, eating at a table, playing board games and participating in activities such as playing games and making Christmas decorations.
Please speak to a member of staff before bringing children on the ward.
When visiting us at the ward we politely ask;
That you make sure mobile phones are on silent.
You avoid bringing flowers onto the ward due to hygiene reasons.
Visitors avoid sitting on patient beds.
There are no more than two visitors at a bedside.
Chairs are put away at the end of each visit.
Hand rub that is located on the main ward door is used when entering and leaving the ward. This is an important infection control measure.
If you are admitted to one of our hospitals and would like some guidance about your stay, please visit our staying with us page.
Key Info
---
Contact us
For general enquiries please contact:
Tel: 01952 641222
Ext: 4015
---
Location
Princess Royal Hospital, Telford
---
Ward Management
Ward Manager: Sharon Angelides
Matron: Claire Saphier
---
Visiting Times
Please note: under national guidelines there are currently restrictions on people visiting our hospitals. Please see our Coronavirus page for more information.
11.30am – 8.00pm.
Please note that our mealtimes are protected, which means visitors may be asked to leave unless they're supporting patients with meals. Visitors may also be asked to leave during ward hand over and Consultant ward rounds due to confidentiality.
Lunch mealtimes: 11:45 – 12:30
Evening mealtimes: 16:45 – 17:40
---
Associated Services
Feedback
Feedback from patients
'I wish to thank everyone for their kind, considerate and professional care that has been given to me during my stay. I realize at times you have been very busy but your Ward has maintained extremely high standards of care throughout my stay. Thank you.'
'Just a quick note to thank you all for the care, laughter and devotion that has me back on my feet. I can honestly say I haven't had so much fun at such a very scary time ever before.'
Feedback from relatives
'We would like to send our most heartfelt thanks and gratitude to you all for looking after our mum and us too. The care and dignity you gave was superb, and in particular your taking her outside into the garden in her bed was a wonderful act of kindness which made her last day so special.'
'Thank you so much for your unending care, patience, time and support. Our time spent with you was some of the hardest we have ever encountered, but you made it so much more bearable. To the extra time you spent talking to us or the endless cups of tea, you went above and beyond for us. You have made some of the most terrible memories less vicious and full of love. Thank you.'
'Thank you for all the support, care and kindness you have shown to both mum and ourselves through this difficult time. Your compassion and commitment is fantastic and we can't thank you enough.'
'We appreciate everything that was done for my husband and the kindness shown. We are pleased to say he is making good progress thanks to you all.'
'We would like to thank all of the staff on Ward 15 who cared for our mum and for the dignity and love they gave to her in her final hours. We would also like to thank them for the kindness they showed to all the family at a very difficult and upsetting time.'
'Thank you to each and every one of you for the kindness and care you gave to my late husband during his final days, also the care and understanding his immediate family were given when they visited and allowing someone to stay with him day and night. We can't thank you enough.'
'Thank you for everything you have done for my Dad, you are everyone's heroes, especially mine!'
Feedback from Staff who have worked with us
'Thank you so much for welcoming me and making me feel like part of the team. I have learnt so much from each and every one of you. You are all such an inspirational team and I hope all my placements are this amazing (but I know that won't happen). I definitely do not want to be a stranger and I won't be.' (Chelsea, Student Nurse)
'Thank you all for letting me be a part of your team for a while. You are a mad bunch but you do a great job, often in difficult circumstances, you should be very proud of what you all achieve. I've gained some new knowledge and skills and some great friends too!' (Nicola, Student Nurse)
'A huge thank you to all for making me feel so welcome and all the support and advice you have given me during my placement with you. You all work so hard and do an amazing job, I will miss being part of your fabulous team.' (Nikki, Student Nurse)
'You guys are amazing, you do the best job and I was so proud to work with you all.' (Sophie, Physiotherapist)