Colorectal Surgery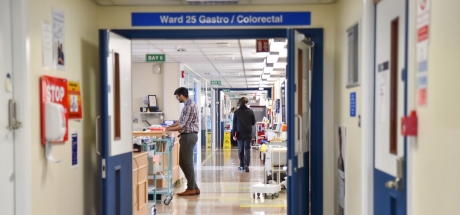 The Colorectal Surgical Unit at Shrewsbury and Telford Hospital NHS Trust is one of the largest units in the United Kingdom. The Unit has a national reputation for excellent outcomes for elective and emergency colorectal surgery and in particular colorectal cancer. We have a well-established multidisciplinary team in a number of different disease groups that function to provide optimum patient care and experience. You can read about our Consultant Colorectal Surgeons here. In addition we provide a high quality training experience to trainees in Surgery, Specialist Nursing and Gastroenterology.
All planned major and minor colorectal surgery and emergency surgery is performed at Royal Shrewsbury Hospital. We have an Enhanced Recovery after Surgery (ERAS) programme in place at the Unit, which leads to improved clinical outcomes and patient experience. However, the Unit offers Outpatient Clinics and Endoscopy sessions at both Royal Shrewsbury Hospital and Princess Royal Hospital to allow better access to patients across the region.
The Unit provides a service for a variety of colorectal conditions with clinical assessment in specialist clinics, investigation (including CT scan, MRI scan, anorectal physiology and endoanal ultrasound scan) and expert opinions given in specialist multidisciplinary team meetings. The Unit offers a wide range of treatments that includes laparoscopic and open colorectal surgery, oncological services (chemotherapy and radiotherapy) and specialist stoma therapy.
Anal cancer
Colorectal cancer
Laparoscopic surgery
Transanal Endoscopic Microsurgery (TEMS)
Chemotherapy and radiotherapy
Advanced polypectomies at colonoscopy
Insertion of colonic stents
Bowel Cancer Screening Programme
Common perianal conditions (proctology)
Haemorrhoids (piles)
Anal fistula and sepsis
Anal fissure
Diverticular disease
Inflammatory bowel disease (ulcerative colitis and Crohn's disease)
Complex bowel reconstruction
Intestinal failure
Pouch operations
Pelvic floor disorders
Faecal incontinence
Obstructed defaecation (constipation)
Slow transit constipation
Our Staff include:
Consultant Colorectal Surgeons
Consultant Radiologists with a specialist interest in gastrointestinal and interventional Radiology
Colorectal Nurse Specialists (stoma therapists and Pelvic Floor)
Consultant Clinical Oncologists
Consultant Pathologists with a specialist interest in gastrointestinal conditions
Consultant Gastroenterologists
Endoscopy Nurse Practitioners
Please see our Consultant Colorectal Surgeons page for more information.