Maternity Services at Shrewsbury and Telford Hospital NHS Trust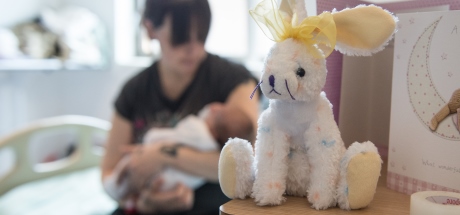 We aim to deliver high quality maternity care throughout pregnancy, birth and the postnatal period, ensuring that the birth of a child is a safe, life-enhancing experience for the woman, her partner and family.
We want women and their families to be involved in making choices about their journey through pregnancy, birth and parenthood, by giving good and timely information. We will respect their decisions and give dignity through kind and compassionate care.
We promote normality in childbirth. Women can come straight to our midwives to access maternity care, will have a named midwife who will support them in their choice of place of birth, and then have one-to-one care in labour.
We aim to base our practice on the best available evidence. We strive continually to make every contact with women and families count towards improving their health and wellbeing.
Our units consist of Midwife-Led units that provide Antenatal, Birth, and Postnatal care in Bridgnorth, Ludlow, Oswestry, Shrewsbury and Telford. We also provide Antenatal, Postnatal and Home birth care in Market Drayton and Whitchurch.
As well as our Midwife-Led units, we also have a Consultant-Let Unit in Telford. For a virtual tour of the unit, please view the video below.
Outpatient Services
Consultant-Led Maternity outpatient clinics take place at both hospitals. Consultant-led day assessment services and Consultant-led maternity inpatient care is provided at PRH.
Maternity Ultrasound
Our Maternity service has Midwife Sonographers, working alongside three Fetal Medicine Specialist Consultants. We provide routine scanning at Shrewsbury, Telford and Oswestry, and specialist scanning at Shrewsbury and Telford.
We offer a combined Down's screening test. This is made up of the measurement of the nuchal fold and blood tests. If you are unable to have the combined test, a 'quad' blood test will be offered.
Outpatient, scanning and day assessment services at the Princess Royal Hospital, Telford 
The consultant antenatal clinic, maternity scanning and day assessment unit is situated in a demountable building off the main corridor of the hospital, opposite the Wrekin Maternity Unit.
Booked appointments for a scan or antenatal clinic take place within this Unit.
The PRH Day Assessment Unit (DAU) is open from 9.00 am to 5.00 pm 7 days a week and is supported by an obstetrician. There is an appointment system whereby there are midwives available to see you or offer telephone advice if you have concerns.
Outpatient, scanning and day assessment services at the Royal Shrewsbury Hospital
The consultant antenatal clinic, maternity scanning and day assessment unit can be found within the Children's Outpatient and Shrewsbury Midwifery Unit (in the Copthorne Building, formerly the Maternity Unit).