Maternity Services at Shrewsbury and Telford Hospital NHS Trust
Update
For more information about Maternity Care during the Coronavirus Outbreak CLICK HERE.
In line with national guidance there are some changes to visiting, which also apply to antenatal and postnatal care. The latest information about this can be found here.
Our teams are continuing to work hard to offer a comprehensive service for our mothers to be and to ensure that birth preferences and choices are met for those we care for.
Due to ongoing national and Trust specific staff shortages, continued day-to-day decisions are being made on the operation of the Wrekin Midwife Led Unit, because of this we may have to ask women and birthing people to attend our delivery suite at the consultant led unit to give birth instead of the Wrekin Midwife Led Unit.
Please be assured that we can still provide a midwife led birthing experience on our delivery suite, with the vast majority of services offered at the MLU available within our consultant facilities, such as birthing pools. Other birthing options such as homebirths are also available and can be discussed with your midwife.
We are ensuring that anyone who may be affected by this is kept informed and are given notice of any changes that may affect them. All antenatal and postnatal appointments that have been booked on the Wrekin Midwife Led Unit will still be in the unit as planned
Already pregnant? There's no need to see a GP – you can come direct to us. Self-refer through our BadgerNet Maternity Notes System or call 01743261085 to book an appointment.
We aim to provide the best possible experience for mothers, babies and families – we want you and your family to be involved in making informed choices about your journey through pregnancy, birth and parenthood. Our aim is to give dignity through kind and compassionate care.
We strive to base our practice on the best available evidence. We aspire to continually make every contact with women and families count towards improving their health and wellbeing.
Please visit our
patient information page
for the latest patient information and advice.
---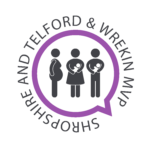 Maternity Voices Partnership Q3 Service User Feedback Report
Please see here for the Quarter 3 Feedback Survey prepared by the Shropshire and Telford & Wrekin Maternity Voices Partnership (MVP). The MVP is an independent team made up of service users and their families, as well as local authorities, commissioners, and service providers, who help ensure that the experiences, needs, and ideas of those who use our services are fed into SaTH to enhance the care we offer.
The Feedback Survey offers us valuable insight both into those areas where we are doing well and where we need to do more, as well as being a very useful reference for women and birthing people. If you have used local maternity in the last two years the MVP want to hear from you and you can complete the online survey here.
Key Info
---
Contact Us
Royal Shrewsbury Hospital
01743 261000 (Switchboard)
Princess Royal Hospital
01952 641222 (Switchboard)
Maternity Triage
If you have any concerns about your own or your baby's wellbeing and are over 16 weeks pregnant, please contact Maternity Triage. We are open 24 hours a day, seven days a week and can be contacted on 01952 565948. All calls to Maternity Triage are recorded for training and quality purposes
---
Independent Maternity Review
You may be aware that there is a review of our Maternity Services currently taking place.
The Independent Maternity Review, led by Donna Ockenden, is closed to further enquiries. The Independent Maternity Review team is now focusing on completing the clinical reviews of the cases, so that meaningful recommendations can be made.
Families who wish to discuss the care they have received should now do so by contacting: sath.maternitycare@nhs.net or by phone to the Patient Advice and Liaison Service on: 01952 641222 extension 4382.
If you have any questions or comments as an expectant mother please speak to your midwife.
Ockenden Report Assurance Committee 
---
Interested in working with us?
For more information about vacancies in the Trust please visit our Belong to Something website.
---
Associated Services
Fertility
Early Pregnancy Assessment Service
Neonatal
Women's Services
For information about our birthing units please see the left hand menu.