Bank and Temporary Staff

We are always in need of staff who can work for us on an ad-hoc basis, sometimes at short notice. These members of staff are known as Bank Staff and roles generally mirror substantive posts within the Trust.
The Trust's electronic booking system for bank and temporary staff makes it easier and more efficient for you to plan and book your shifts. Managers can "advertise" vacant shifts online in order for bank to view what is available and book themselves onto shifts from their home computers or electronic devices (such as mobile phones and other hand held devices).
Bank employees can also place their availability online so that managers and the Temporary Staffing Team can identify people who might be able to fill shifts more easily. Payment for shifts worked will also be processed electronically, eliminating the use of paper timesheets. As of 1st April 2018, staff can now chose whether to be paid monthly or weekly. For more information about payment please view our Frequently Asked Questions.
Locum's Nest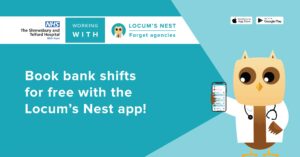 SaTH has partnered with Locum's Nest, an initiative founded by doctors, with the aim of improving access to locum bank work opportunities across the Trust.
We are working with Locum's Nest to start posting bank shifts for doctors. You will be able to view and apply for the shifts posted via the Locum's Nest app.
The key benefits to you are:
1. A very quick, hassle-free process of seeing and applying for shifts
2. No more paperwork with in-app time sheets and a built-in timesheet tracker
3. Automatically record your bank work experience on your built-in CV
The app is absolutely free to use and you can download the app today. All you need to set up an account is your full name and GMC number!
To find out more, please visit the Locum's Nest website.