Workforce Development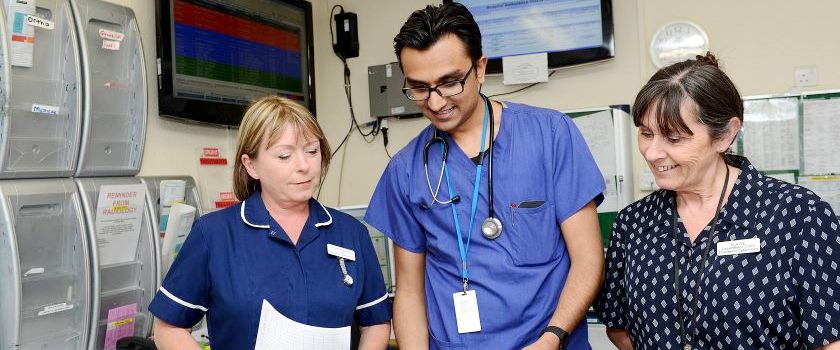 Education is provided by a number of subject specialists across the Trust and we work together in partnership to develop staff in clinical and non-clinical roles as well has helping staff develop for future roles.  Partnership also includes working with a number of Universities and Colleges including Keele, Staffordshire, Birmingham City and Wolverhampton Universities and the University of Chester (Shropshire Campus).  We provide high quality clinical and educational placements to undergraduate and postgraduate students and we have a system of support for them which includes trained educational supervisors, mentors and excellent library and study facilities.
Education and Workforce Transformation have a number of services open to all staff which incorporate an inclusive, interactive approach to planning, delivery, and assessment across a range of areas, such as:
A comprehensive induction programme for all new staff
An annual programme of learning and education for all staff
Continuous Professional/Workforce development opportunities
A Leadership Academy which provides Leadership and Management Development
Values-Based Recruitment and Conversations courses
Supervisor Development training
Undergraduate Medical School (part of Keele University)
Undergraduate Nursing and Clinical placements
Postgraduate Medical Education (link to PG site)
Dedicated Clinical Skills Training facilities
IT Training facilities and e-learning
Clinical Systems training support
Careers and Work Experience Support
Dedicated support for Vocational Education and Learning to help staff complete workplace based qualifications
A comprehensive annual programme of Statutory and Mandatory training including Resuscitation Training, Safe Handling, Infection Prevention and Control, Health and Safety and Safeguarding.
All staff members have a Personal Development Plan agreed with their line manager at their Annual Appraisal.  In this way, line managers help identify areas which can be supported to help staff perform at their best and deliver excellent and compassionate services to our patients.