Medical Education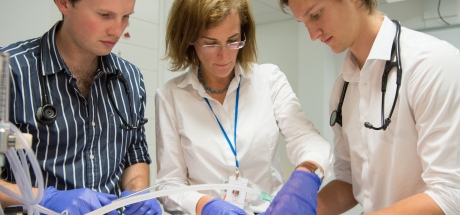 Welcome to the Medical Education department at Shrewsbury & Telford Hospital NHS Trust. The department provides education, support and guidance to trainees based within the Princess Royal Hospital, Royal Shrewsbury Hospital and the Community. Our aim is to ensure trainees have an excellent training experience whilst based with us. We thrive on being accessible and have an open door policy.
The department is responsible for co-ordinating all Postgraduate Medical and Dental training programmes including the management of the Foundation Programme, Induction, and Study Leave. We also organise a number of in-house training programmes and Regional teaching days.
Each speciality has a dedicated Educational Lead/College Tutor who also provides support and guidance to trainees, this lead also provides a link into the relevant Postgraduate Specialty School.
We run monthly Educational Leads meetings and regular Educational Governance meetings where training issues are discussed and fed back to the Trust Board. We are keen to ensure that trainees are represented on a number of committees throughout the Shrewsbury & Telford Hospital NHS Trust.
We have an active multi-disciplinary Education Centre, as well as a Library and a Clinical Skills Laboratory on both hospital sites. Both Education Centres are used for local teaching sessions by a number of specialities throughout the Trust and we also host Regional Teaching days. We have a 250 seat lecture theatre, a number of dedicated seminars rooms, and access to video conferencing from site to site. On the Royal Shrewsbury Hospital site we have a Simulation Suite which again is used by specialities to compliment in-house teaching programmes and provide multiprofessional education.