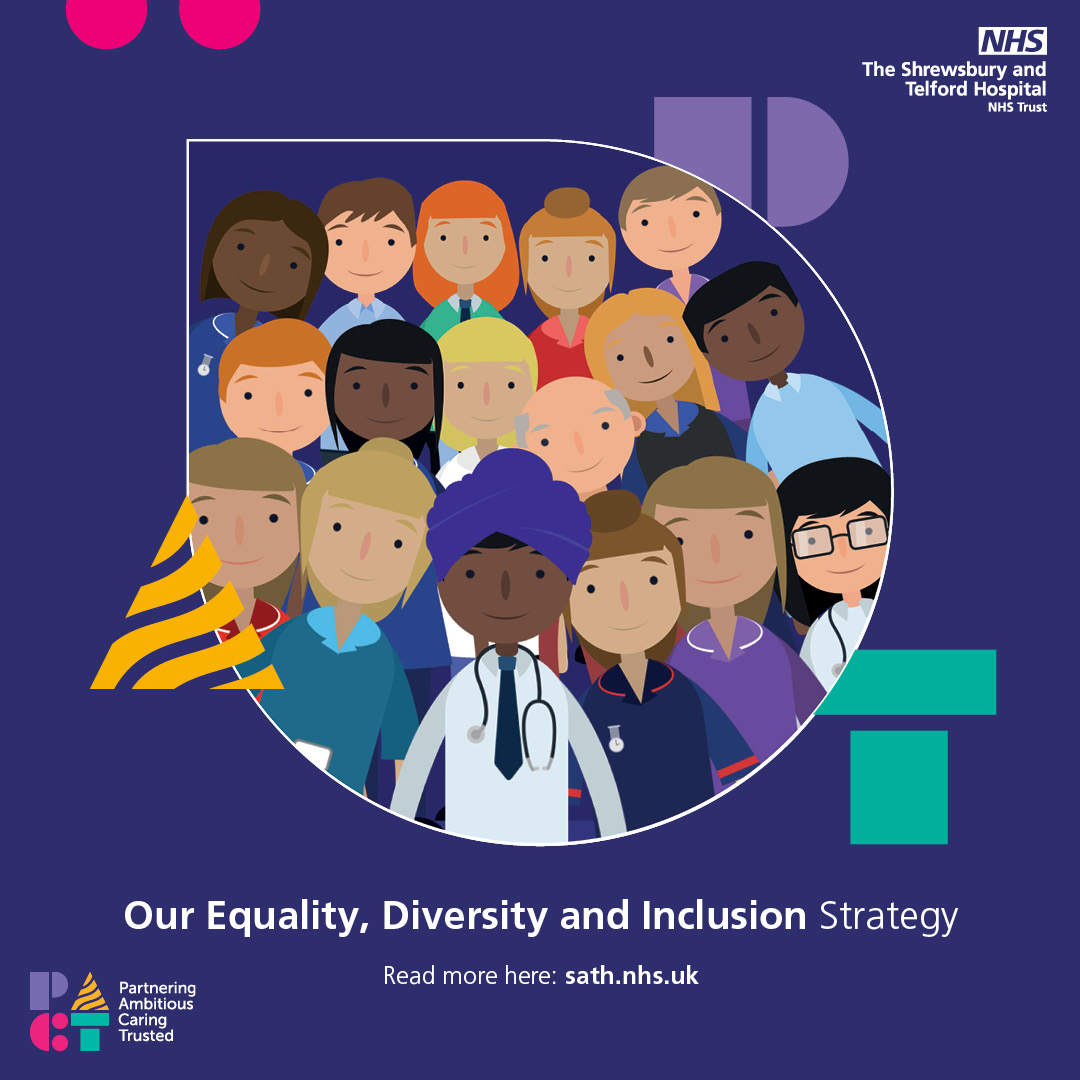 The Shrewsbury and Telford Hospital NHS Trust strives to deliver safe, accessible and fair services to the diverse populations that we serve, and ensure that they are treated with dignity and respect. This strategy document demonstrates our commitment to embed equality, diversity and inclusion (EDI) throughout Trust and provides a blueprint for creating an inclusive environment for all our staff, and also provides a framework to ensure that we deliver an appropriate and inclusive service to patients on each and every contact.
To deliver excellent care to the communities we serve is at the forefront of everything we do and as an inclusive organisation, we benefit greatly from the creativity and talents of all our people Through our EDI work, we will engender a sense of belonging for all by creating an environment where we value unique differences and by improving our service proposition by listening and engaging better with our patients and communities and developing 'diversity of thought' in our service delivery.
We have obligations under the Equality Act 2010, which provides protection for the 9 protected characteristics and also the NHS Employers, Workforce Race and Disability Equality Standards. These two Standards provide the evidence base, spotlighting where there is known disproportionality in relation to equality of opportunity and discrimination with regard to selection, progression, development and wider inclusion. There is also a requirement to address both the Gender and Ethnicity Pay Gap.
Our new strategy is aligned to the NHS People Plan and our People Strategy.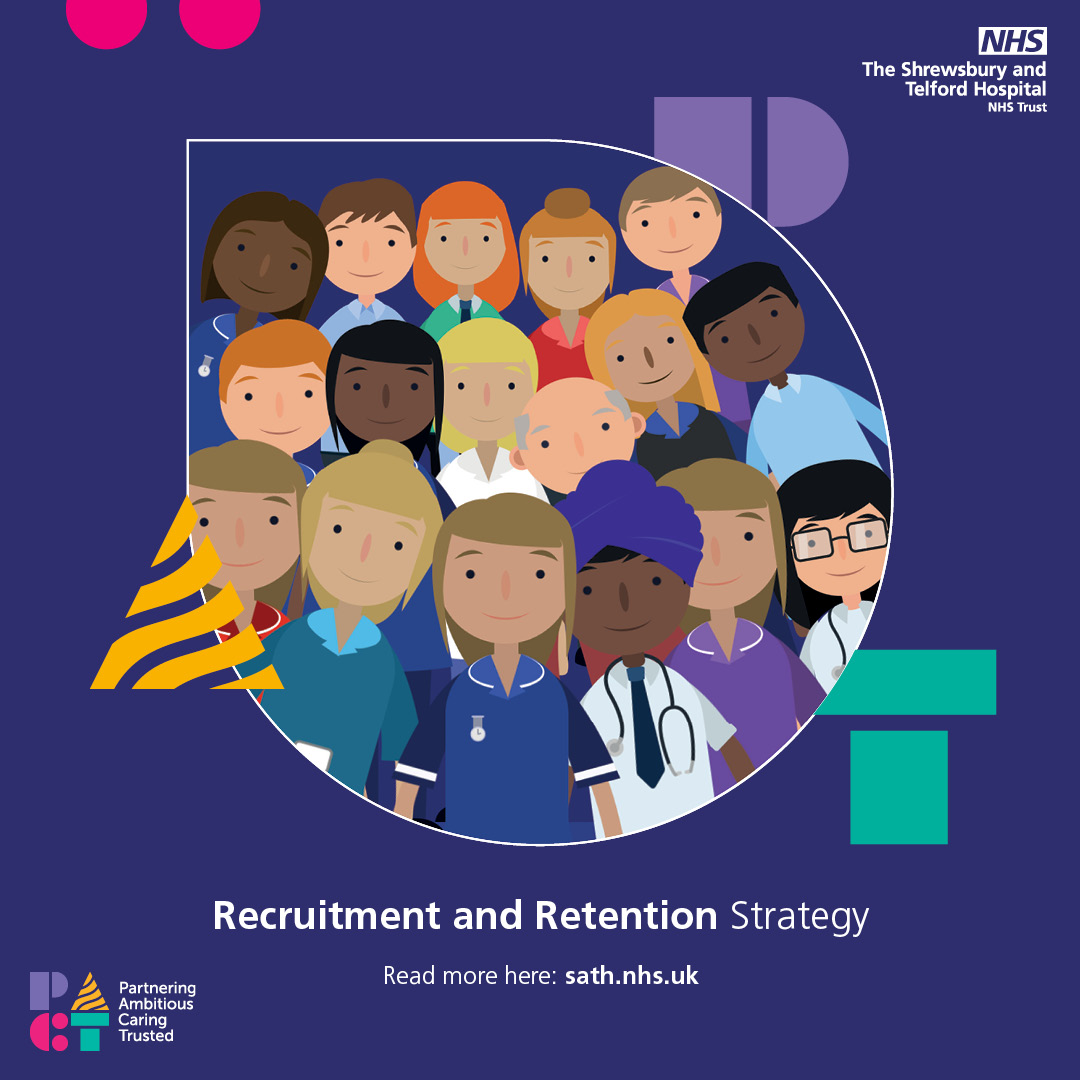 Welcome to the Shrewsbury and Telford Hospitals NHS Trust Recruitment and Retention Strategy.
The NHS is undergoing a significant period of change and our ability to deliver high quality, compassionate care depends upon recruiting and retaining the right people. The shortage of candidates with the right skills, abilities and experience in many professions has created a competitive market.
This strategy aims to improve how we retain, manage and develop our existing workforce and increase colleague numbers to ensure wards and departments meet safer staffing standards whilst reducing reliance on high cost temporary workforce.
This Recruitment and Retention Strategy incorporates recommendations from the NHS Long Term Plan and The Shrewsbury and Telford Hospitals NHS Trust People Plan. It has a clear focus on recruitment effectiveness, being innovative in the way we recruit, improving the recruitment experience for all candidates and building on our brand and reputation as a quality employer.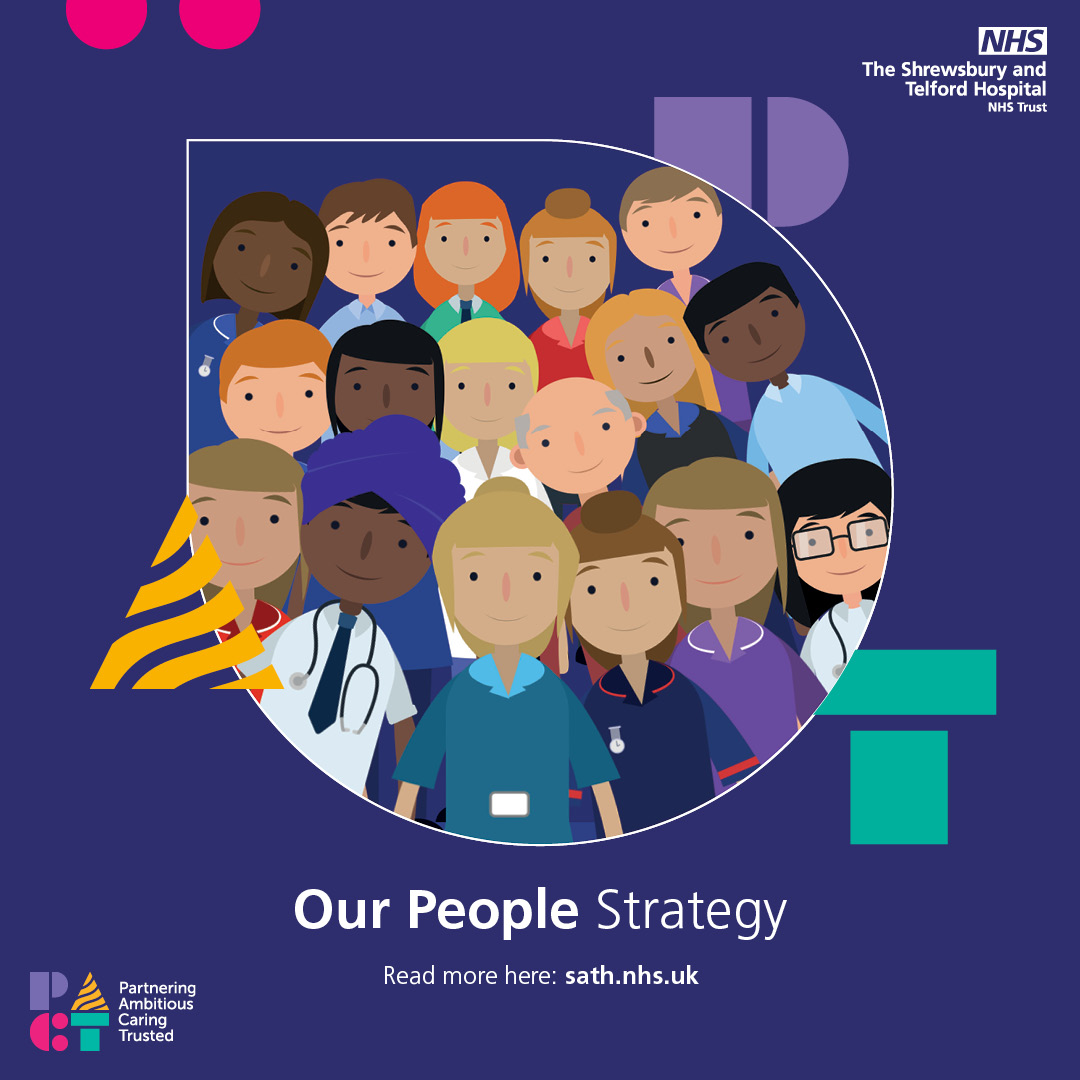 The 'Our People' Strategy aims to recognise the value brought to the Trust by it's people and the link that exists between an engaged, happy workforce who feel valued and the quality and efficiency of the care they are able to deliver.
This Strategy seeks to create the cultural conditions required for all colleagues to feel truly engaged and a partner in 'Caring – showing compassion, respect and empathy for our patients, families and each other, caring about the difference we make for our community'. An essential part of the culture we are trying to create is to encourage staff to speak out freely.
The Strategy recognises that not all staff provide direct patient care but that we all have a key role in the patient journey. The Trust wishes to support and value our people in their development to ensure they are able to progress as far as they want to.
Supporting the Trusts objectives
The Trust's vision 'to provide excellent care for the community we serve' will be recognised through a well-educated workforce, who are immersed in the change and transformation agenda that is necessary for services to evolve and thrive.
The "people" aspects of the Trust Strategy will be delivered through the domains of: Achieving for our patients, keeping great people, engagement and wellbeing, people development and leadership, support and belonging, attracting people and transforming SaTH together.
None of this can be delivered without open engagement with collective leadership and an inclusive culture that encourages and enables colleagues to be their best every day.