Equality & Diversity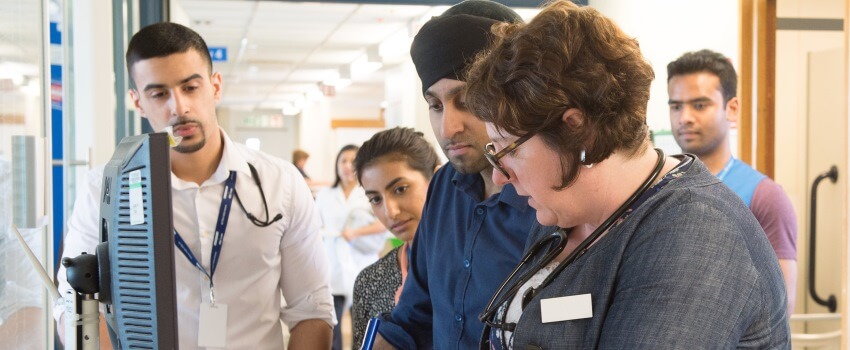 The Shrewsbury and Telford Hospital NHS Trust aims to deliver healthcare services that are fair to all users. The services delivered should be appropriate to everyone's needs regardless of age, disability, gender re-assignment, marriage and civil partnership, pregnancy and maternity, race including nationality and ethnicity, religion or belief, sex or sexual orientation.
The Trust aims to ensure:
an environment in which employees, patients and visitors are treated with consideration, dignity and respect, free from harassment and intimidation.
employees and job applicants do not receive less favourable treatment on the grounds of any of the above reasons
patients and visitors do not suffer detriment, disadvantage or unequal treatment for any of the above reasons
Equality
Equality is about ensuring that all people are treated fairly and equally and that any decisions made are based on objective relevant criteria.
Diversity
Diversity is about recognising and valuing the different contributions that all staff, patients, carers and families can bring to the organisation.
Workforce Race Equality Scheme (WRES)
The Trust has completed a WRES assessment for 2017/2018 and has approved a WRES Action Plan at Trust Board Level. Please view our September 2018 Workforce Race Equality Report for more information.
Equality Delivery System (EDS2)
The Trust uses the NHS  Equality Delivery System assessment in conjunction with partners and stakeholders to help us assess our performance in Equality and Diversity for service users and staff as well as identifying specific areas for focus and improvement.  This will provide the basis of Trust Equality Objectives and an action plan and these will be published on this website (see below).   Our Equality Objectives are grouped under the themes of:
Better health outcomes
Improved patient access and experience
A representative and supported workforce
Inclusive leadership
In November 2017, Trust Board approved the attached EDS2 report and action plan.  This included our 2017 Workforce Race Equality Scheme Report. During 2018 we will be completing a fuller assessment and our updated report and action plan will be published here and will incorporate updated WRES actions from the 2018 WRES report (see above).
Equal Pay Statement
Everyone who works in the NHS, or applies to work in the NHS, should be treated fairly and valued equally. All conditions of service and job requirements should fit with the needs of the service and those who work in it, regardless of age, disability, race, nationality, ethnic or national origin, gender, religion, beliefs, sexual orientation, domestic circumstances, social and employment status, HIV status, gender reassignment, political affiliation or trade union membership.
In order to put The Shrewsbury and Telford Hospital NHS Trust's commitment to equal pay into practice, it will:
examine and keep under review existing and future pay practices including continuing to utilise nationally-agreed job evaluation initiatives;
carry out regular monitoring of the impact of the Trust's pay practices;
provide training and guidance for managers and supervisory staff directly involved in decisions about pay and benefits; and
continue to work in partnership with the recognised Trade Unions and Professional Organisations on the actions and implementation of the above.
In March 2019 the Trust completed its second gender pay gap report for the reporting period April 2017 – March 2018. You can read more about it here.
Equality Impact Assessments
The Equality Act 2010 requires all public authorities to conduct Equality Impact Assessments (EIAs) on their policies and proposals.
Completion of Equality Impact Assessments forms part of the approval process for all corporate policies in the Trust and for key service changes.
If you would like to request a copy of an Equality Impact Assessment please fill in a feedback form.